Best 1941 Adventures (9)
By: Joshua Glenn
January 29, 2016
One in a series of 10 posts surfacing Josh Glenn's favorite 1941 adventure novels. Happy 75th anniversary!
*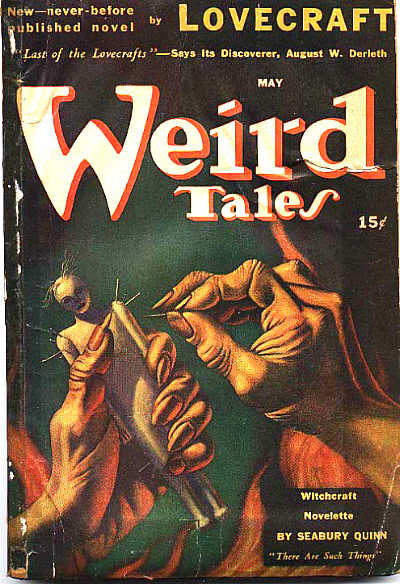 H.P. Lovecraft's fantasy adventure The Case of Charles Dexter Ward.
In 1918, Charles Dexter Ward, a young man from a prominent Rhode Island family disappears from a mental asylum; his doctor, Willett, investigates. It seems that, before he was locked up, Ward had become obsessed with an ancestor, Curwen, an 18th-century importer and alchemist. Was Curwen in reality a necromancer and murderer? Did he leave behind instructions on how he might be resurrected — and did Ward follow these instructions? What happened then? What drove Ward to behave in an anachronistic manner (which led to his being declared insane), and why did his appearance itself change? Worse, is there a conspiracy among necromancers to escape death, gain knowledge through occult means, and dominate humankind?
Fun fact: Serialized in Weird Tales (May–July 1941). Writing for HiLobrow, John Hilgart persuasively suggests that "Lovecraft's beloved objects and histories [i.e., Charles Dexter Ward's ancestor's old cupboard] became arcane and alien in his fiction, because he could not succeed in defending their affirmative significance."
***
Let me know if I've missed any 1941 adventures that you particularly admire.