Best 1941 Adventures (5)
By: Joshua Glenn
January 25, 2016
One in a series of 10 posts surfacing Josh Glenn's favorite 1941 adventure novels. Happy 75th anniversary!
*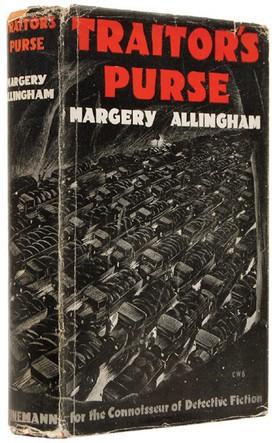 Margery Allingham's WWII espionage adventure Traitor's Purse.
A man wakes up in a hospital; overhearing a conversation, he learns that he has supposedly killed a policeman. Worse, he has lost his memory… he knows only that he must discover and prevent something terrible from happening. Fleeing the hospital in a stolen car, he encounters a woman who calls him "Campion" — aha! Our amnesiac hero, it seems, is an adventurer and detective we've met in ten previous Allingham novels, the first being The Crime at Black Dudley (1929). Campion is smuggled into a cavern complex overlooking the town he's found himself in; something odd is afoot. In a nearby town, Campion encounters Lugg, a character whom the reader recognizes as Campion's (ex-cat-burglar) assistant, but whom he does not recognize. Knocked out, while attempting to escape the police, he remembers that he is investigating counterfeit currency being given away to crooks. Why?
Fun fact: Campion was invented, according to Allingham, as a parody of Dorothy L. Sayers's Lord Peter Wimsey character. She wrote this particular novel in fragments in 1940, between air raids. In The Guardian, recently, A.S. Byatt called this her favorite detective story.
***
Let me know if I've missed any 1941 adventures that you particularly admire.