Masked Man (14)
By: HILOBROW
March 27, 2014
Fourteenth in a series of fifteen posts dedicated to evocative images of masked men from John Hilgart's cornucopia of comics details 4CP.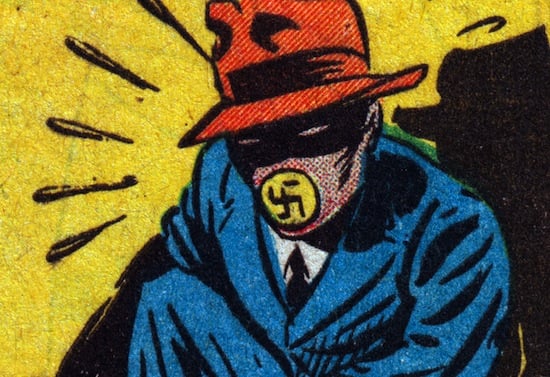 ***
MORE HILOBROW/4CP SERIES: BLOW UP YOUR COMICS — John Hilgart glosses 30 favorite 4CP images | The HERMENAUTIC TAROT: 54 Writers, on 54 4CP Tarot Cards | The Art of 4CP | SUBSUPERMEN — Golden Age heroes who didn't make the grade | MASKED MAN | LIMERICKANIA | MEET THE L.I.S. — Implicit superheroes, concealed within comic-book mastheads | 4CP FRIDAY — themed comic-book detail galleries, curated by 4CP fans
MORE COMICS-RELATED SERIES: KIRB YOUR ENTHUSIASM — 25 writers on 25 Jack Kirby panels | ANNOTATED GIF — Kerry Callen brings comic book covers to life | COMICALLY VINTAGE — that's-what-she-said vintage comic panels | DC — THE NEW 52 — an 11-year-old reviews DC's new lineup | SECRET PANEL — Silver Age comics' double entendres | SKRULLICISM — they lurk among us
CLICK HERE for more comics and cartoon-related posts on HiLobrow.