Give Radium Age SF this year!
By: Joshua Glenn
December 18, 2012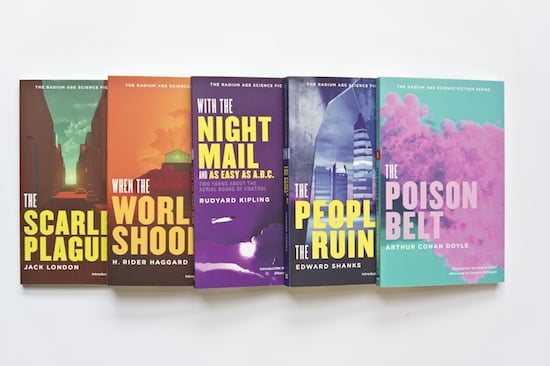 A nice shout-out from the wildly popular science and SF website io9 urges science fiction fans — or anyone who loves a science fiction fan — to give HiLoBooks titles as gifts this year!
What do you get the person who has every scifi TV series in a DVD box set, all the latest scifi hardbacks, plus every gorgeous comic book collection and all the action figures you've ever heard of (plus probably like 20 more)? There is an actual answer to this question. You get them the books that helped create the world of SF, but which have been out of print for decades.
The post goes on to describe the HiLoBooks project, and to urge io9 readers to purchase HiLoBooks' "high-quality re-issues of these out-of-print gems… with fascinating introductions and gorgeous covers." (And io9 also mentions the excellent Singularity&Co. project — with whom HiLoBooks will collaborate in 2013!)
Here are the five 2012 titles from HiLoBooks. Collect 'em all, while they're still available!
*
Jack London's The Scarlet Plague | Rudyard Kipling's With the Night Mail and "As Easy As A.B.C." | Arthur Conan Doyle's The Poison Belt | H. Rider Haggard's When the World Shook | Edward Shanks' The People of the Ruins
COMPLETE & UNABRIDGED
128 pp., $12.95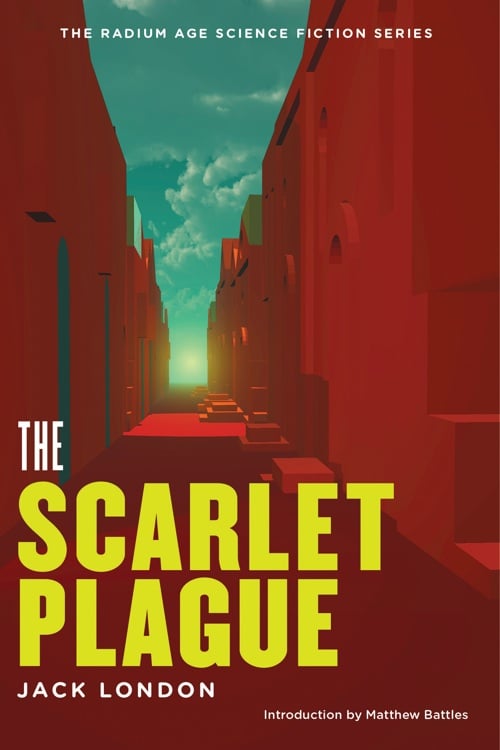 The Scarlet Plague
By Jack London
[ISBN: 978-1-935869-50-4; Library of Congress: 2012930720]
SERIALIZED AT HILOBROW.COM
JANUARY — APRIL 2012
Outside the ruins of San Francisco, a former UC Berkeley professor recounts the chilling sequence of events — a gruesome pandemic which killed nearly every living soul on the planet, in a matter of days — which led to his current lowly state. Modern civilization has fallen, and a new race of barbarians, descended from the world's brutalized workers, has assumed power. Over the space of a few decades, all learning has been lost.
The catastrophe happens in 2013; 2012 marks the centennial of the novel's first publication.
"London's style is typically lush but his viewpoint is skeptical and dystopian … [the] story reminds us of the dangers we still court with our careless ways." — The Times (1912)
"I knew Jack London was all about romanticizing nature and the frontier and primitive peoples and, you know, the wild. But this showed me a whole new realm of London's ambivalence about civilization: The Scarlet Plague is not just among the first modern post-apocalyptic fictions — starting right about now, a global contagion wipes out nearly all 8 billion earthlings — but maybe the most Edenic and winsome one ever." — Kurt Andersen (2012 blurb for HiLoBooks)
Introduction by Matthew Battles, literary editor of HiLobrow.com and author of Library: An Unquiet History, Letter by Letter, and the science fiction story collection The Sovereignties of Invention.
*
WITH THE NIGHT MAIL & "AS EASY AS A.B.C."



COMPLETE & UNABRIDGED
144 pp., $12.95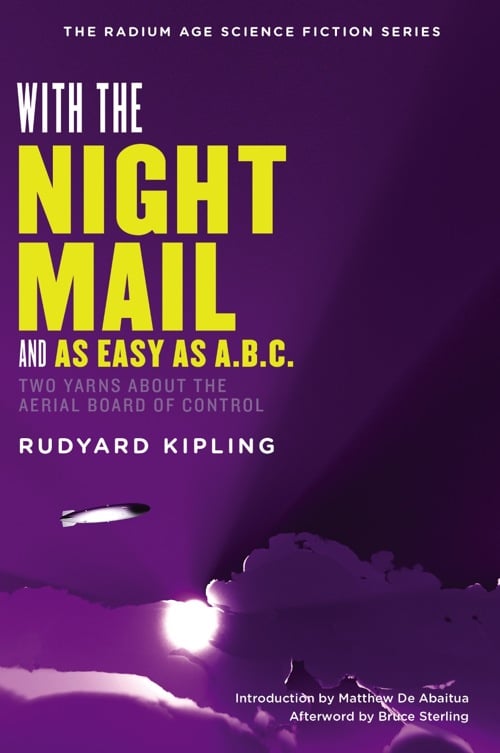 With the Night Mail and "As Easy As A.B.C.": Two Yarns About the Aerial Board of Control
By Rudyard Kipling
[ISBN: 978-1-935869-52-8; Library of Congress: 2012931028]
SERIALIZED AT HILOBROW.COM
MARCH — JUNE 2012
Rudyard Kipling's With the Night Mail follows the exploits of an intercontinental mail dirigible battling the perfect storm. Between London and Quebec we learn that a planet-wide Aerial Board of Control (A.B.C.) now enforces a technocratic system of command and control not only in the skies but in world affairs. A follow-up story, "As Easy As A.B.C.," recounts what happens when agitators in Chicago demand the return of democracy.
With the Night Mail is set in 2000, and it first appeared in 1905; 2012 marks the centennial of the first publication of "As Easy As A.B.C."
"It is a glittering essay in the sham-technical; and real imagination, together with a tremendous play of fancy, is shown in the invention of illustrative detail." — Arnold Bennett (1917)
"A most remarkable little story… It is rather a fascist picture which Kipling gives us." — Norbert Weiner, The Human Use of Human Beings (1950)
"An amazing tour-de-force of inspired genius — Kipling, in 1905, is doing things that science fiction as a genre wouldn't achieve until Robert Heinlein arrived in the late 1940s." — Bruce Sterling (2012 blurb for HiLoBooks)
Introduction by Matthew De Abaitua, author of the science fiction novel The Red Men, which was shortlisted for the Arthur C. Clarke Award and is being developed for cinema by War Films and Shynola. Afterword by Bruce Sterling, co-founder of science fiction's cyberpunk movement and blogger at Beyond the Beyond.
*
COMPLETE & UNABRIDGED
176 pp., $12.95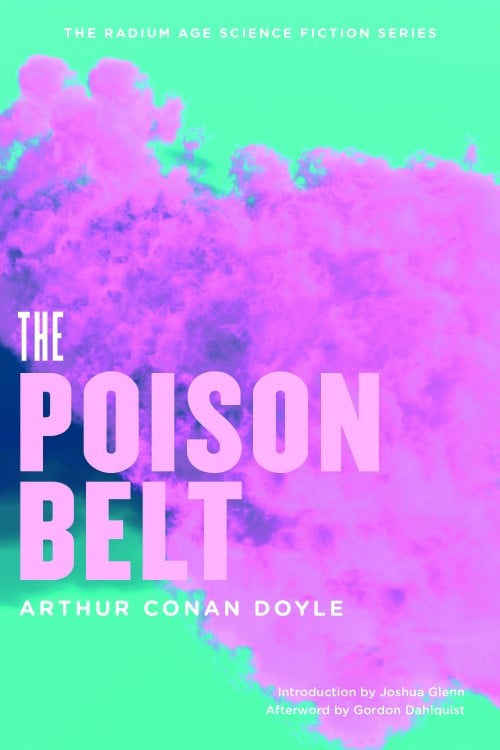 The Poison Belt
By Arthur Conan Doyle
[ISBN: 978-1-935869-54-2; Library of Congress: 2012931029]
SERIALIZED AT HILOBROW.COM
APRIL — JULY 2012
If you alone had discovered that the Earth was about to be engulfed in a belt of poisonous "ether" from outer space, what would you do? Professor Challenger, a controversial scientist whose intellectual sprezzatura may remind you of Arthur Conan Doyle's more famous fictional detective character, assembles the adventurers with whom he'd once romped through a South American jungle (in The Lost World, published in 1912) and locks them in his wife's dressing room. Less a thriller than a brainteaser set against a catastrophic backdrop, in this 1913 sequel Challenger & Co. inquire into the method of the mind, and the relationship of intuition to reason, even as the world ends.
"To anyone who has had the delightful experience of traveling in The Lost World with Professor Challenger the bare announcement that that brilliant and eccentric personage plays a most important part in this new tale will quite suffice. For who, having once met the Professor, would not desire to continue the acquaintance?" — New York Times (1913).
"It's impossible to read The Poison Belt, written in 1913, and not see in its exterminating vision a shadow of the coming war that would, only slightly less effectively, destroy Conan Doyle's world." — Gordon Dahlquist (2012 blurb for HiLoBooks)
Introduction by Joshua Glenn, editor of HiLobrow.com and pioneering scholar of Radium Age science fiction. Afterword by Gordon Dahlquist, author of The Glass Books of the Dream Eaters, The Dark Volume, and the forthcoming The Chemickal Marriage.
*
ABRIDGED
288 pp., $15.95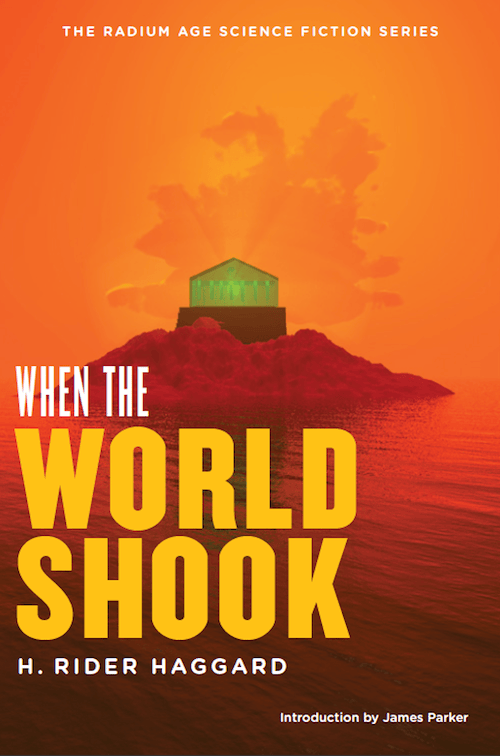 When the World Shook
By H. Rider Haggard
[ISBN: 978-1-935869-56-6; Library of Congress: 2012939658]
SERIALIZED AT HILOBROW.COM
MARCH — AUGUST 2012
When adventurers Bastin, Bickley, and Arbuthnot are marooned on a South Sea island, they discover two Atlanteans in a state of suspended animation. One of the awakened sleepers, Lord Oro, is a superman — the last king of the Sons of Wisdom, who'd relied on hyper-advanced technology to subjugate the planet's lesser peoples. The other is Oro's sexy daughter, Yva… who falls in love with Arbuthnot. Using astral projection, Lord Oro visits London and the battlefields of the Western Front. Why? To determine whether or not he should once again employ an infernal chthonic machine to drown the worthless human race, as he'd done 250,000 years earlier!
The novel, which Rudyard Kipling helped plot, was first published in 1919.
"A really splendid romance, rich in color, fresh and gorgeous in its imaginative qualities and power, and needless to add, absorbingly interesting, is this wherein Rider Haggard tells us of what happened 'When the World Shook.'" — The New York Times (1919)
"Speaking quite soberly and without exaggeration, this story of 'When the World Shook' is an amazing novel. Amazing in its imaginative quality, its romance, the splendor of its descriptions, doubly amazing when one remembers that it is the successor to a long series of colorful tales of adventure in savage or extraordinary lands… We frankly admit that, in our opinion at least, Rider Haggard has never conceived and placed before our eyes any pictures more thrilling or more impressive that are contained in this latest book." — New York Evening Post (1919)
"Rider Haggard has again unbridled his splendid imagination. A thrilling, gigantic wonder tale." — Pittsburgh Sun (1919)
"If this is pulp fiction it's high pulp: a Wagnerian opera of an adventure tale, a B-movie humanist apocalypse and chivalric romance. When the World Shook has it all — English gentlemen of leisure, a devastating shipwreck, a volcanic tropical island inhabited by cannibals, an ancient princess risen from the grave, and if that weren't enough a friendly, ongoing debate between a godless materialist and a devout Christian. H. Rider Haggard's rich universe is both profoundly camp and deeply idealistic." — Lydia Millet (2012 blurb for HiLoBooks)
Introduction by James Parker, author of Turned On: A Biography of Henry Rollins and a contributing editor at The Atlantic.
*
ABRIDGED
240 pp., $14.95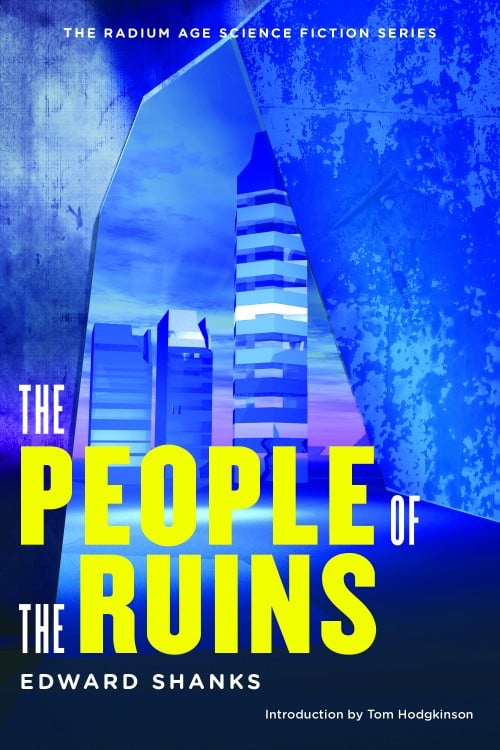 The People of the Ruins
By Edward Shanks
[ISBN: 978-1-935869-58-0; Library of Congress: 2012939659]
SERIALIZED AT HILOBROW.COM
MAY — SEPTEMBER 2012
Trapped in a London laboratory during a worker uprising in 1924, scientist and ex-artilleryman Jeremy Tuft awakens 150 years later — on the eve of a new Dark Age! Though dismayed by the realization that his own era's faith in the inevitability of progress was a shibboleth, Tuft decides that pre-modern life is simpler, more peaceful. That is, until half-savage northern English and Welsh tribes invade London… at which point he sets about reinventing twentieth century weapons of mass destruction.
Shanks' proto-Idiocracy satire on William Morris-esque utopias was first published in 1920.
"The first of the many British postwar novels that foresee Britain returned to barbarism by the ravages of war." — Anatomy of Wonder, Neil Barron, ed. (1976)
"One of the most widely read scientific romances of the post-war years." — Brian Stableford, Scientific Romance in Britain 1890-1950 (1985)
"After World War I British futuristic fiction was dominated by the idea that a new war could and probably would obliterate civilization…. Utopian speculation was not entirely stifled but undermined and opposed by cynicism." — The Cambridge Guide to Literature in English, Ian Ousby, ed. (1996)
Introduction by Tom Hodgkinson, editor of the British journal The Idler, and author of How To Be Idle, How To Be Free, and Brave Old World, among other titles.