Significant Objects — at UA
By: Joshua Glenn
November 26, 2012
Earlier this fall, Kate Bernheimer — who has been called "one of the living masters of the fairy tale," and who contributed a story to the Significant Objects book that Rob Walker and I published this year — taught EN 404-002 (Advanced Fiction Workshop) at the University of Arizona. One of their projects, titled "Novel Objects," was directly and explicitly inspired by Significant Objects. It raised money for literacy programs in Tucson.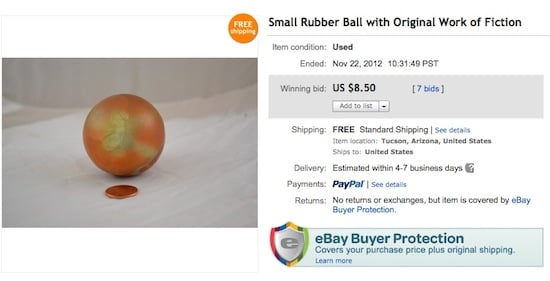 Here's Kate's write-up:
THE EXPERIMENT

1. We, students in EN 404 (Advanced Fiction Workshop), buy objects — costing no more than a dollar — from thrift stores and dollar shops and put them in paper bags and bring them to class.
2. Each student receives two paper bags in class. He or she then writes a fictional story, in any style or voice, about each object. Voila! Unremarkable, castoff thingamajigs have suddenly become "novel" objects!
3. Each novel object is listed for sale on eBay for $0.25. The n.o. is pictured, but instead of a factual description the n.o.'s newly written fictional story is used. However, care is taken to avoid the impression that the story is a true one; the intent of the project is not to hoax eBay customers. The author's byline appears with his or her story.
4. The winning bidder is mailed the novel object, along with a printout of the object's fictional story signed by the author (collectible! first edition!). Net proceeds from the sale are given at the end of the semester to the non-profit organization Literacy Connects in Tucson, AZ. Students retain all rights to their stories.

THE QUESTIONS

As the editors of Significant Objects asked in their book, which we read, what is the value of narrative? How is it measured? Can it be measured? When a creative writer invents a story about an object, does the object acquire not only subjective but also objective value? Can narrative transform an insignificant object into a significant one for anyone but the writer? An insignificant experience? A not-novel idea? What do these questions have to do with the craft of fiction, which we're studying in the workshop? How are these questions relevant to us as writers working in forms we borrow, invent, steal, and imagine, but can't really buy? Or are we buying a "novel idea" when we sign up to take writing classes? Also why do we write? Are we sentimental about things, memories? Can invented stories teach us something? What sorts of ideas and emotions do we want our stories to convey and can we convey those in just about any object on hand? How random are our attachments? Can the opportunity to purchase an object draw readers to fiction? What is the value of art? If an object doesn't sell, does that mean the story is bad? This extends into our choice to pursue the path of the writer: if our stories don't "sell" (i.e. get published, or if published, find readers) does that mean they are insignificant? Wait, but we're all published now! So if we lose money on this project, does it say anything about our society's relationship to fiction? Does how hard you work on a story translate into it being "worth" more? Do cute things with faces sell better than utilitarian things? Will anyone buy just a single cufflink? Do we possibly write better with mysterious objects in mind? Where do stories come from anyway? Also, where can we find the weirdest things to give to our classmates to inspire their stories, for under a dollar in Tucson? Can learning fiction techniques be fun? This is some of what we discussed in class during this unit.
Cool stuff! Congratulations to students James la Vigne, Amakiri Assana Duffus, Jennifer Gonzales, Kailey Hart, Katie Netzel, Natalie Reak, David Campbell, Sara Parker, Kevin Pensa, Angharad Daly, and Keith Grevenitz for their terrific stories!