Black Friday Books
By: Joshua Glenn
November 23, 2012
Dear HiLobrow readers,
As you do your gift shopping this year, please consider purchasing one (or more) of the following 2012 books. I co-authored the first two; HiLoBooks published the others. And tell your friends!

***
UNBORED | SIGNIFICANT OBJECTS | RADIUM-AGE SCIENCE FICTION SERIES
***


Published by BLOOMSBURY ($25.00)

UNBORED: THE ESSENTIAL FIELD GUIDE TO SERIOUS FUN
By Joshua Glenn and Elizabeth Foy Larsen, design by Tony Leone

Give to: Kids aged 8-13 (or younger, if precocious); parents; everyone else.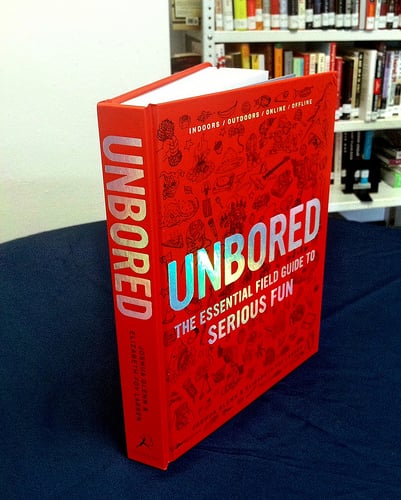 ILLUSTRATORS
Heather Kasunick and Mister Reusch, plus divider pages by Chris Piascik
CONTRIBUTORS
Joe Alterio (illustrator and artist), Colin Beavan (environmental activist), Ginia Bellafante (New York Times writer), Deb Chachra (bioengineering scientist), Helen Cordes (parenting writer), Chris Dahlen (videogames critic), Matthew De Abaitua (author, The Art of Camping), Mark Frauenfelder (DIYer, MAKE Magazine editor in chief), Max Glenn (6th grader), Sam Glenn (high-school freshman), Chelsey Johnson (Rock'n'Roll Camp for Girls volunteer), Flourish Klink (fan fiction author and expert), Geoff Manaugh (architectural utopianist and blogger), Sophie Meyer (environmental activist, undergrad), Norah Mortensen (high-school freshman), Tom Nealon (food and cookbook scholar), John Edgar Park (MAKE TV host and DIYer), Bre Pettis (DIYer, tinkerer, MakerBot founder), Jeff Potter (author, Cooking for Geeks), Jean Railla (DIYer, GetCrafty.com founder), Douglas Rushkoff (media theorist), Henrik Schleisman (5th grader), Peter Schleisman (8th grader), Walter Schleisman (musician and music teacher), Zoe Cordes Selbin (homeschooled media consultant, undergrad), Anindita Basu Sempere (YA writer, crafter, animal rescuer), Chris Spurgeon (DIYer, tinkerer, mapping expert), Courtney Stanton (videogame producer), Kio Stark (DIYer, interactivity expert), Jay Walljasper (liveable cities and bicycling activist), Jessamyn West (librarian, MetaFilter director).
EXCERPT — Remote-Controlled Water Blaster [via the blog BOINGBOING].
SLIDESHOW — pages and illustrations from UNBORED [via the blog DESIGN OBSERVER].
SELECTED BLURBS
"The first kids' book to truly encourage a hands-on approach to creating a personally meaningful life." — Mark Frauenfelder, editor-in-chief of MAKE magazine, co-editor of BoingBoing
"This is not just a book, it's a way of life for kids and parents alike." — Anthony DeBenedet, MD, author of The Art of Roughhousing
"If your kids ever give UNBORED back to you, you may want to do a whole lot of the great ideas yourself." — Lenore Skenazy, author of the book and blog Free-Range Kids
"All parents, teachers, and anyone else who wants kids to have fun and wants to have fun with kids will love, love, love this book." — Edward Hallowell, M.D., ADHD and parenting expert, author of Delivered From Distraction
***
UNBORED | SIGNIFICANT OBJECTS | RADIUM-AGE SCIENCE FICTION SERIES
***
Published by FANTAGRAPHICS ($24.99)
SIGNIFICANT OBJECTS: 100 EXTRAORDINARY STORIES ABOUT ORDINARY THINGS
By Joshua Glenn and Rob Walker, design by Jacob Covey
Give to: Readers of short stories in all genres; hipsters; everyone else.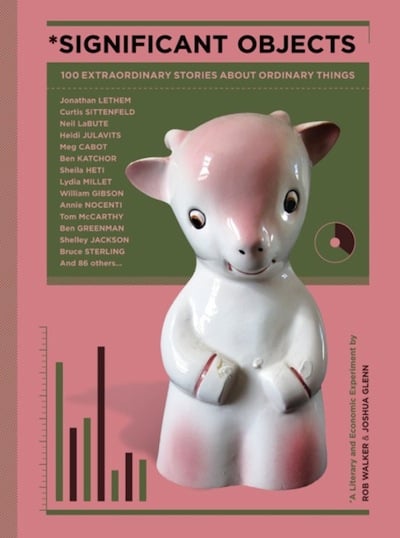 CONTRIBUTORS
Chris Adrian, Rob Agredo, Kurt Andersen, Rachel Axler, Rob Baedeker, Rosecrans Baldwin, Nicholson Baker, Matthew Battles, Charles Baxter, Kate Bernheimer, Susanna Breslin, Kevin Brockmeier, Matt Brown, Blake Butler, Meg Cabot, Tim Carvell, Patrick Cates, Dan Chaon, Susanna Daniel, Adam Davies, Kathryn Davis, Matthew De Abaitua, Helen DeWitt, Stacey D'Erasmo, Doug Dorst, Mark Doty, Ben Ehrenreich, Mark Frauenfelder, Amy Fusselman, William Gibson, Myla Goldberg, Ben Greenman, Jason Grote, Jim Hanas, Jennifer Michael Hecht, Sheila Heti, Christine Hill, Dara Horn, Shelley Jackson, Heidi Julavits, Ben Katchor, Matt Klam, Wayne Koestenbaum, Josh Kramer, Kathryn Kuitenbrouwer, Neil LaBute, Victor Lavalle, J. Robert Lennon, Jonathan Lethem, Todd Levin, Laura Lippman, Mimi Lipson, Robert Lopez, Joe Lyons, Sarah Manguso, Merrill Markoe, Tom McCarthy, Miranda Mellis, Lydia Millet, Maud Newton, Annie Nocenti, Stephen O'Connor, Stewart O'Nan, Jenny Offill, Gary Panter, Ed Park, James Parker, Benjamin Percy, Mark Jude Poirier, Padgett Powell, Bob Powers, Todd Pruzan, Dan Reines, Nathaniel Rich, Peter Rock, Lucinda Rosenfeld, Greg Rowland, Luc Sante, R.K. Scher, Toni Schlesinger, Matthew Sharpe, Jim Shepard, David Shields, Marisa Silver, Curtis Sittenfeld, Bruce Sterling, Scarlett Thomas, Jeff Turrentine, Deb Olin Unferth, Tom Vanderbilt, Matthew J. Wells, Joe Wenderoth, Margaret Wertheim, Colleen Werthmann, Colson Whitehead, Carl Wilson, Cintra Wilson, Sari Wilson, Douglas Wolk, John Wray.
SELECTED REVIEWS
"Like a Salvation Army staffed by brilliant writers." — GalleyCat
"A literary garage sale." — The New York Times
"One of the most life-affirmingly cheeky studies I have seen for ages." — The Guardian
"The project mixes consummate storytelling with found objects." — Cool Hunting
"It's a fantastic idea on so many levels — as a creative experiment, sociological commentary, examination of mythmaking." — Bookninja
***
UNBORED | SIGNIFICANT OBJECTS | RADIUM-AGE SCIENCE FICTION SERIES
***
Published by HILOBOOKS (from $12.95 to $15.95 apiece)
THE RADIUM AGE SCIENCE FICTION SERIES from HILOBOOKS
Series editor: Joshua Glenn | Covers by: Tony Leone and Michael Lewy
Give to: Fans of science fiction, fans of classic adventure novels; everyone else.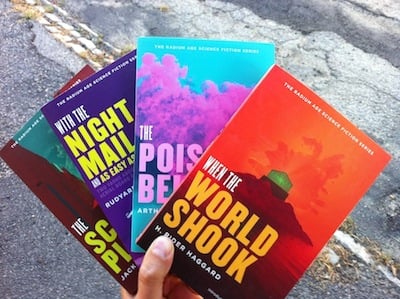 Jack London's The Scarlet Plague | Comments by Matthew Battles
Rudyard Kipling's With the Night Mail | Comments by Matthew De Abaitua and Bruce Sterling
Arthur Conan Doyle's The Poison Belt | Comments by Joshua Glenn and Gordon Dahlquist
H. Rider Haggard's When the World Shook | Comments by James Parker
Edward Shanks' The People of the Ruins | Comments by Tom Hodgkinson
PS: Without Matthew Battles and Richard Nash, launching HiLoBooks would not have been possible. Thanks also to Colleen Venable for the redesign.
SELECTED REVIEWS
"We're extremely excited that the incredible pop culture website HILOBROW is launching its own publishing line, HiLoBooks, to bring us fascinating new serialized fiction and reintroduce the world to the scifi novels of the Radium Age." — io9
"Less academic in orientation [than Wesleyan's "Early Classics of Science Fiction" series] but no less welcome in its efforts at critical salvage, HiLoBooks's "Radium Age Science Fiction" series, which debuted this year, covers a relatively neglected period in the genre's history — the three decades between the classic scientific romances of Wells in the late 1890s and the mature pulp era of the 1930s." — The Los Angeles Review of Books
"Look. RADIUM AGE stories coming back into print. I didn't know there was a Radium Age, but I've long loved the stories." — Neil Gaiman tweet
***
UNBORED | SIGNIFICANT OBJECTS | RADIUM-AGE SCIENCE FICTION SERIES
***

Big shout-out to those HiLobrow colleagues who contributed to one (or two) of my 2012 book projects: Joe Alterio, Matthew Battles, Patrick Cates, Deb Chachra, Mark Frauenfelder, Jason Grote, Flourish Klink, Mimi Lipson, Geoff Manaugh, Tom Nealon, Annie Nocenti, Gary Panter, James Parker, Greg Rowland, Douglas Rushkoff, Luc Sante, and Douglas Wolk. Many thanks to Bruce Sterling, who contributed both to Significant Objects and the HiLoBooks project; Tony Leone, who not only designed and art-directed UNBORED, but designed the covers for HiLoBooks; and Richard Nash, for his sage counsel. Biggest shout-out of all? To Matthew De Abaitua, who participated in all three projects. Thank you, friends and comrades!
***
PREVIOUS BOOKS by JOSHUA GLENN: The Idler's Glossary (with Mark Kingwell and Seth) | The Wage Slave's Glossary (with Mark Kingwell and Seth) | Taking Things Seriously (with Carol Hayes, and 75 contributors)