2 tunes by friends
By: HILOBROW
February 28, 2012
Our friend Jascha has another science fiction music video out, as of today. It's for his song, "The Future," a ballad of time travel and lost love. (We announced the first video from Jascha's new album, The Future Limited, here.)
Lyrics excerpt:
In the future when forgetting was forbidden
They took a tiny little kitten and they cut him up
I was dumbstruck but I was powerless to say so
Cause the agents in the elevator shut me up
I said: "Sweetness, take the children to the car"
You said: "Leave us, cause we need you in the future"
*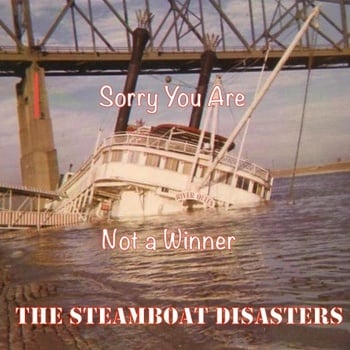 Our friend Joe Keohane (who wrote about Nobrowmanship for us, last year) plays bass with The Steamboat Disasters. Listen to a song from their forthcoming debut album. "No News is Good News (When You Die Without the Lord) is a rarity: a gritty, hard-swinging country song that celebrates atheism.
Lyrics excerpt:
The last time I got religion I was in a jam for sure
And just as soon as I got out I found my thoughts remained impure
And while my acts could only be constrained by the likelihood of ends obtained
My mom's ambivalent refrain kept coming back to me
No news is good news when you die without the Lord
You better pray there ain't nothing on the other side
'cause you won't hear no angels singing but those might be hell's bells a-ringing
For you no news is good news once you die