The Someday Funnies
By: HILOBROW
December 6, 2011
First in a series of posts suggesting gifts for the hilobrows in your life this holiday season.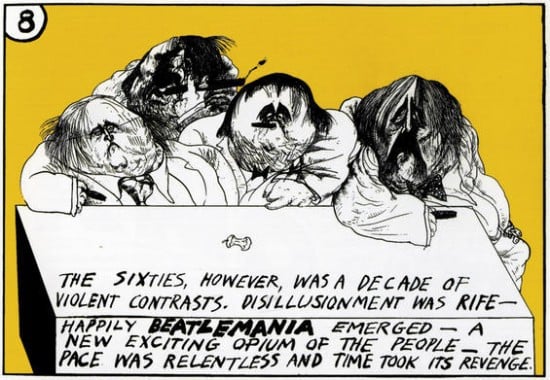 In the early 1970s (the late Sixties, according to my periodization scheme), writer/editor Michel Choquette commissioned a special 20-page comics supplement for Rolling Stone. He roped in Will Eisner and Art Spiegelman, Harvey Kurtzman and Jack Kirby, Moebius and Gahan Wilson, Wally Wood and fellow National Lampoon editor Michael O'Donoghue.
Choquette's vision kept expanding. Soon he'd gathered 129 comic strips — by 169 writers and artists — on the topic of the Sixties. It was his Pet Sounds, his Paris Arcades Project. Publishers deemed the collection unmarketable, and it went missing… until now.
Abrams has published Choquette's The Someday Funnies in a gorgeous , 216-page, color edition. Robert Greenfield's Introduction and Jeet Heer's Foreword are icing on the cake.