Fitting Shoes (1)
By: Joshua Glenn
August 31, 2010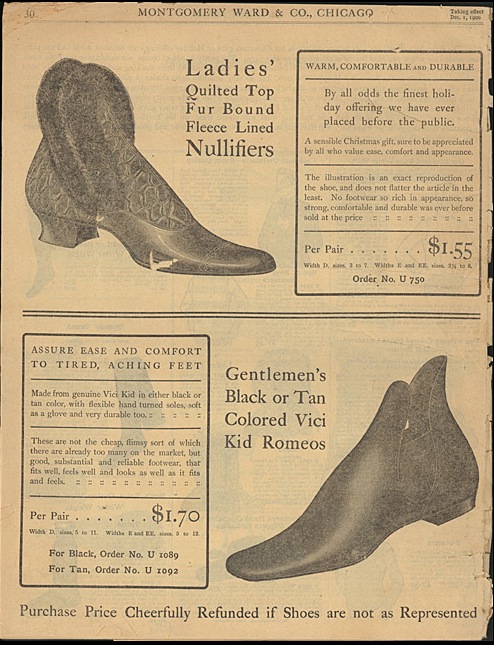 "[Stephen Dedalus'] gaze brooded on his broadtoed boots, a buck's castoffs nebeneinander. He counted the creases of rucked leather wherein another's foot had nested warm." — James Joyce, Ulysses (first serialized, March 1918 to December 1920; first published in its entirety, 1922).
NB: The novel is set on June 16, 1904. We assume Dedalus is not wearing workboots, because his footwear is described as a buck's (dandy's) castoffs. (Of course, this might well mean that they're Dedalus' friend Buck Mulligan's castoffs, but since Mulligan is something of a dandy, it's still the same idea.) If anyone can provide us with an early 1900s image depicting fancy Irish men's boots, please do! Until then, this advertisement from the December 1900 Montgomery Ward catalog will have to suffice.
PS: "Nebeneinander," a term of which Dedalus is fond, is German for "side by side." "Nacheinander," another term that Dedalus uses, means "successively."
***
An occasional series scrutinizing our favorite fictional footwear.