Feedback (2)
By: Joshua Glenn
July 2, 2010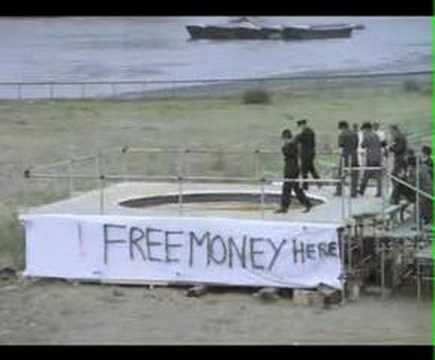 FEED (July 2, 1999): Berlinologists have often suggested that Germany's postwar generation is not only too guilt-haunted to create strong artistic statements, but that because Berlin's creative types were scattered and killed during the Nazi era, it still feels like the city's culture is starting over from scratch. Maybe this explains why infamous German director/provocateur Christoph Schlingensief's plan to toss 100,000 marks (about $53,000) off the Reichstag tonight, as a "special tribute to capitalism," fails to impress. Schlingensief, whose Weekend-like splatter films German Chainsaw Massacre (1990) and Terror 2000 (1992) satirized the contradictions and problems of his country's unification process, has announced that tonight's performance will prove that "Money is the only thing that really gets people moving." Whatever. Been there, done that!
When Yippie! co-founders Abbie Hoffman and Jerry Rubin scattered dollar bills onto the floor of the New York Stock Exchange back in '67, "stockbrokers scrambled over the floor like worried mice, scurrying after the money," Hoffman recounted in his autobiography. "Greed had burst through the business-as-usual façade… The sacred electronic ticker tape, the heartbeat of the Western world, stopped cold." In a chapter entitled "Money Is Shit," Rubin's 1970 manifesto Do It! concurs that "like wild animals, the stockbrokers climb[ed] all over each other to grab the money." Rubin riffed that "People don't do what they dig because they want smelly money… If the Beatles listened to their own music, they would burn all their money." Will Schlingensief be able to top this kind of rhetoric? Actually, he probably doesn't intend to: the other half of his slogan for tonight's event is "Save capitalism, throw the money away!" Easy enough, since the money is being donated by Schlingensief's sponsor, the Deutsche Bank. Just what kind of guerrilla theater is this, anyway?
It doesn't seem likely that tonight's happening will emulate what Hoffman described as his "TV-age version of driving the money changers from the temple." It may be instructive, then, to re-visit yet another money-throwing performance piece. Just two years after the Yippie invasion of the Stock Exchange, the film version of Terry Southern's The Magic Christian suggested that at least one of the Beatles actually had listened to his own music… or had at least read Do It!. Starring Peter Sellers as the world's wealthiest man and Ringo Starr as his protégé, Magic Christian ends with the spectacle of pinstriped businessmen diving for (literally) "smelly money" in an enormous vat of shit. Southern's novel — written in 1960 while the Yippies were still boning up on their Abraham Maslow — may use rituals of defilement to mock the greed of the capitalist system, but it stops well short of counterposing any high-minded hippie values. The Stock Exchange was political theater; the vat of shit just a cruel demonstration of how people will do anything for money.
Is Schlingensief, who was born the very year The Magic Christian was published, a latter-day Yippie or just another mean-spirited performance artist? His "Chance 2000" Partei der theatralischen Revolutionäre, which — employing slogans like "Elect yourself," and "Confess that you exist" — almost got him elected to the Bundestag in 1998, might suggest the former. But his post-election appearance before audiences in Berlin — draped in a Jewish prayer shawl and brandishing the taxidermied corpses of a rabbit and a badger — suggests the latter. Perhaps tonight's cultural presentation will answer the question once and for all.
***
Launched in May 1995, the web magazine FEED — which helped launch the careers of Steven Johnson, Steve Bodow, Keith Gessen, Joshua Micah Marshall, Erik Davis, Christine Kenneally, Alex Abramovich, Chris Lehmann, Sam Lipsyte, Alex Ross, Clay Shirky, Ana Marie Cox, and many others, including yours truly — went offline in the summer of 2001. In June 2010, its archives were made available. This is the second in a series reprinting a few of my own favorite FEED Dailies.