Wanda Gág
By: Joshua Glenn
March 11, 2010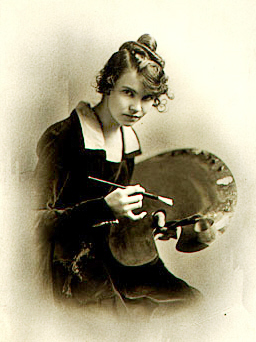 Ernst Bloch and Walter Benjamin, her exact contemporaries, may have theorized that utopian socialism is nourished by childhood's fairy tales and fantasies; but New Ulm, Minnesota's WANDA GÁG (1893-1946), who grew up with the same Old World customs and legends, did these theorists one better. Having contributed to New Masses until its Stalinist publishers demanded baldly propagandistic illustrations, from 1928 on Gág wrote and illustrated children's books that obliquely encourage readers to question received authority, think for ourselves, and sympathize with hard-working, sensible men and women (or dwarves, in the case of her 1938 translation of Snow White) who've been pushed around by circumstance. And that's not all! The cat massacre in her otherwise fun Millions of Cats (1928), which is the prototype for the picture book conceived, written, and illustrated by a single artist, reflects the author's pacifist convictions. Gone is Gone; or, the Story of a Man Who Wanted to Do Housework (1935) anticipated Betty Friedan's "problem with no name" by three decades. And, for those who agree (with Bettelheim) that un-bowdlerized fairy tales allow children to grapple with their fears and develop a sense of meaning and purpose, Gág's Tales from Grimm and More Tales from Grimm, which were republished in 2006, are strongly recommended.
***
READ MORE about the Modernist Generation.
Each day, HILOBROW pays tribute to one of our favorite high-, low-, no-, or hilobrow heroes on that person's birthday. Click here for more HiLo Hero shout-outs. To get HiLo Heroes updates via Facebook, click here.