HADRON AGE SF (69)
By: Joshua Glenn
April 27, 2023
One in a series of posts about the 75 best sf adventures published during the genre's Hadron Age era (from 2004–2023, according to HILOBROW's periodization schema). For Josh Glenn's Hadron Age Sci-Fi 75 list (a work in progress), click here.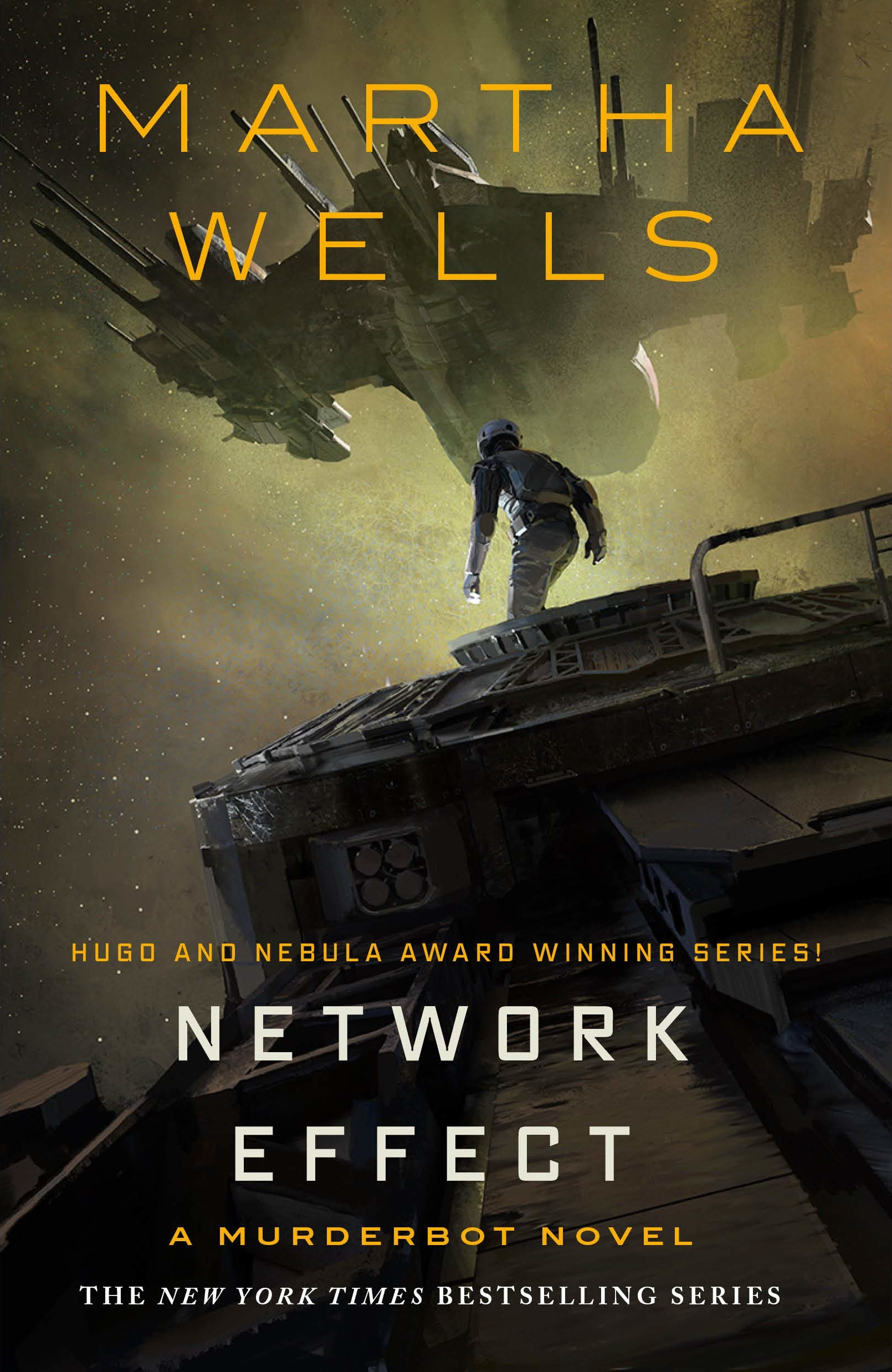 Martha Wells's Network Effect (2020).
Having enjoyed the Murderbot Diaries novellas All Systems Red (2017), Artificial Condition (2018), Rogue Protocol (2018), and Exit Strategy (2018), I was thrilled when Network Effect, a full-length novel, appeared. I was confused, too… since Exit Strategy had, or so it seemed, brought the arc of our protagonist — Murderbot, a bad-ass part-robot, part-human Security Unit that has managed to override its governor module and develop independence — to a satisfying conclusion. But it turns out there was indeed a key piece of unfinished business to revisit, one involving ART (the Murderbot-coined acronym for "Asshole Research Transport"), the powerful artificial intelligence controlling the research transport ship Perihelion whom we'd met in Artificial Condition. After surviving a bloody encounter with pirates, Murderbot and Amena — snarky teenage daughter of Murderbot's friend and ostensible owner, Dr. Mensah — are kidnapped and dragged through a wormhole by… Perihelion. Weird! But ART is nowhere to be found; and Murderbot must fight a piratical crew of gray-skinned humanoids… while protecting Amena, with whom he begins to develop something like a close friendship. (Throughout the series, we've seen Murderbot — who thinks emotions are stupid and inefficient — come perilously close to feeling all the feelings, and here it finally happens.) Once Murderbot and its team descend to a planetary colony where the grey-skin humanoids are contending with an alien life form, the action gets even more thrilling and tense. And we discover what ART and Murderbot mean to one another….
Fun facts: Wells has won four Hugo Awards, two Nebula Awards, and three Locus Awards for the Murderbot Diaries series. In 2021, Wells said that a potential TV series adaptation was in development; and Fugitive Telemetry, taking place chronologically between Exit Strategy and Network Effect, was published that same year. PS: Check out Wells's 2017 speech "Unbury the Future", about marginalized creators in the history of science fiction and fantasy; it's inspiring.
***
JOSH GLENN'S *BEST ADVENTURES* LISTS: BEST 250 ADVENTURES OF THE 20TH CENTURY | 100 BEST OUGHTS ADVENTURES | 100 BEST RADIUM AGE (PROTO-)SCI-FI ADVENTURES | 100 BEST TEENS ADVENTURES | 100 BEST TWENTIES ADVENTURES | 100 BEST THIRTIES ADVENTURES | 75 BEST GOLDEN AGE SCI-FI ADVENTURES | 100 BEST FORTIES ADVENTURES | 100 BEST FIFTIES ADVENTURES | 100 BEST SIXTIES ADVENTURES | 75 BEST NEW WAVE SCI FI ADVENTURES | 100 BEST SEVENTIES ADVENTURES | 100 BEST EIGHTIES ADVENTURES | 75 BEST DIAMOND AGE SCI-FI ADVENTURES | 100 BEST NINETIES ADVENTURES | 75 BEST HADRON AGE SCI-FI ADVENTURES.