LOST OBJECTS UPDATE
By: HILOBROW
February 1, 2023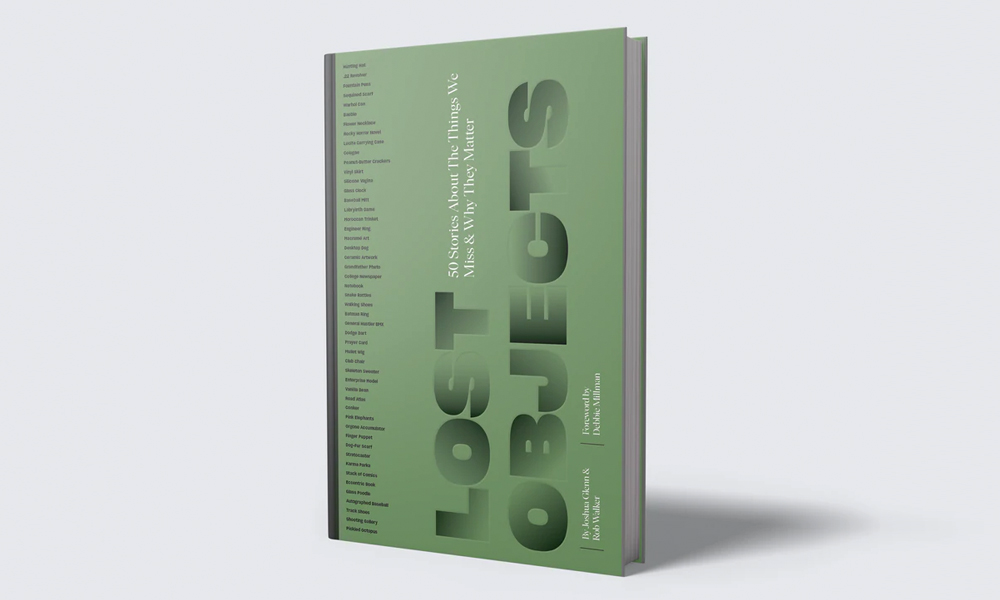 A quick note to say that Lost Objects — which "soft-launched" late last year — is now available in bookstores.
Alas, the book's "hard launch" was slowed down by everything from the war in Europe (where Lost Objects was printed) to the labor shortages plaguing our distributor here in the USA. Our publisher, Hat & Beard Press, is dissatisfied with the book's availability in stores nationwide, and they're working with the distributor on it… but at least it's out there.
LO is also available from online retailers, including Bookshop.org, and (as always — and with art prints) directly from Hat & Beard.
LOST OBJECTS updates: 2022 | 1Q2023 | 2Q2023 | 3Q2023 | 4Q2023.
*
Also, here are some new (or previously overlooked) LO mentions that we've encountered since posting the LO 2022 roundup.
"[This is how Lost Objects, and Josh Glenn and Rob Walker's other] Objects projects operate: By adding a 'layer of story' to objects, we give them significance, maybe even value, and we cause people to pay attention to them." — AUSTIN KLEON
"With evocative storytelling and a well-edited roundup of authors, Lost Objects shows us that objects – even the most ubiquitous of them – can hold special meaning. And it's this simple fact that somehow imbues the book with a tenderness and connection to each story." — COOL MATERIAL
Rob Walker on NPR's "Marketplace" (Jan. 10): "I'm not an advocate of just keeping everything forever. I'm an advocate of honoring the seemingly sort of, you know, hard to defend affection that we have for objects. And it's because those objects are connected to other things, they're connected to some time in our life, they're connected to a trip we took, they're connected to a person we met, they're connected to a feeling we had. And that is not something to take lightly, that is more meaningful, in terms of our relationship to materialism than, you know, buying the hottest new iPhone and I think we should honor that."

Paul Lukas shows off his LOST OBJECTS story

"It's a really, really good book, filled with short, evocative stories about lost items ranging from the mundane (a pack of crackers) to the evocative (a silicon vagina) to the Uni Watch-ish (a baseball glove), and the writers are an all-star gallery of geniuses: Ben Katchor, Nina Katchadourian, Gary Panter, Lucy Sante, Debbie Millman, and more." — Paul Lukas's UNI WATCH
"Each [story] spins a unique narrative that tells a personal tale, and dives into the meaning of objects that remain present to us emotionally, even after they have physically disappeared." — SCOTT BOMS
"Of course we lose things that can't be photographed — friends, ideas, dreams. I've disconnected from twitter, so I've lost readers. I've dithered around in self-doubt and lost opportunities. And some things I've lost all memory of — things truly lost." — MARTA PELRINE-BACON
"Rob Walker just published a new book with Joshua Glenn that sparks furious writing in my notebook: LOST OBJECTS: 50 Stories About the Things We Miss and Why They Matter." — STEPHANIE AFFINITO
Here's a video showing the book's interior.
Here's a cool page that LO contributor Alex Eben Meyer made, showcasing his contribution; and a page Clara Selina Bach made; and a page Susannah Breslin made too.
FURTHER READING
Check out this Wikipedia index page. Maybe this should be our next book…
Also, this 2016 "object relations" syllabus from Pratt's Julia Steinmetz looks really useful.
For more info, and to see all press received by LO during 2022, please click here.
***
ALSO SEE: PROJECT:OBJECT homepage | POLITICAL OBJECTS (1Q2017) | TALISMANIC OBJECTS (2Q2017) | ILLICIT OBJECTS (3Q2017) | LOST OBJECTS vol. 1 (4Q2017) | FLAIR (2Q2018) | FOSSILS (4Q2018) | FETISHES (2Q2019) | LOST OBJECTS vol. 2 (4Q2019) | MOVIE OBJECTS (2Q2020) | SEMIO OBJECTS (2Q2021) | SIGNIFICANT OBJECTS (cross-posted from Significant Objects website). ALSO SEE: SIGNIFICANT OBJECTS website | LOST OBJECTS (Hat & Beard Press, 2022) | SIGNIFICANT OBJECTS collection, ed. Rob Walker and Josh Glenn (Fantagraphics, 2012) | TAKING THINGS SERIOUSLY, ed. Josh Glenn (Princeton Architectural Press, 2007) | TAKING THINGS SERIOUSLY excerpts.