BOOK GIFT IDEAS
By: HILOBROW
December 5, 2022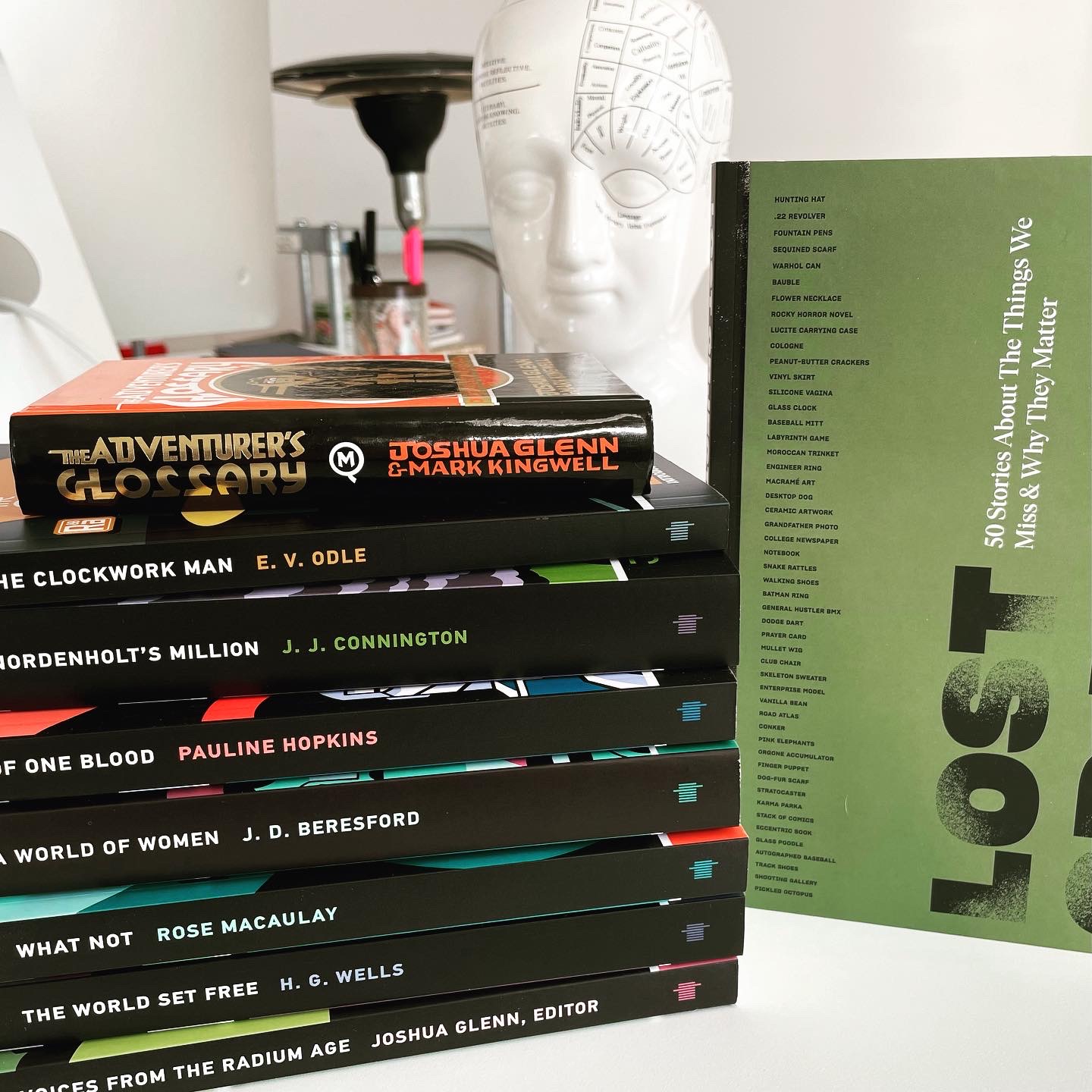 This gift-giving season, we hope you'll consider the following books recently authored and/or edited by HILOBROW's Josh Glenn. Your loved ones will thank you, and so will Josh!
DISCOUNT CODES
FOR ALL TITLES
BELOW!
*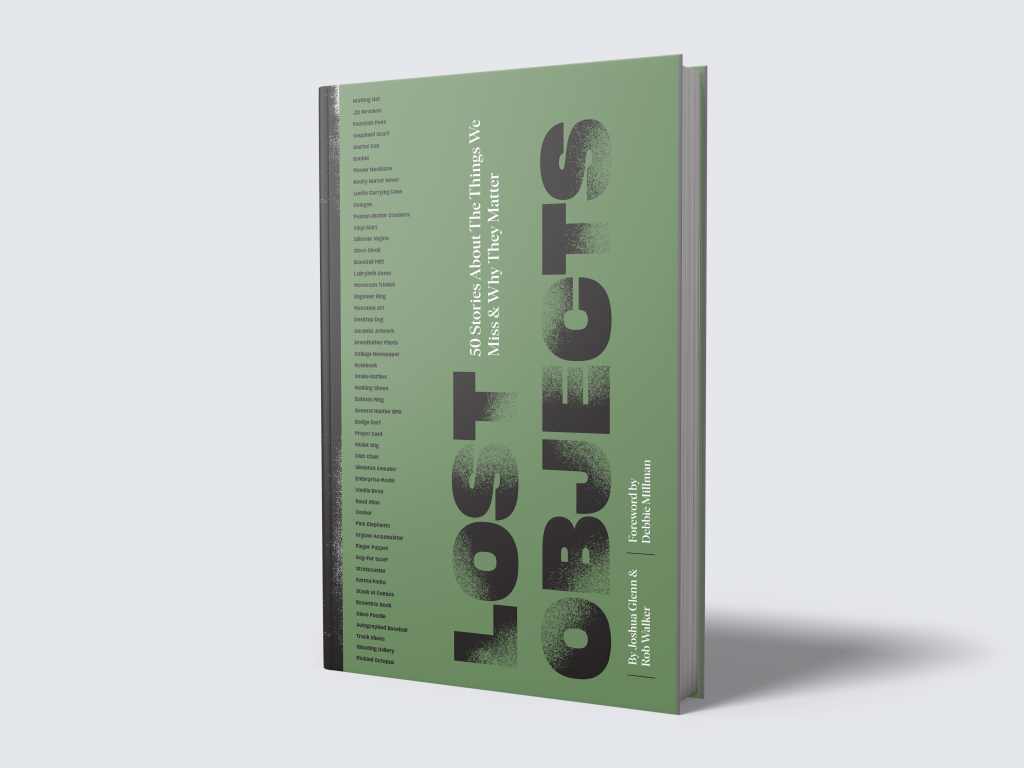 LOST OBJECTS: 50 STORIES ABOUT THE THINGS WE MISS AND WHY THEY MATTER (Hat & Beard Press, ed. Joshua Glenn and Rob Walker). This gorgeous book, introduced by Debbie Millman, is an adaptation of two "volumes" of nonfiction narratives and accompanying illustrations first published here at HILOBROW — under the aegis of Project:Object.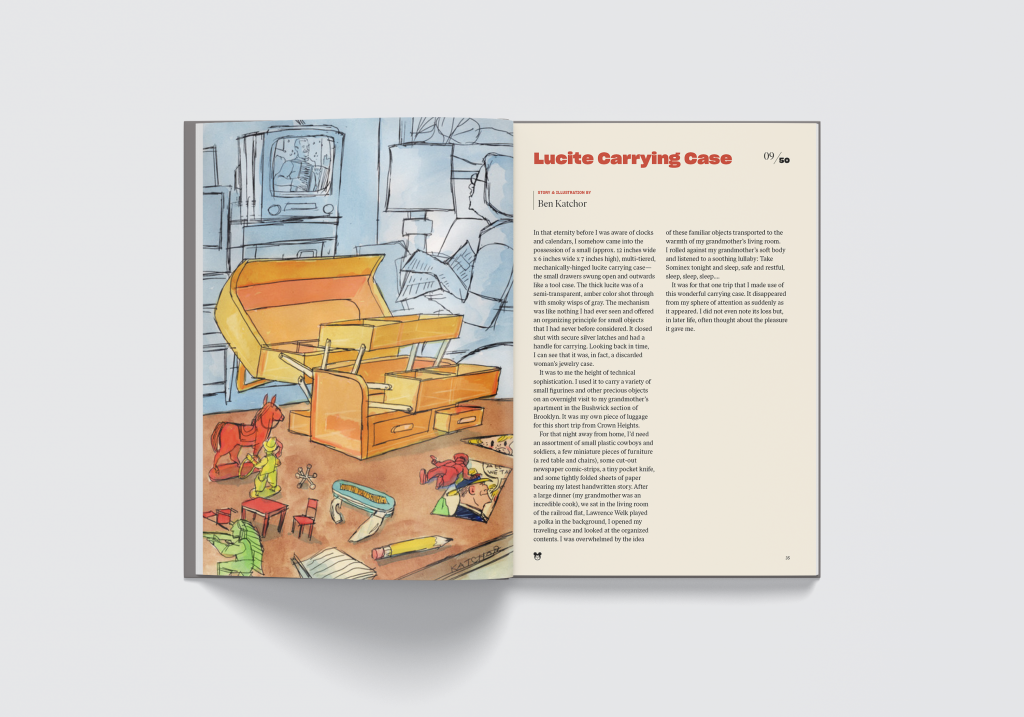 LOST OBJECTS won't be available in bookstores until January. However, one can order Lost Objects, along with limited-edition art prints, directly from Hat & Beard now. They will ship it immediately! Until December 25, the checkout code LOSTOBJECTS will take 20% off the price of either the book or a book/print combo.
Here's what they're saying about LOST OBJECTS:
"The contributors to this book have imbued a palpable, living soulfulness into the items that have disappeared or were misplaced or given away. Now — here in this book — that love can be discovered all over again." — Debbie Millman | "This ridiculously entertaining book performs a neat conjuring trick. You will find your own lost objects flying back to you as you read about other people's dearly departed things. The conceit is ingenious and the beautiful illustrations make each writer's 'rosebud' flare into radiant life again." — Jenny Offill | "These micro-tales are the best of the short confessional. They leave you with that same wonderful feeling you sometimes get on one of those special nights in the corner of a bar with a few friends." — Air Mail | "Filled with exotic and eccentric things, this book proves that discarding hoarded items is not always the best way to take existential control of our lives." — The Daily Heller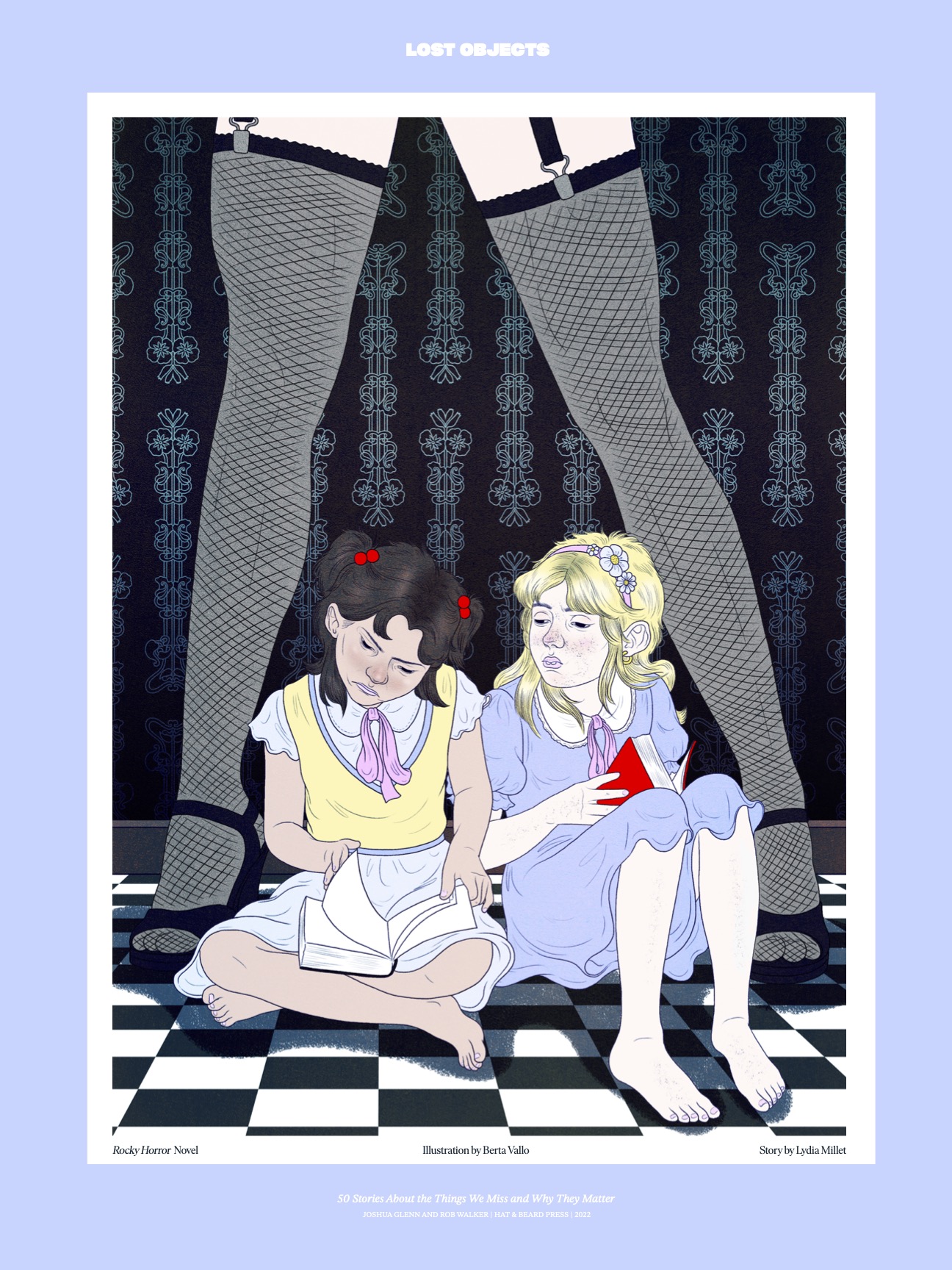 LOST OBJECTS authors, in no particular order: Kate Bernheimer | Dan Piepenbring | Doug Dorst | Paul Lukas | Mimi Lipson | Lucy Sante | Nina Katchadourian | Matthew Sharpe | Claire Lehmann | Jessamyn West | Mandy Keifetz | M.R. Sauter | Amy Thielen | Stephen O'Connor | Alice Boone | Dante Ramos | Alex Balk | Chelsey Johnson | Susannah Breslin | Seth Mnookin | Dan Fox | Lisa Takeuchi Cullen | Michael Tisserand | Jeff Turrentine | Randy Kennedy | Geoff Manaugh | Joe Yonan | Laura Lippman | Ben Katchor | Neil LaBute | Miranda Mellis | Chris Piascik | Anita Kunz | Debbie Millman | Heather Kapplow | Lydia Millet | Ben Greenman | Leah Hennessey | Kathryn Davis | Mikita Brottman | Nathaniel Rich | Charles Glaubitz | Seth | Becky Stern | Mark Dery | Paola Antonelli | Sara Ryan | Alex Gerasev | Margaret Wertheim | Gary Panter
LOST OBJECTS artists, in the same non-particular order: Amy C. Evans | Josh Neufeld | John Holbo | Allison Bamcat | Mister Reusch | Kate Bingaman-Burt | Lisa Congdon | Glenn Jones | Karen Kurycki | Amanda Clarke | Emory Allen | Shayna Piascik | Heather Kasunick | Oliver Munday | Rick Pinchera | Joe Alterio | John Lowe | Rubi McGrory | Jennifer Heuer | Alex Eben Meyer | Linzie Hunter | Rose Wong | Jackie Roche | Andrew DeGraff | Max Temescu | Mariana Pita | Theo Ellsworth | Laura Didyk | Ben Katchor | Disa Wallander | Adam Goldberg | Chris Piascik | Anita Kunz | Debbie Millman | Matt Wuerker | Berta Vallo | Clara Selina Bach | Dean Haspiel | Dina Noto | Sarah Williamson | Ellen Rose | Charles Glaubitz | Seth | Monica Garwood | Kelli Anderson | Sophie Calhoun | Steve Lieber | Alex Gerasev | Armando Veve | Gary Panter
*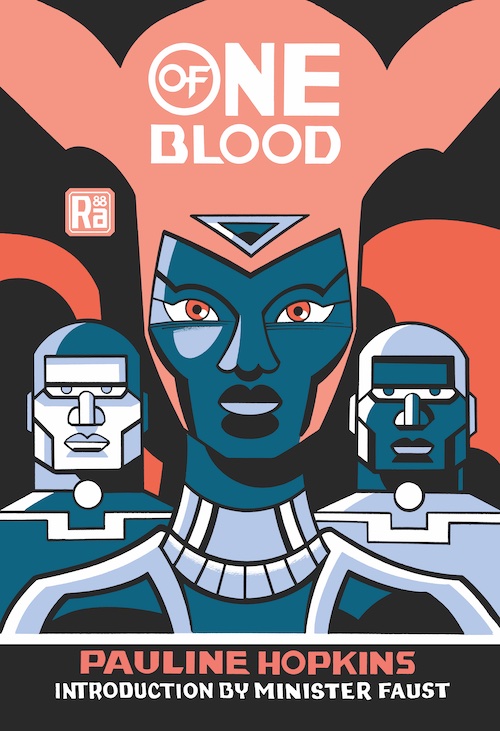 Josh is editor of MIT Press's RADIUM AGE proto-sf reissue series, which launched this spring. Enter code MITPHoliday22 at checkout on PenguinRandomHouse.com's RADIUM AGE series page for 20% off ALL titles published by the MIT Press, with free shipping until January 31, 2023. Terms and conditions apply.
Here's what they're saying about the series:
"Neglected classics of early 20th-century sci-fi in spiffily designed paperback editions." — The Financial Times | "New editions of a host of under-discussed classics of the genre." — Tor.com | "The best proto-science fiction novels and stories from 1900 to 1935." — The Washington Post. | "Long live the Radium Age." — Scott Bradfield, Los Angeles Times | "Shows that 'proto-sf' was being published much more widely, alongside other kinds of fiction, in a world before it emerged as a genre and became ghettoised." — BSFA Review. | "A huge effort to help define a new era of science fiction." — Transfer Orbit | "An excellent start at showcasing the strange wonders offered by the Radium Age." — Maximum Shelf | "What's incredible about looking back on the Radium Age is that you realize so many of the science fiction themes we think of as solidly contemporary — from post-humans and the singularity, to zombie-populated dystopias — actually got their start way back in the early 1900s." — Ars Technica | "I didn't know there was a Radium Age, but I've long loved the stories." — Neil Gaiman.
The following RADIUM AGE series titles are now available!
Cover designed & illustrated by Seth
All series covers illustrated and decorated by the cartoonist Seth.
*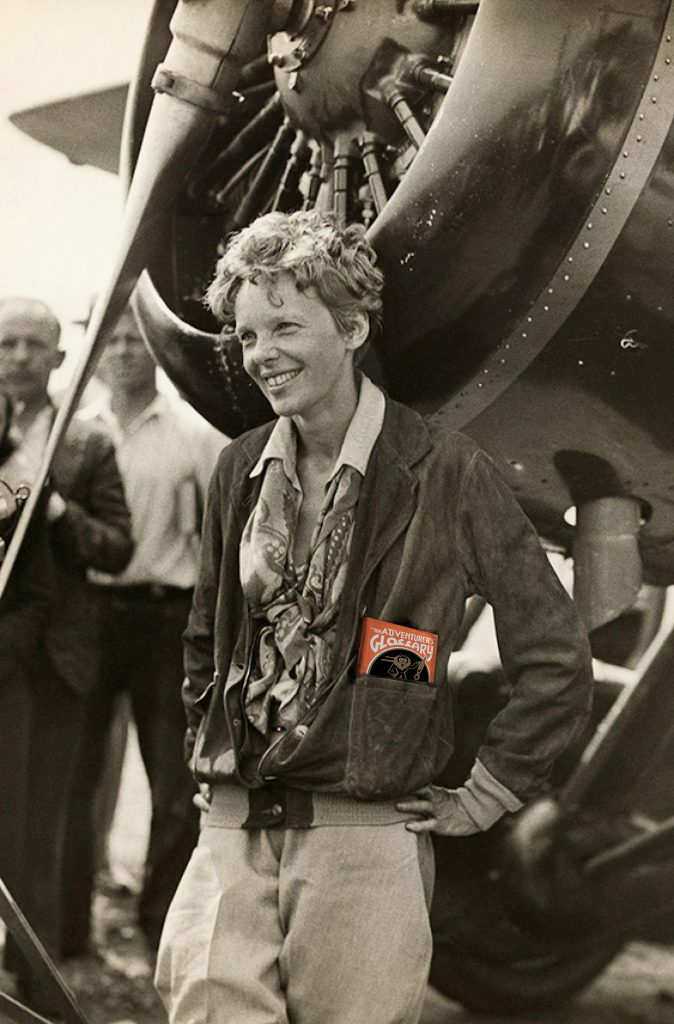 THE ADVENTURER'S GLOSSARY (McGill-Queen's University Press), Josh's third collaboration with the philosopher Mark Kingwell and the cartoonist Seth, was published in late 2021. "Joshua Glenn, Mark Kingwell, and Seth combine their talents to embark on a grand linguistic adventure. Together they map out the power of language to help the explorer navigate a rich narrative." — Ann Bancroft, first woman to trek to the North and South Poles. "I read The Adventurer's Glossary with great interest and mounting enthusiasm; there is no book quite like it. I found surprises on nearly every page." — Lucy Sante.
See this book at MQUP. Use code MQSP for a 30% holiday discount!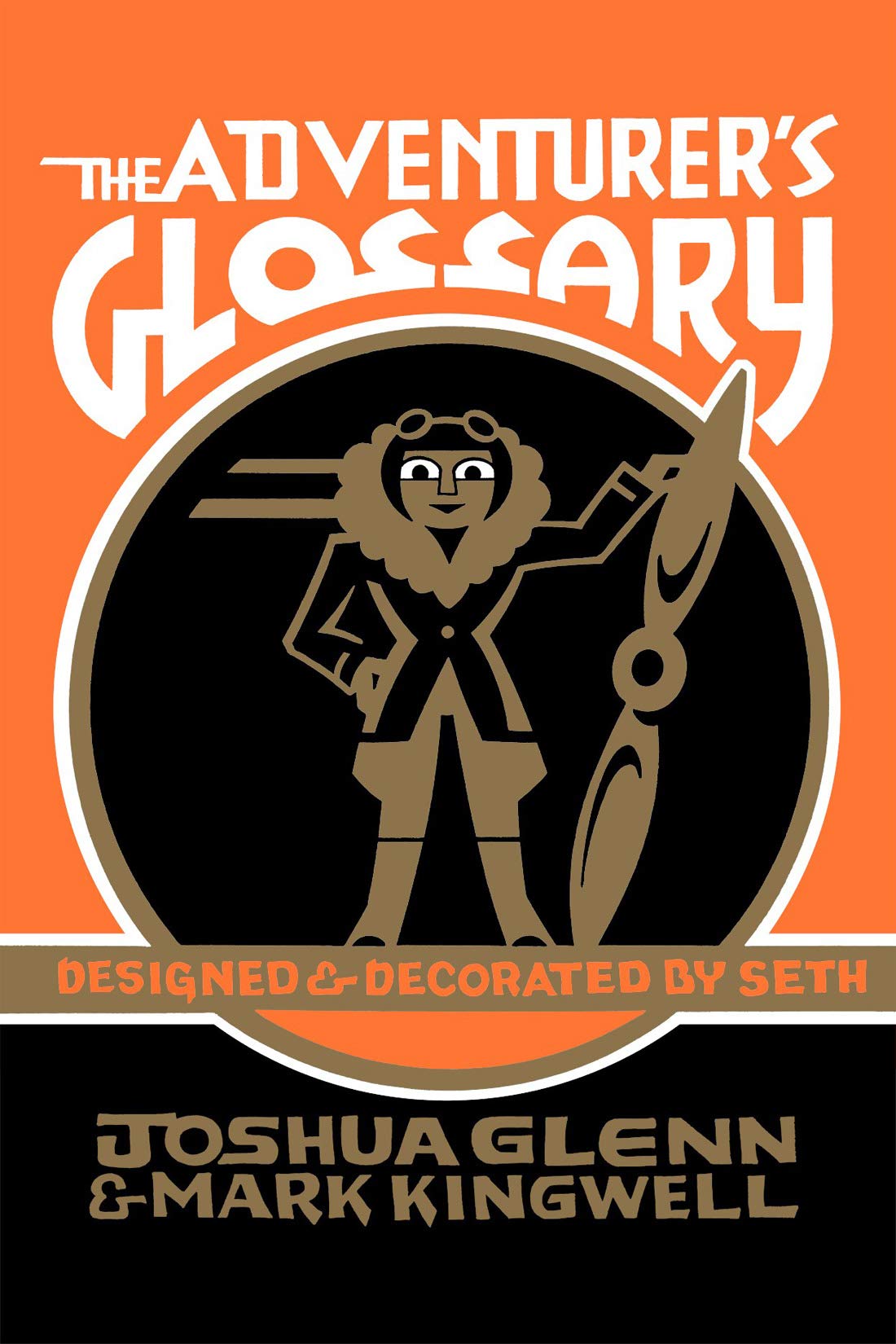 Here's what they're saying about THE ADVENTURER'S GLOSSARY:
"Drags the reluctant reader into the world of the curly wolf and discourages them from being a half-stepper. Stand ready to chance your arm or chance the ducks. Be on the look-out for gonnifs and goons — and have the savvy to cry sauve-qui-peut and punch out or vamoose, as required." — Times Literary Supplement (UK). "Takes the reader on a semantic journey sourced from the military, aviation, surfing, NASA, hip hop, comic books, extreme sports, gaming culture, and classic adventure literature." — Quill & Quire. "Glenn and Kingwell don't merely define different types of adventure — they offer one to their readers." — The Literary Review of Canada. "A case for 'adventure' as a literary as well as a quasi-athletic genre and attitude, with a philosopher's aerial approach, a set of literary recommendations, and a great deal of cultural history baked into a very skimmable A to Z." — Stephanie Burt. "Packed with interesting trivia, philosophical musings, humour, and cartoons that'll appeal to any adventure enthusiast." — We Are the Explorers. "Looking for a gift for a word nerd and/or lover of adventure? Your quest ends here!" — BOING BOING.