LOST OBJECTS at BROOKLINE BOOKSMITH
By: HILOBROW
September 8, 2022
Boston-area HILOBROW readers, please mark your calendars…
On September 23rd, Brookline Booksmith — in Brookline, Mass. — will host a launch event for Lost Objects: 50 Stories About the Things We Miss and Why They Matter (Hat & Beard Press, ed. Josh Glenn and Rob Walker). Register here.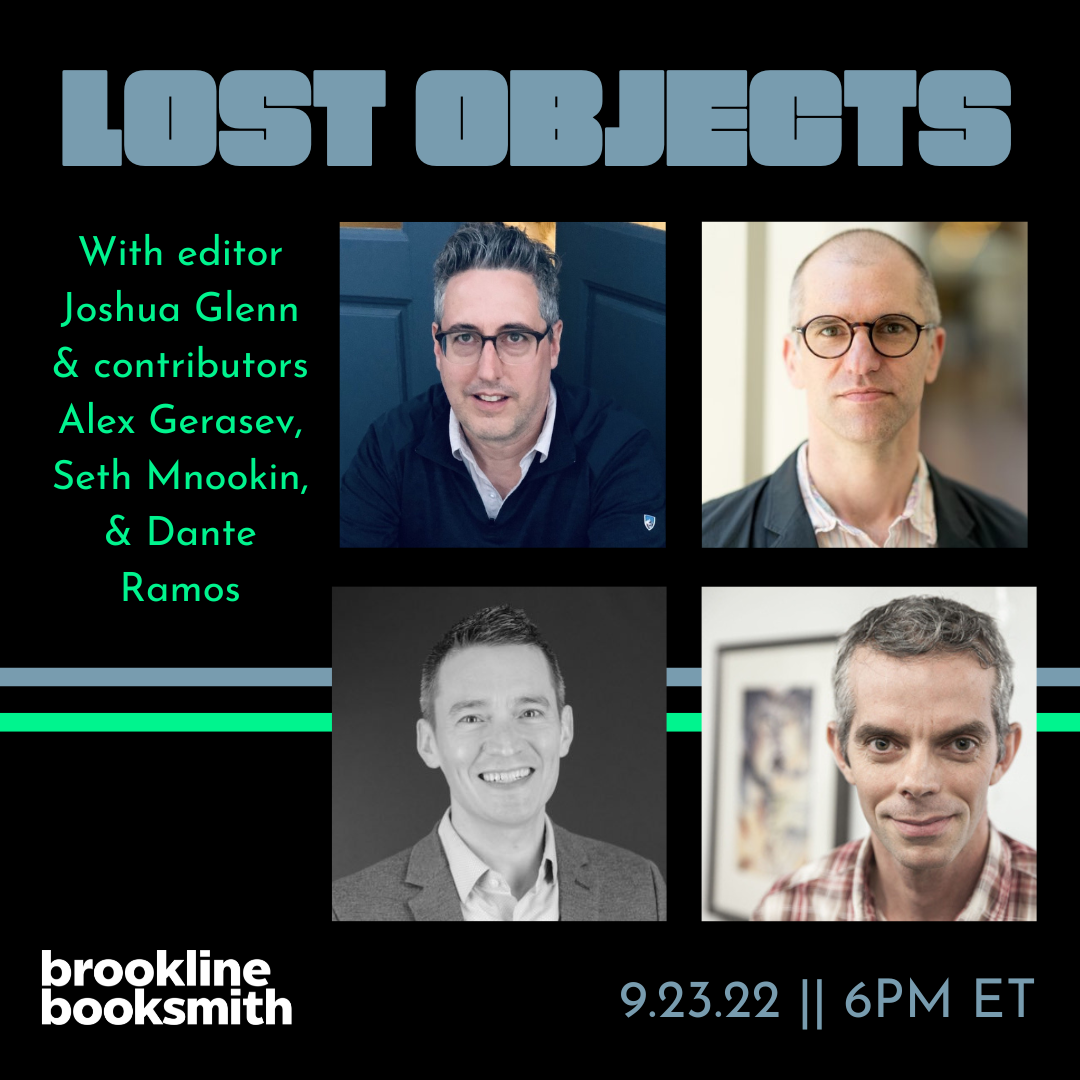 The book, which evolved from narratives and illustrations first published here at HILOBROW, features an amazing lineup of nearly 100 contributors — including Lucy Sante, Nina Katchadourian, Gary Panter, Geoff Manaugh, Ben Katchor, Neil LaBute, Debbie Millman, Lydia Millet, Paola Antonelli, Oliver Munday, Anita Kunz, and Armando Veve.
Josh will host the Booksmith event; and local contributors Alex Gerasev, Seth Mnookin, and Dante Ramos will read their stories. The book's designer, along with some of the local illustrator contributors, should also be in attendance. Although the book won't officially be published until September 27, there will be copies available for sale at the event. We look forward to seeing you there!
*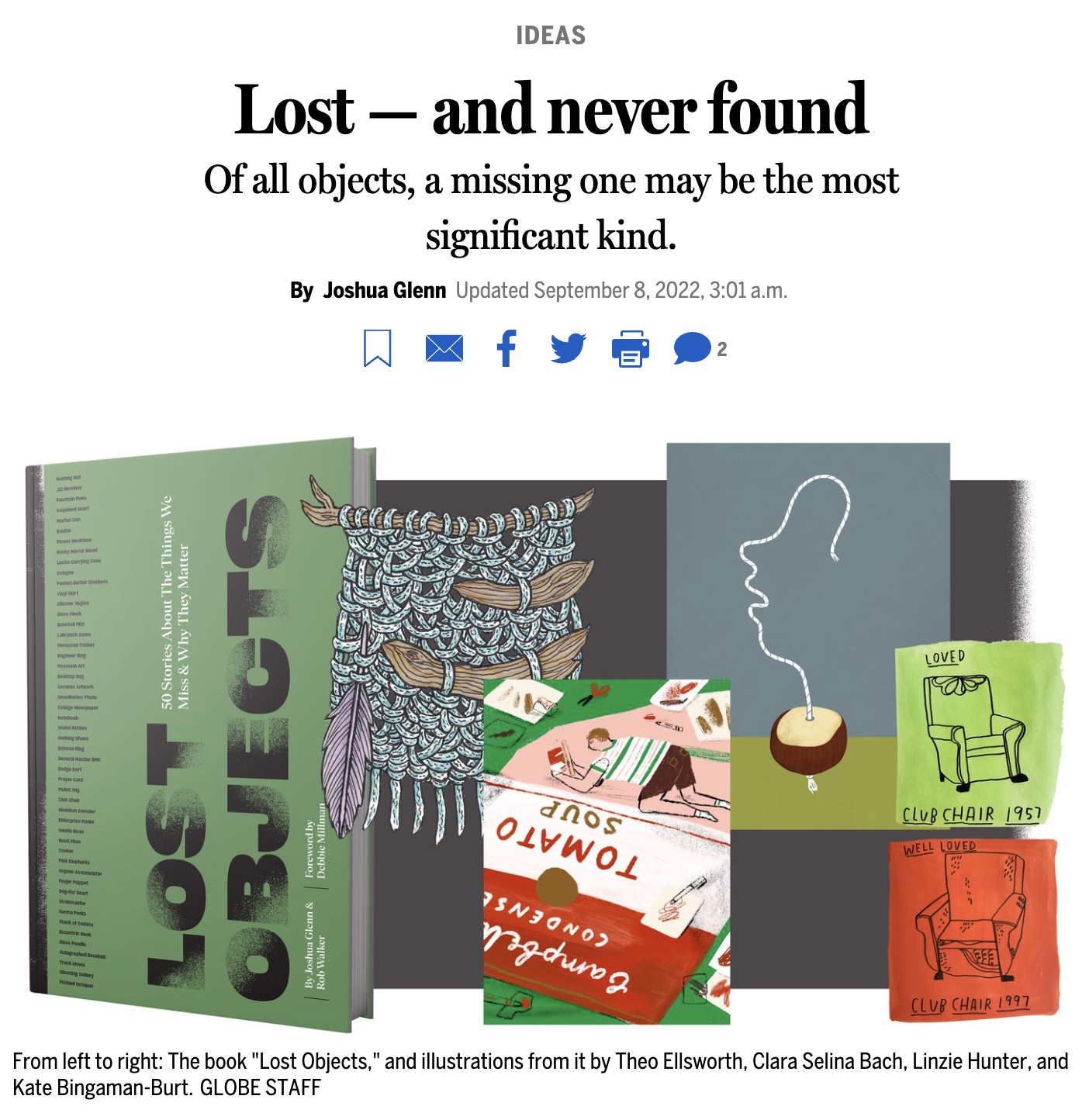 Also! Today's online edition of the Boston Globe's IDEAS section promotes the Booksmith event by excerpting three Lost Objects stories and illustrations. The print edition of IDEAS will appear this Sunday. Excerpts have also appeared, thus far, at Lit Hub, The Millions, and PRINT, and in Harper's magazine.
*
Other upcoming Lost Objects events include: October 14th at a DUMBO popup venue TBA, a NY Art Book Fair afterparty (which will double as a Steve Keene exhibition) | Chicago Art Book Fair in November | Los Angeles Art Book Fair in November | San Francisco Art Book Fair in December | Seattle Art Book Fair in January.
Follow Lost Objects on Instagram for updates.
***
ALSO SEE: PROJECT:OBJECT homepage | POLITICAL OBJECTS (1Q2017) | TALISMANIC OBJECTS (2Q2017) | ILLICIT OBJECTS (3Q2017) | LOST OBJECTS vol. 1 (4Q2017) | FLAIR (2Q2018) | FOSSILS (4Q2018) | FETISHES (2Q2019) | LOST OBJECTS vol. 2 (4Q2019) | MOVIE OBJECTS (2Q2020) | SEMIO OBJECTS (2Q2021) | SIGNIFICANT OBJECTS (cross-posted from Significant Objects website). ALSO SEE: SIGNIFICANT OBJECTS website | LOST OBJECTS (Hat & Beard Press, 2022) | SIGNIFICANT OBJECTS collection, ed. Rob Walker and Josh Glenn (Fantagraphics, 2012) | TAKING THINGS SERIOUSLY, ed. Josh Glenn (Princeton Architectural Press, 2007) | TAKING THINGS SERIOUSLY excerpts.