LOST OBJECTS in NYC
By: HILOBROW
June 22, 2022
June 30th! 7 pm! At McNally Jackson Seaport — 4 Fulton St., NYC.
HILOBROW's Josh Glenn presents Lost Objects: 50 Stories About The Things We Miss and Why They Matter (Hat & Beard Press) with Dan Fox, Mimi Lipson, Debbie Millman, Stephen O'Connor, and Lucy Sante. This is the East Coast launch event for the new book from Josh Glenn and Rob Walker, coeditors of Significant Objects and the Project:Object series.
RSVP required — please visit the event page for info.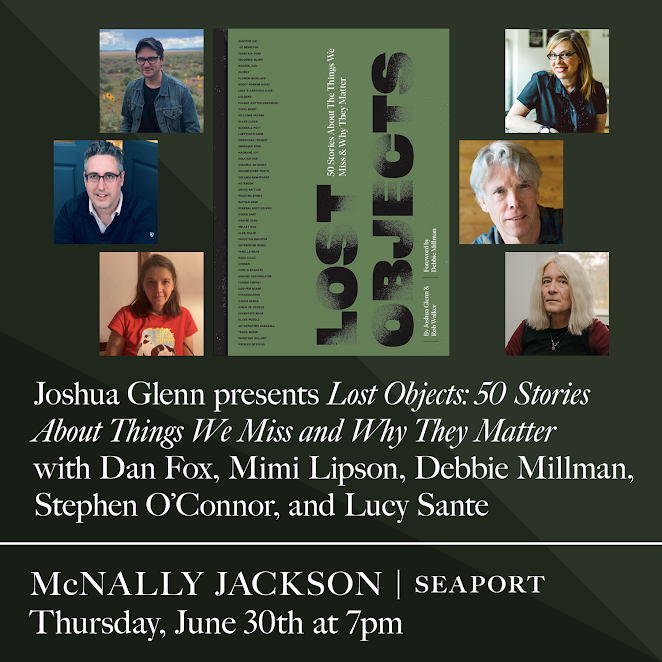 Is there a "Rosebud" object in your past? A long-vanished thing that lingers in your memory — whether you want it to or not? As much as we may treasure the stuff we own, perhaps just as significant are the objects we have lost. What is it about these bygone objects — why do they continue to haunt us long after they've vanished from our lives?
In Lost Objects, editors Joshua Glenn and Rob Walker have gathered answers to those questions in the form of 50 true stories from a dazzling roster of writers, artists, thinkers, and storytellers, including Lucy Sante, Ben Katchor, Lydia Millet, Neil LaBute, Laura Lippman, Geoff Manaugh, Paola Antonelli, Margaret Wertheim, and many more. The editors gathered a similarly impressive array of artists to illustrate these meaningful things that have gone missing. Visual contributors include Seth, Kate Bingaman-Burt, Oliver Munday, Lisa Congdon, Matt Wuerker, Anita Kunz, Alex Eben Meyer, Gary Panter, and Kelli Anderson.
Can't make it to the event? Pre-order Lost Objects, along with limited-edition posters, here. Sale of the posters will help defray costs of printing the book.
*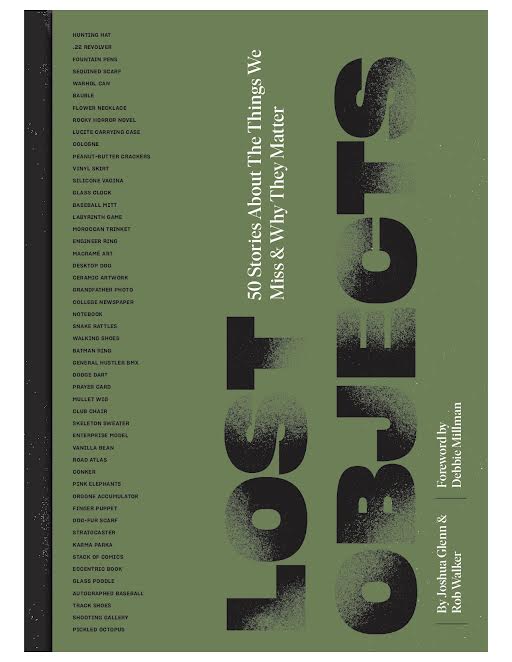 Dan Fox is the author of Pretentiousness: Why It Matters and Limbo. He has been a co-editor of Frieze magazine and is, with Marcus Werner Hed, co-director of the documentary Other, Like Me: The Oral History of COUM Transmissions and Throbbing Gristle. He co-runs the label Junior Aspirin Records, and is a member of the band The God in Hackney.
Joshua Glenn is a consulting semiotician and coauthor of The Adventurer's Glossary, Unbored: The Essential Field Guide to Serious Fun, and (with Rob Walker) Significant Objects, among other books. He is editor of HILOBROW.com and the MIT Press's Radium Age series.
Mimi Lipson is a writer living in New York City. Her short story collection, The Cloud of Unknowing, was published in 2014 by Yeti Press.
Debbie Millman is host of the podcast Design Matters, Chair of the Masters in Branding Program at the School of Visual Arts, Editorial Director of PrintMag.com, and the author of seven books on design and branding. Her book Why Design Matters: Conversations with the World's Most Creative People was published by HarperCollins earlier this year.
Stephen O'Connor is the author of six books: Thomas Jefferson Dreams of Sally Hemings, a novel; Here Comes Another Lesson, short stories; and the forthcoming collection of poetry, Quasimode. His fiction has appeared in the New Yorker, Harper's, Best American Short Stories, and many other places. He teaches creative writing at Sarah Lawrence.
Lucy Sante's books include Low Life, The Factory of Facts, Kill All Your Darlings, The Other Paris, and Maybe the People Would Be the Times. Nineteen Reservoirs will be published in August. She teaches at Bard College.
*
PS: Here's the book's Instagram account. Please follow!