Best 2003 Adventures (10)
By: Joshua Glenn
February 9, 2021
One in a series of 10 posts identifying Josh Glenn's favorite 2003 adventure novels.
*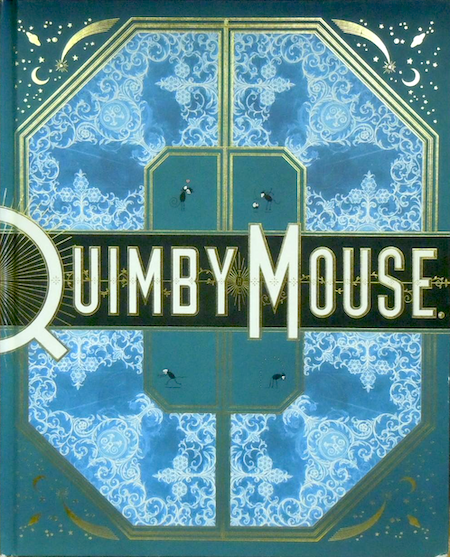 Chris Ware's ACME Novelty Library comic Quimby the Mouse.
Before he gave us Jimmy Corrigan and Rusty Brown, Chris Ware gave us Quimby the Mouse — a nostalgic, hopeless Mickey Mouse homage/parody with which he first experimented while contributing to the University of Texas at Austin's student newspaper in 1990–1991, then introduced to the world via the pages of the high-lowbrow comics journal Raw, as well as via Ware's own Fantagraphics comic book series The ACME Novelty Library. The recurring character is trapped in two relationships: with Sparky, a disembodied cat's head; and with an older mouse's head that in some strips is shown attached to his own body. At the level of form, the strips are wildly inventive and genre-defying; they rarely proceed in any kind of left-to-right, top-to-bottom linear fashion, and even when they do they jump around in time and/or phase in and out of different levels of perception. (Ware has cited Joseph Cornell's surrealist assemblages — found objects arranged into quasi-narrative dioramas or tableaux — as an inspiration.) Despite being nihilistic vehicles of the author's angst and self-recrimination, though, Quimby's adventures are also — like Mickey Mouse's — amusing and even optimistic! The Quimby stories, as well as the other vivid strips, advertisements, letter columns, etc., contained in the gorgeous 2003 collection offer a master class in cartooning and graphic design history; Ware is a cartoonist's cartoonist, who permanently elevated the genre.
Fun facts: "I see the black outlines of cartoons as visual approximations of the way we remember general ideas, and I try to use naturalistic color underneath them to simultaneously suggest a perceptual experience, which I think is more or less the way we actually experience the world as adults," Ware has explained in an interview. "We don't really 'see' anymore after a certain age, we spend our time naming and categorizing and identifying and figuring how everything all fits together."
***
JOSH GLENN'S *BEST ADVENTURES* LISTS: BEST 250 ADVENTURES OF THE 20TH CENTURY | 100 BEST OUGHTS ADVENTURES | 100 BEST RADIUM AGE (PROTO-)SCI-FI ADVENTURES | 100 BEST TEENS ADVENTURES | 100 BEST TWENTIES ADVENTURES | 100 BEST THIRTIES ADVENTURES | 75 BEST GOLDEN AGE SCI-FI ADVENTURES | 100 BEST FORTIES ADVENTURES | 100 BEST FIFTIES ADVENTURES | 100 BEST SIXTIES ADVENTURES | 75 BEST NEW WAVE SCI FI ADVENTURES | 100 BEST SEVENTIES ADVENTURES | 100 BEST EIGHTIES ADVENTURES | 75 BEST DIAMOND AGE SCI-FI ADVENTURES | 100 BEST NINETIES ADVENTURES | 75 BEST HADRON AGE SCI-FI ADVENTURES | NOTES ON 21st-CENTURY ADVENTURES.