Best 2003 Adventures (2)
By: Joshua Glenn
January 27, 2021
One in a series of 10 posts identifying Josh Glenn's favorite 2003 adventure novels.
*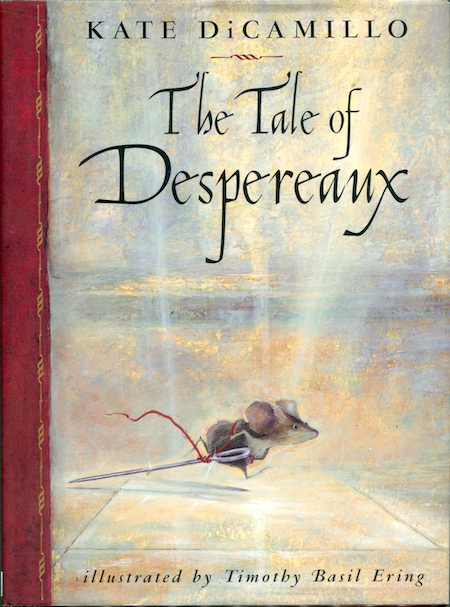 Kate DiCamillo's children's fantasy adventure The Tale of Despereaux: Being the Story of a Mouse, a Princess, Some Soup, and a Spool of Thread.
Despereaux, a castle mouse, is the only survivor of his mother's latest litter and an oddball with an undersized body and oversized ears. He learns to read… and (like Don Quixote) becomes obsessed with tales of chivalry. Which leads him to get acquainted with the castle's real-life princess, known as Pea. However, mice are forbidden to speak to humans; the castle's mouse council banishes Despereaux to the pitch-black dungeon… where he becomes friendly with Greogory, the jailer. There are other stories here, too: that of Roscuro, a rat who accidentally causes the death of Pea's mother; and Mig, a castle servant who fantasizes about becoming a princess, and who conspires with Roscuro. When Princess Pea is kidnapped, only Despereaux has the wit and courage to track her down and do what it takes to set her free.
Fun facts: The book won the 2004 Newbery Medal award. The 2008 animated film adaptation of The Tale of Despereaux was directed by Sam Fell and Rob Stevenhagen. It is narrated by Sigourney Weaver and stars Matthew Broderick, Robbie Coltrane, Frances Conroy, Tony Hale, Ciarán Hinds, Dustin Hoffman, Richard Jenkins, Kevin Kline, Frank Langella, William H. Macy, Charles Shaughnessy, Stanley Tucci, Tracey Ullman, and Emma Watson.
***
JOSH GLENN'S *BEST ADVENTURES* LISTS: BEST 250 ADVENTURES OF THE 20TH CENTURY | 100 BEST OUGHTS ADVENTURES | 100 BEST RADIUM AGE (PROTO-)SCI-FI ADVENTURES | 100 BEST TEENS ADVENTURES | 100 BEST TWENTIES ADVENTURES | 100 BEST THIRTIES ADVENTURES | 75 BEST GOLDEN AGE SCI-FI ADVENTURES | 100 BEST FORTIES ADVENTURES | 100 BEST FIFTIES ADVENTURES | 100 BEST SIXTIES ADVENTURES | 75 BEST NEW WAVE SCI FI ADVENTURES | 100 BEST SEVENTIES ADVENTURES | 100 BEST EIGHTIES ADVENTURES | 75 BEST DIAMOND AGE SCI-FI ADVENTURES | 100 BEST NINETIES ADVENTURES | NOTES ON 21st-CENTURY ADVENTURES.