Best 2002 Adventures (9)
By: Joshua Glenn
January 19, 2021
One in a series of 10 posts identifying Josh Glenn's favorite 2002 adventure novels.
*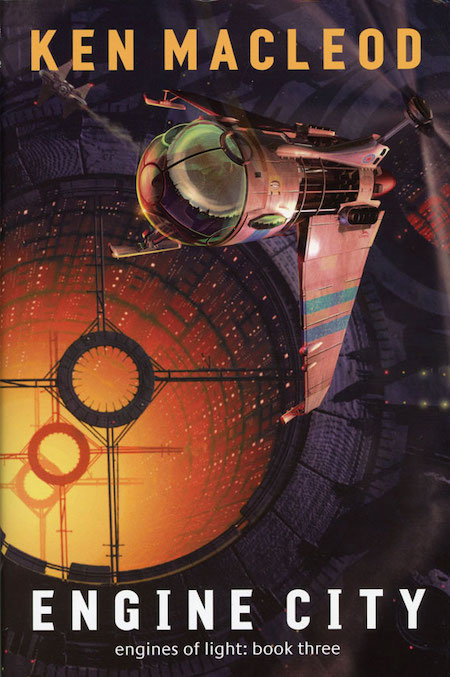 Ken MacLeod's Engines of Light sci-fi adventure Engine City.
The third installment in MacLeod's epic of humans colonizing distant worlds — and discovering their true place in a vast interstellar community watched over by microcosmic gods — is in certain respects the most satisfying. Set in the city of Nova Babylonia, the greatest city of the Second Sphere (whence humankind, sentient dinosaurs, and evolved krakens, not to mention folkloric "Pithkies" and "gigants" were removed to, millennia ago), Engine City explores what happens when Grigory Andreievich Volkov and his group of renegade cosmonauts arrive in their improvised starship… and attempt to unite the placid utopia's various species against a self-replicating octopod race offering omnipotence and immortality. We've met these cosmonauts, in the previous installments; we've also met their antagonists — a Scottish anarchist computer programmer from the year 2049, the heiress of an interplanetary mercantile dynasty, and a pot-smoking saur. The Multipliers have interfered in the lives of Earth's species since prehistoric times — it was they who elevated the saurs and kraken; the "gods" (hyper-intelligent collectives of extremophile nanobacteria living inside asteroids) have prevented them from achieving their goals. When the alien invasion reaches Nova Babylonia, which side will win out?
Fun facts: "Inclusivity is MacLeod's great principle," notes Colin Greenland in his review of the novel. "Few writers acknowledge, implicitly or explicitly, so many influences: not only old masters like Wells and Olaf Stapledon, Arthur C. Clarke and Poul Anderson, but also radical contemporaries like Gwyneth Jones and Bruce Sterling."
***
JOSH GLENN'S *BEST ADVENTURES* LISTS: BEST 250 ADVENTURES OF THE 20TH CENTURY | 100 BEST OUGHTS ADVENTURES | 100 BEST RADIUM AGE (PROTO-)SCI-FI ADVENTURES | 100 BEST TEENS ADVENTURES | 100 BEST TWENTIES ADVENTURES | 100 BEST THIRTIES ADVENTURES | 75 BEST GOLDEN AGE SCI-FI ADVENTURES | 100 BEST FORTIES ADVENTURES | 100 BEST FIFTIES ADVENTURES | 100 BEST SIXTIES ADVENTURES | 75 BEST NEW WAVE SCI FI ADVENTURES | 100 BEST SEVENTIES ADVENTURES | 100 BEST EIGHTIES ADVENTURES | 75 BEST DIAMOND AGE SCI-FI ADVENTURES | 100 BEST NINETIES ADVENTURES | 75 BEST HADRON AGE SCI-FI ADVENTURES | NOTES ON 21st-CENTURY ADVENTURES.