Best 2002 Adventures (3)
By: Joshua Glenn
January 9, 2021
One in a series of 10 posts identifying Josh Glenn's favorite 2002 adventure novels.
*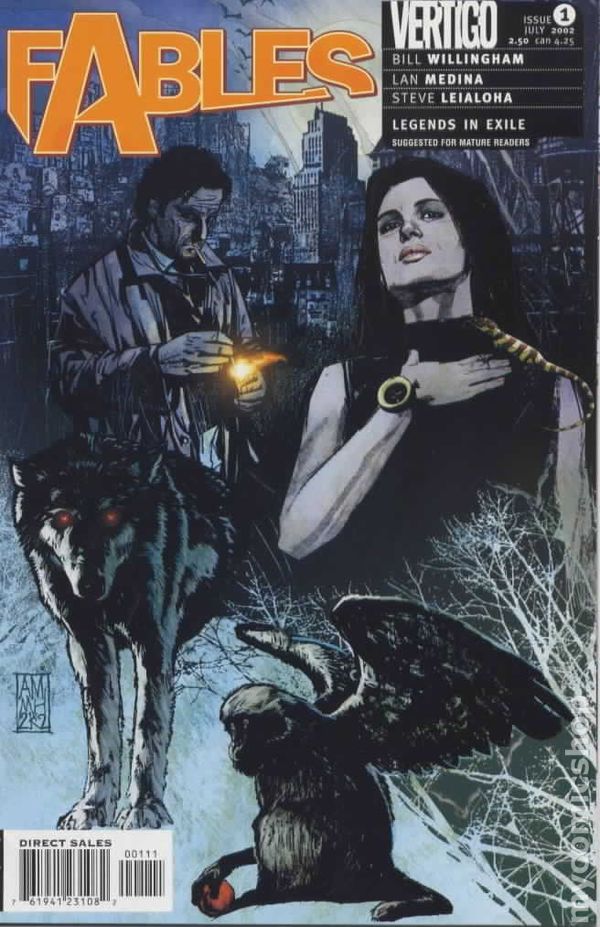 Bill Willingham's comic book series Fables (2002–2015).
The Fables series — published by DC's Vertigo imprint, under the direction of visionary editor Karen Berger — follows the adventures of a clandestine community of fairy-tale and folklore characters who, centuries ago, were driven out of their homelands into our world. When the story begins, the Fables' city-within-New York City, Fabletown, is run by Bigby Wolf (the sheriff) and Snow White (deputy mayor), who attempt to solve conflicts both in their town and on their upstate "farm." Other characters include Grimble, the troll from "THree Billy Goats Gruff," Bufkin, a winged monkey from the Oz stories, and Beauty and the Beast — who later will become Fabletown's deputy mayor and mayor. Prince Charming, as one might expect, is a narcissist, womanizer, and rogue — though he occasionally will do the right thing. The story arcs, in the early days of the series, take the form of various adventure narratives… from murder mystery to conspiracy to caper. A breakout hit, the series ran for thirteen years, with various spinoffs.
Fun facts: Willingham, who got his start as TSR artist — contributing illustrations to AD&D modules, not to mention the Fiend Folio — served as sole writer for the entirety of the Fables series, with Mark Buckingham penciling more than 110 issues. Jess Nevins's Fables Encyclopedia offers valuable annotations to the comics.
***
JOSH GLENN'S *BEST ADVENTURES* LISTS: BEST 250 ADVENTURES OF THE 20TH CENTURY | 100 BEST OUGHTS ADVENTURES | 100 BEST RADIUM AGE (PROTO-)SCI-FI ADVENTURES | 100 BEST TEENS ADVENTURES | 100 BEST TWENTIES ADVENTURES | 100 BEST THIRTIES ADVENTURES | 75 BEST GOLDEN AGE SCI-FI ADVENTURES | 100 BEST FORTIES ADVENTURES | 100 BEST FIFTIES ADVENTURES | 100 BEST SIXTIES ADVENTURES | 75 BEST NEW WAVE SCI FI ADVENTURES | 100 BEST SEVENTIES ADVENTURES | 100 BEST EIGHTIES ADVENTURES | 75 BEST DIAMOND AGE SCI-FI ADVENTURES | 100 BEST NINETIES ADVENTURES | NOTES ON 21st-CENTURY ADVENTURES.