Best 2001 Adventures (9)
By: Joshua Glenn
December 17, 2020
One in a series of 10 posts identifying Josh Glenn's favorite 2001 adventure novels.
*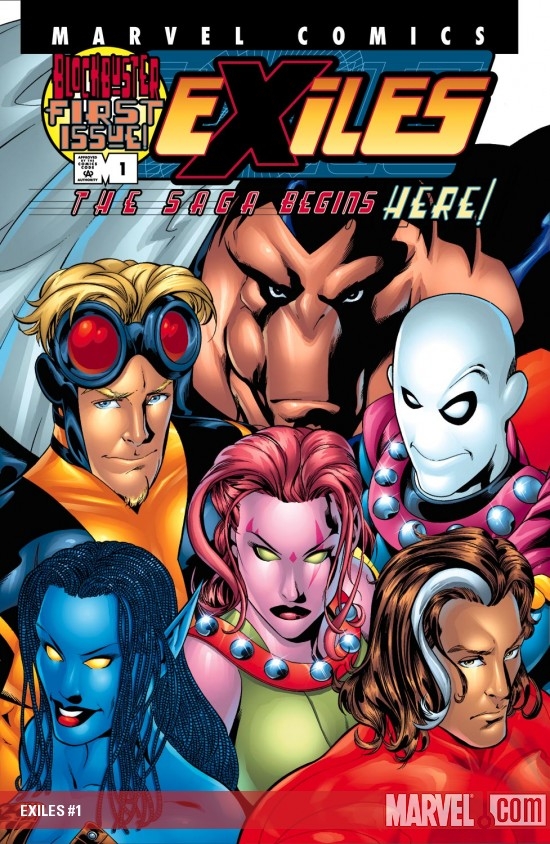 Judd Winick and Mike McKone's Exiles comics (2001–2008).
The Exiles are a team of superheroes — including Morph and Blink, as well as Mimic, Magnus (son of Magneto and Rogue), Thunderbird, Nocturne (daughter of Nightcrawler and Scarlet Witch), Wolvie, etc. — from different dimensions. Summoned by the alien Timebreakers to correct problems in various alternate worlds and divergent timelines in the Marvel Multiverse, the Exiles complete various missions assigned to them. It was a what-if? series in which anything could happen; Professor X might be a homicidal maniac; characters could die, permanently; worlds could be destroyed. Within the team, minor players could end up taking the lead, and leaders could vanish. "In an era of crossovers and big events," Mike Raicht, one of the series' creators, has reminisced, "Exiles had those every month, and to experience the whole Marvel Universe all you had to do was read this one book." Fans of the series are particularly fond of the "World Tour" story line, which begins c. issue 70, and in which the Exiles (and the New Exiles) jump from alternate reality to alternate reality in an attempt to stop the evil, body-snatching Proteus.
Fun facts: The first volume of Exiles ran for 100 issues, ending after a crossover with the members of New Excalibur in X-Men: Die by the Sword and the one-shot Exiles: Days of Then and Now. Tony Bedard would write half the series, from #46-89; artists include Jim Calafiore, Kev Walker, Clayton Henry, Mizuki Sakakibara, Casey Jones, Steve Scott, Paul Pelletier, and Tom Mandrake.
***
JOSH GLENN'S *BEST ADVENTURES* LISTS: BEST 250 ADVENTURES OF THE 20TH CENTURY | 100 BEST OUGHTS ADVENTURES | 100 BEST RADIUM AGE (PROTO-)SCI-FI ADVENTURES | 100 BEST TEENS ADVENTURES | 100 BEST TWENTIES ADVENTURES | 100 BEST THIRTIES ADVENTURES | 75 BEST GOLDEN AGE SCI-FI ADVENTURES | 100 BEST FORTIES ADVENTURES | 100 BEST FIFTIES ADVENTURES | 100 BEST SIXTIES ADVENTURES | 75 BEST NEW WAVE SCI FI ADVENTURES | 100 BEST SEVENTIES ADVENTURES | 100 BEST EIGHTIES ADVENTURES | 75 BEST DIAMOND AGE SCI-FI ADVENTURES | 100 BEST NINETIES ADVENTURES | NOTES ON 21st-CENTURY ADVENTURES.