Best 2001 Adventures (8)
By: Joshua Glenn
December 16, 2020
One in a series of 10 posts identifying Josh Glenn's favorite 2001 adventure novels.
*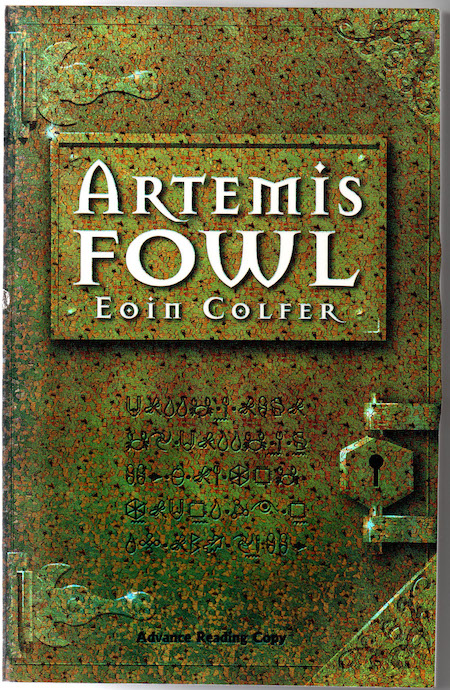 Eoin Colfer's YA fantasy adventure Artemis Fowl.
The titular character is a 12-year-old genius who runs his family's criminal empire. He's also a talented literary scientist who studies mythology for clues on how to capture a fairy, force her to grant him a wish (the object of which reveals Artemis's sentimental side), and thwart the magical abilities of the fairies, dwarves, trolls, and other creatures whom he knows will attempt to retaliate. It's a fun idea — the author described it as "Die Hard with fairies" — and the book was an international bestseller, which is why it belongs on this list… even though Colfer's plot and prose leave a great deal to be desired. After acquiring and translating the Book of the People — the holy book of the fairy kingdom — Artemis is able to capture Holly, a fairy police officer, and imprison her in his family's mansion. Holly's commanding officer, Julius Root, attempts to free her but fails; he is replaced by an unscrupulous fairy who will stop at nothing… including deploying a magical weapon of mass destruction!
Fun facts: Followed by eight titles (so far), including Artemis Fowl and the Arctic Incident (2002), Artemis Fowl and the Eternity Code (2003), and Artemis Fowl and the Opal Deception (2005). The 2020 movie adaptation was directed by Kenneth Branagh; it was released exclusively on Disney+ and received negative reviews.
***
JOSH GLENN'S *BEST ADVENTURES* LISTS: BEST 250 ADVENTURES OF THE 20TH CENTURY | 100 BEST OUGHTS ADVENTURES | 100 BEST RADIUM AGE (PROTO-)SCI-FI ADVENTURES | 100 BEST TEENS ADVENTURES | 100 BEST TWENTIES ADVENTURES | 100 BEST THIRTIES ADVENTURES | 75 BEST GOLDEN AGE SCI-FI ADVENTURES | 100 BEST FORTIES ADVENTURES | 100 BEST FIFTIES ADVENTURES | 100 BEST SIXTIES ADVENTURES | 75 BEST NEW WAVE SCI FI ADVENTURES | 100 BEST SEVENTIES ADVENTURES | 100 BEST EIGHTIES ADVENTURES | 75 BEST DIAMOND AGE SCI-FI ADVENTURES | 100 BEST NINETIES ADVENTURES | NOTES ON 21st-CENTURY ADVENTURES.