Best 2000 Adventures (8)
By: Joshua Glenn
November 26, 2020
One in a series of 10 posts identifying Josh Glenn's favorite 2000 adventure novels.
*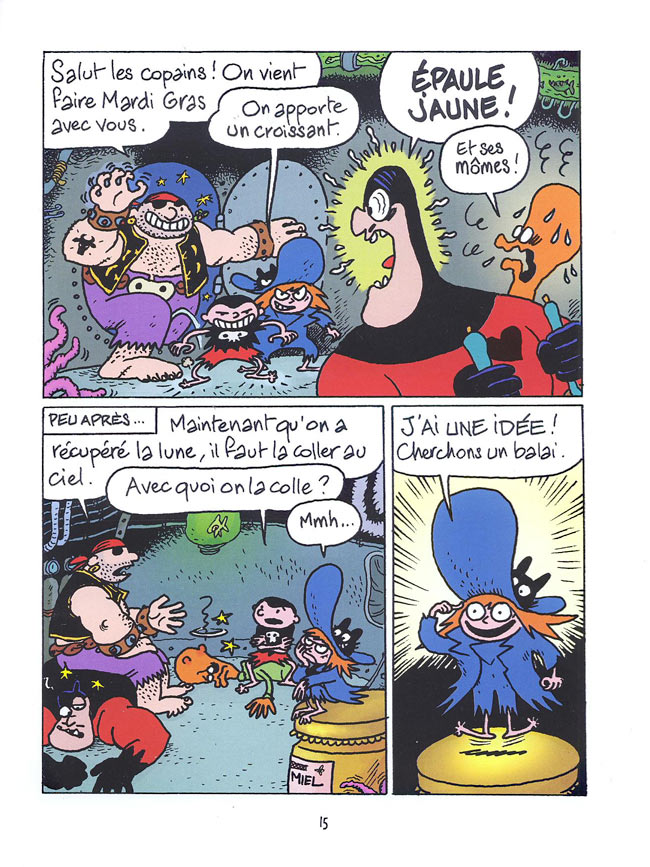 Emmanuel Guibert and Joann Sfar's Sardine de l'espace sci-fi children's comic Sardine in Outer Space (2000–ongoing).
Sardine, who like Pippi Longstocking is a red-haired, feral gal with surprising abilities and an irrepressible spirit, roams the galaxy in her pirate uncle's rattletrap spaceship, the Huckleberry. She dresses like a witch, and totes a black cat familiar around. Captain Yellow Shoulder, a burly corsair with a soft spot for orphans, carries Sardine, her cousin Little Louis, and their pals into one scrape after another — often one involving his nemeses, the child-hating villain Supermuscleman (Chief Executive Dictator of the Universe) and the reptilian criminal genius Doc Krok. Sfar, whose Donjon series (with Lewis Trondheim) I've also touted, illustrated the first eight Sardine stories, which were written by Guibert. He, Guibert, and Mathieu Sapin have alternated as illustrator since then; at least until 2008, after which Sfar dropped out. Like the Donjon stories, Sardine's adventures — which involve cosmic squids, talking clouds, and a violent virtual-reality game called No-Child-Left-Behind-School II — are wildly imaginative. In the tradition of Goscinny and Uderzo, there are gags, puns, and pop-cultural references galore.
Fun facts: There's an animated version, which premiered in May 2020; I don't believe it's available in English.
***
JOSH GLENN'S *BEST ADVENTURES* LISTS: BEST 250 ADVENTURES OF THE 20TH CENTURY | 100 BEST OUGHTS ADVENTURES | 100 BEST RADIUM AGE (PROTO-)SCI-FI ADVENTURES | 100 BEST TEENS ADVENTURES | 100 BEST TWENTIES ADVENTURES | 100 BEST THIRTIES ADVENTURES | 75 BEST GOLDEN AGE SCI-FI ADVENTURES | 100 BEST FORTIES ADVENTURES | 100 BEST FIFTIES ADVENTURES | 100 BEST SIXTIES ADVENTURES | 75 BEST NEW WAVE SCI FI ADVENTURES | 100 BEST SEVENTIES ADVENTURES | 100 BEST EIGHTIES ADVENTURES | 75 BEST DIAMOND AGE SCI-FI ADVENTURES | 100 BEST NINETIES ADVENTURES | NOTES ON 21st-CENTURY ADVENTURES.