Best 2000 Adventures (6)
By: Joshua Glenn
November 24, 2020
One in a series of 10 posts identifying Josh Glenn's favorite 2000 adventure novels.
*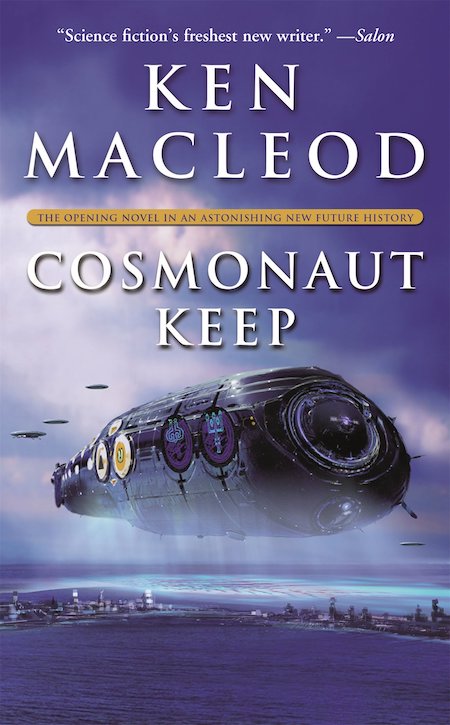 Ken MacLeod's Engines of Light sci-fi adventure Cosmonaut Keep.
On the planet Mingulay, in the far future, a human colony coexists with other races, including the reptilian "saurs"… but they've lost the secrets of interstellar light-speed navigation — which are known only to the krakens, who don't use computers. Assisted by the immortal, weed-smoking saur Salasso, the human scientist Grigor Cairns studies the kraken-like squids who inhabit Mingulay's oceans; he also gets involved in a love triangle involving a fellow marine biologist and the beautiful daughter of a space trader. The book's alternating story line is a cyberpunk political thriller set in Soviet-occupied Europe c. 2040. Matt Cairns, an Edinburgh programmer, and his American spy girlfriend, Jadey Ericson, hack into a secret facility on a remote asteroid… where highly advanced, space-dwelling, godlike associations of bacteria-sized entities have provided EU scientists with blueprints for a space drive. There is a trip to Area 51, and a sexy American test pilot. The stories connect: A starship from Earth arrived at Mingulay, but humans were banned from subsequent space-travel by the krakens. This is a less political MacLeod space opera — though it features plenty of leftist in-jokes, such as the programmers' union called the Information Workers of the World Wide Web, or "Webblies." Grigor's breakthrough discovery left my head spinning.
Fun facts: This is the first book in the Engines of Light trilogy, followed by Dark Light (2001) and Engine City (2002).
***
JOSH GLENN'S *BEST ADVENTURES* LISTS: BEST 250 ADVENTURES OF THE 20TH CENTURY | 100 BEST OUGHTS ADVENTURES | 100 BEST RADIUM AGE (PROTO-)SCI-FI ADVENTURES | 100 BEST TEENS ADVENTURES | 100 BEST TWENTIES ADVENTURES | 100 BEST THIRTIES ADVENTURES | 75 BEST GOLDEN AGE SCI-FI ADVENTURES | 100 BEST FORTIES ADVENTURES | 100 BEST FIFTIES ADVENTURES | 100 BEST SIXTIES ADVENTURES | 75 BEST NEW WAVE SCI FI ADVENTURES | 100 BEST SEVENTIES ADVENTURES | 100 BEST EIGHTIES ADVENTURES | 75 BEST DIAMOND AGE SCI-FI ADVENTURES | 100 BEST NINETIES ADVENTURES | NOTES ON 21st-CENTURY ADVENTURES.