Best 2000 Adventures (2)
By: Joshua Glenn
November 20, 2020
One in a series of 10 posts identifying Josh Glenn's favorite 2000 adventure novels.
*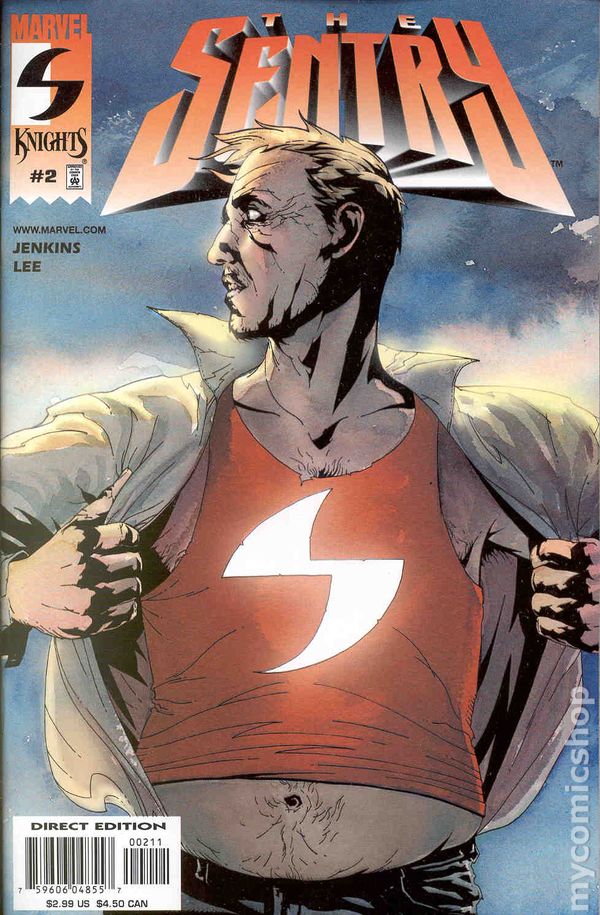 Paul Jenkins and Jae Lee's Sentry superhero comic story arc (2000–2001).
Middle-aged, overweight, and alcoholic, Bob Reynolds doesn't have much going for him… until he remembers that he was once the world's first, mightiest superhero. Known as the Sentry, he was the Marvel Universe's version of Superman; thanks to a special serum, he possessed the "power of one million exploding suns." Reed Richards was his closest friend; he was the only friend the Hulk ever had; he taught Angel to fly. But his archenemy, the Void, is also nearly omnipotent; and as Reynolds begins to remember his adventures — Jae Lee ably imitates the comic-book art of each different era, including the Silver Age's corny schtick — he also becomes aware that the Void, whom he had somehow vanquished, is now returning! Reynolds approaches various superheroes, to warn them, but nobody on Earth remembers him… at first. The dark, eerie story was published by the Marvel Knights imprint, which changed the game by focusing on strong stand-alone stories and high production quality rather than long-running story arcs and persnickety continuity. While Lee drew the main story, which holds up, the side flashbacks — some of which are a bit gratuitous and silly — were drawn by a variety of other artists.
Fun facts: The Sentry's eponymous Marvel Knights miniseries ran for five issues, then segued into a series of 2001 flashback one-shots such as Sentry/Hulk and Sentry/Spider-Man. The one-shot comic The Sentry vs. the Void (2001) wrapped up the character's original arc. The comic's creators also dreamed up a fictional publication history in the real world, complete with imaginary creators.
***
JOSH GLENN'S *BEST ADVENTURES* LISTS: BEST 250 ADVENTURES OF THE 20TH CENTURY | 100 BEST OUGHTS ADVENTURES | 100 BEST RADIUM AGE (PROTO-)SCI-FI ADVENTURES | 100 BEST TEENS ADVENTURES | 100 BEST TWENTIES ADVENTURES | 100 BEST THIRTIES ADVENTURES | 75 BEST GOLDEN AGE SCI-FI ADVENTURES | 100 BEST FORTIES ADVENTURES | 100 BEST FIFTIES ADVENTURES | 100 BEST SIXTIES ADVENTURES | 75 BEST NEW WAVE SCI FI ADVENTURES | 100 BEST SEVENTIES ADVENTURES | 100 BEST EIGHTIES ADVENTURES | 75 BEST DIAMOND AGE SCI-FI ADVENTURES | 100 BEST NINETIES ADVENTURES | NOTES ON 21st-CENTURY ADVENTURES.