Best 1999 Adventures (10)
By: Joshua Glenn
November 8, 2020
One in a series of 10 posts identifying Josh Glenn's favorite 1999 adventure novels.
*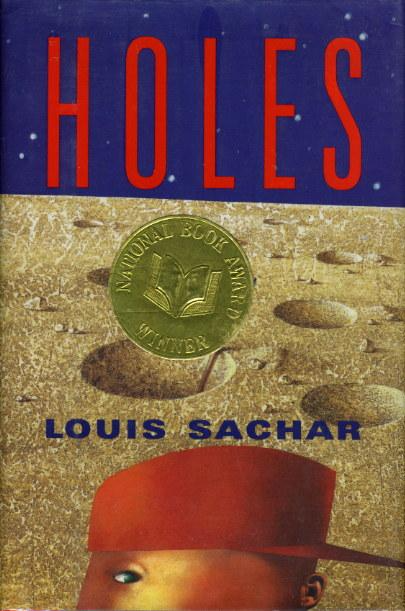 Louis Sachar's YA treasure-hunt adventure Holes.
A humorous, intricately plotted, touching story that touches on serious topics from racism to homelessness. Falsely accused of stealing a pair of shoes from a famous basketball player, an overweight teenager — with a palindromic name, Stanley Yelnats — is remanded to a juvenile corrections facility situated in the middle of an impassable Texas desert. Overseen by cruel guards, and threatened by rattlesnakes and poisonous lizards, Stanley and Camp Green Lake's other inmates are required to dig five-foot-deep cylindrical holes in the dried-up lake bed. This is supposedly a form of rehabilitative punishment, but Stanley comes to suspect that they're actually searching for something of value. Although kindness and empathy aren't encouraged at Camp Green Lake, Stanley and a boy named Hector ("Zero") become friendly. Zero puts up with Stanley's ranting about a family curse; and Stanley follows Zero when his quiet friend escapes the camp. Will they survive their desert trek — and find the buried treasure?
Fun facts: Winner of the U.S. National Book Award for Young People's Literature and the Newbery Medal, Holes was followed by Stanley Yelnats' Survival Guide to Camp Green Lake (2003) and Small Steps (2006). I haven't seen the 2003 Disney movie adaptation.
***
JOSH GLENN'S *BEST ADVENTURES* LISTS: BEST 250 ADVENTURES OF THE 20TH CENTURY | 100 BEST OUGHTS ADVENTURES | 100 BEST RADIUM AGE (PROTO-)SCI-FI ADVENTURES | 100 BEST TEENS ADVENTURES | 100 BEST TWENTIES ADVENTURES | 100 BEST THIRTIES ADVENTURES | 75 BEST GOLDEN AGE SCI-FI ADVENTURES | 100 BEST FORTIES ADVENTURES | 100 BEST FIFTIES ADVENTURES | 100 BEST SIXTIES ADVENTURES | 75 BEST NEW WAVE SCI FI ADVENTURES | 100 BEST SEVENTIES ADVENTURES | 100 BEST EIGHTIES ADVENTURES | 75 BEST DIAMOND AGE SCI-FI ADVENTURES | 100 BEST NINETIES ADVENTURES (in progress) | 1994 | 1995 | 1996 | 1997 | 1998 | 1999 | 2000 | 2001 | 2002 | 2003 | NOTES ON 21st-CENTURY ADVENTURES.