Best 1999 Adventures (8)
By: Joshua Glenn
November 6, 2020
One in a series of 10 posts identifying Josh Glenn's favorite 1999 adventure novels.
*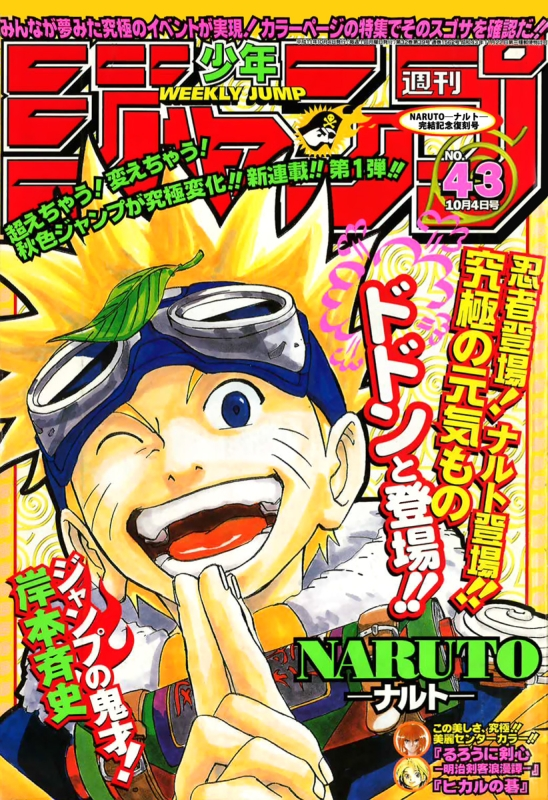 Masashi Kishimoto's Naruto manga adventures (serialized 1999-2014).
Twelve years after a fearsome fox spirit killed the Hokage (leader) of Konoha (aka the Village Hidden in the Leaves), 12-year-old Naruto struggles to graduate from Ninja Academy. Seeking the respect of his fellow students, and dreaming of becoming his village's Hokage one day, Naruto can't understand why people mock and mistrust him… until Mizuki, a renegade ninja, reveals that Naruto's father had trapped the fox spirit in the newborn boy's body… at the cost of his own life. Naruto was published for fifteen years in the long-running, best-selling Japanese magazine Weekly Shōnen Jump; the storyline described here covers only the first 238 chapters, i.e., Part One of Naruto's story. Having become a ninja, Naruto joins Team 7, along with his frenemy Sasuke Uchiha, his crush Sakura Haruno, under the tutelage of the elite ninja Kakashi Hatake. The team succeeds at various missions, after which its members are permitted to take a ninja exam and advance to a higher rank. During the exams, the criminal Orochimaru kills Konoha's current Hokage; after this, Team 7 splits up. Sasuke joins Orochimaru, who wishes to train him because of his powerful genetic inheritance; Sakura is apprenticed to Tsunade, a talented "medical ninja" and the town's new Hokage; and Naruto leaves Konoha to receive training from Jiraiya, the "toad sage" who was Naruto's father's teacher.
Fun facts: Naruto is the fourth best-selling manga of all time, trailing only Eiichiro Oda's One Piece, Akira Toriyama's Dragon Ball, and Takao Saito's Golgo 13. It was released in tankōbon (book) form in 72 volumes (comprising 700 chapters); and adapted as two long-running anime TV shows: Naruto and Naruto Shippuden. There are also Naruto movies, video games, and other media.
***
JOSH GLENN'S *BEST ADVENTURES* LISTS: BEST 250 ADVENTURES OF THE 20TH CENTURY | 100 BEST OUGHTS ADVENTURES | 100 BEST RADIUM AGE (PROTO-)SCI-FI ADVENTURES | 100 BEST TEENS ADVENTURES | 100 BEST TWENTIES ADVENTURES | 100 BEST THIRTIES ADVENTURES | 75 BEST GOLDEN AGE SCI-FI ADVENTURES | 100 BEST FORTIES ADVENTURES | 100 BEST FIFTIES ADVENTURES | 100 BEST SIXTIES ADVENTURES | 75 BEST NEW WAVE SCI FI ADVENTURES | 100 BEST SEVENTIES ADVENTURES | 100 BEST EIGHTIES ADVENTURES | 75 BEST DIAMOND AGE SCI-FI ADVENTURES | 100 BEST NINETIES ADVENTURES | 75 BEST HADRON AGE SCI-FI ADVENTURES | NOTES ON 21st-CENTURY ADVENTURES.