Best 1999 Adventures (7)
By: Joshua Glenn
November 5, 2020
One in a series of 10 posts identifying Josh Glenn's favorite 1999 adventure novels.
*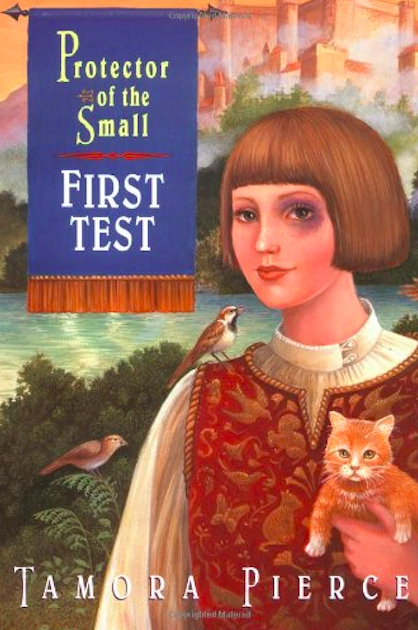 Tamora Pierce's Protector of the Small fantasy adventure First Test.
Ten years after the conclusion of the four-part Song of the Lioness series, which follows the trials of Alanna of Trebond, a noble-born girl who disguises herself as a boy in order to train as a knight, females are now permitted to try out for knighthood training. Our protagonist is Keladry of Mindelan, the first girl to do so. Although discouraged by the training master, Lord Wyldon, and hazed and bullied by the more misogynistic of her fellow students, Kel perseveres — building friendships with fellow good-hearted misfits, and proving herself at each stage of training. Although she worships Alanna, the female knight never meets or encourages her… although one suspects that the high-quality dagger and bruise balm she receives from an unknown benefactor may be Alanna's doing. Kel begins protecting other first-year pages from older bullies; she also has a soft spot for the birds that gather outside her window — thus explaining the series title. Her bird friends prove useful when the pages are sent on a mission to wipe out a nest of spider-monsters. But will Lord Wyldon allowing our hero to continue to train to become a knight?
Fun facts: Followed by Page (2000), Squire (2001), and Lady Knight (2002). Pierce based Alanna of Trebond on her younger sister, Kim, who became a captain in the military, an ambulance worker, an air rescuer and a nurse.
***
JOSH GLENN'S *BEST ADVENTURES* LISTS: BEST 250 ADVENTURES OF THE 20TH CENTURY | 100 BEST OUGHTS ADVENTURES | 100 BEST RADIUM AGE (PROTO-)SCI-FI ADVENTURES | 100 BEST TEENS ADVENTURES | 100 BEST TWENTIES ADVENTURES | 100 BEST THIRTIES ADVENTURES | 75 BEST GOLDEN AGE SCI-FI ADVENTURES | 100 BEST FORTIES ADVENTURES | 100 BEST FIFTIES ADVENTURES | 100 BEST SIXTIES ADVENTURES | 75 BEST NEW WAVE SCI FI ADVENTURES | 100 BEST SEVENTIES ADVENTURES | 100 BEST EIGHTIES ADVENTURES | 75 BEST DIAMOND AGE SCI-FI ADVENTURES | 100 BEST NINETIES ADVENTURES | NOTES ON 21st-CENTURY ADVENTURES.