Best 1999 Adventures (2)
By: Joshua Glenn
October 31, 2020
One in a series of 10 posts identifying Josh Glenn's favorite 1999 adventure novels.
*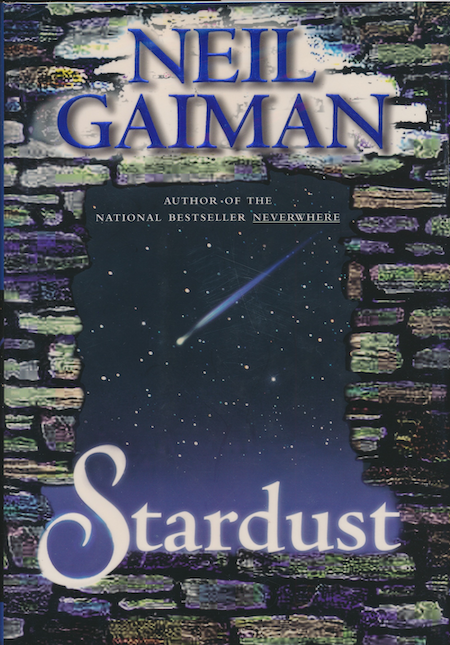 Neil Gaiman's fantasy adventure Stardust (lavishly illustrated by Charles Vess).
When Tristran Thorn sees a star fall on the other side of the border between his English village, Wall, and the mystical realm of Faerie, the teenager rashly sets out to bring it back — as a token of his infatuation for the village belle. Set in the 1850s, the story is narrated in a style that I'd describe as somewhere between Lord Dunsany and William Goldman. Tristran isn't the only one seeking the fallen star; Morwanneg, an ancient witch-queen, and her equally wicked sisters desire to consume the star's heart — in order to restore their youth, beauty, and magical ability. As for the fallen star, this turns out to be a beautiful young woman, Yvaine. She was knocked out of the sky, we discover, by the Power of Stormhold, a topaz that marks its bearer as the ruler of Faerie; three ruthless princes seek the jewel. Tristran gets to Yvaine first, thanks in part to a magical candle that allows one to travel many leagues with each step, and in part to his inborn ability to find any location in Faerie. (The reader has learned, in the story's prologue, that Tristran is half-Faerie himself.) Adventures ensue, as Tristran and Yvaine are aided by the Seelie — that is, faeries benevolently inclined towards humans — and hampered by the Unseelie. Eventually, our protagonists return to Wall… but is the Tristran who set out on this quixotic mission the same one who now returns?
Fun facts: "I think we're in a period right now where fantasy has somehow come to mean a very unimaginative form of literature indeed," Gaiman said in an interview regarding Stardust, which was awarded the Mythopoeic Fantasy Award for Adult Literature. "Bizarre, paradoxical, ironic and stupid, what should be easily the most imaginative form of literature has become so astonishingly hidebound, predictable and unimaginative." The 2007 adaptation, directed by Matthew Vaughn and starring Claire Danes, Charlie Cox, Sienna Miller, Michelle Pfeiffer, and others, is not very good — yet it's become a cult classic, of sorts.
***
JOSH GLENN'S *BEST ADVENTURES* LISTS: BEST 250 ADVENTURES OF THE 20TH CENTURY | 100 BEST OUGHTS ADVENTURES | 100 BEST RADIUM AGE (PROTO-)SCI-FI ADVENTURES | 100 BEST TEENS ADVENTURES | 100 BEST TWENTIES ADVENTURES | 100 BEST THIRTIES ADVENTURES | 75 BEST GOLDEN AGE SCI-FI ADVENTURES | 100 BEST FORTIES ADVENTURES | 100 BEST FIFTIES ADVENTURES | 100 BEST SIXTIES ADVENTURES | 75 BEST NEW WAVE SCI FI ADVENTURES | 100 BEST SEVENTIES ADVENTURES | 100 BEST EIGHTIES ADVENTURES | 75 BEST DIAMOND AGE SCI-FI ADVENTURES | 100 BEST NINETIES ADVENTURES | 75 BEST HADRON AGE SCI-FI ADVENTURES | NOTES ON 21st-CENTURY ADVENTURES.