Best 1998 Adventures (10)
By: Joshua Glenn
October 18, 2020
One in a series of 10 posts identifying Josh Glenn's favorite 1998 adventure novels.
*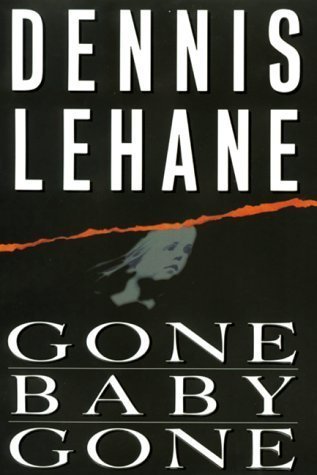 Dennis Lehane's Kenzie and Gennaro crime adventure Gone, Baby, Gone.
In their fourth outing, a fan favorite, Boston private eyes Patrick Kenzie and Angie Gennaro are hired to investigate the disappearance of a 4-year-old girl, Amanda — whose mother, they discover, is a barfly, TV addict, and negligent parent. Teaming up with Crimes Against Children (CAC) officers Remy Broussard and Nick Poole, Kenzie and Gennaro plunge into Boston's underworld — following a trail that leads to their old classmate, Cheese, a drug dealer from whom Amanda, they learn, has stolen a large amount of money. The duo is aided, as in other stories, by a fellow Dorchester hoodrat, sociopathic gunrunner Bubba Rogowski. This is something of a morality play: Our heroes are forced to argue, with each other and within their own hearts, about what's best for a child — to be raised in a stable environment, or by their own blood. A ransom demand leads the four investigators to the Quincy Quarries, where under cover of darkness a confused gun battle breaks out, leaving two gangsters dead, the ransom money missing, and a clue that suggests that Amanda may be dead. There's a plot twist in which we discover that the good guys aren't all good, nor the bad guys all bad. Things end inconclusively….
Fun facts: Preceded by A Drink Before the War (1994), Darkness, Take My Hand (1996), and Sacred (1997); followed by Prayers for Rain (1999) and Moonlight Mile (2010). The 2017 adaptation directed by Ben Affleck stars Casey Affleck and Michelle Monaghan.
***
JOSH GLENN'S *BEST ADVENTURES* LISTS: BEST 250 ADVENTURES OF THE 20TH CENTURY | 100 BEST OUGHTS ADVENTURES | 100 BEST RADIUM AGE (PROTO-)SCI-FI ADVENTURES | 100 BEST TEENS ADVENTURES | 100 BEST TWENTIES ADVENTURES | 100 BEST THIRTIES ADVENTURES | 75 BEST GOLDEN AGE SCI-FI ADVENTURES | 100 BEST FORTIES ADVENTURES | 100 BEST FIFTIES ADVENTURES | 100 BEST SIXTIES ADVENTURES | 75 BEST NEW WAVE SCI FI ADVENTURES | 100 BEST SEVENTIES ADVENTURES | 100 BEST EIGHTIES ADVENTURES | 75 BEST DIAMOND AGE SCI-FI ADVENTURES | 100 BEST NINETIES ADVENTURES (in progress) | 1994 | 1995 | 1996 | 1997 | 1998 | 1999 | 2000 | 2001 | 2002 | 2003 | NOTES ON 21st-CENTURY ADVENTURES.