Best 1997 Adventures (9)
By: Joshua Glenn
October 1, 2020
One in a series of 10 posts identifying Josh Glenn's favorite 1997 adventure novels.
*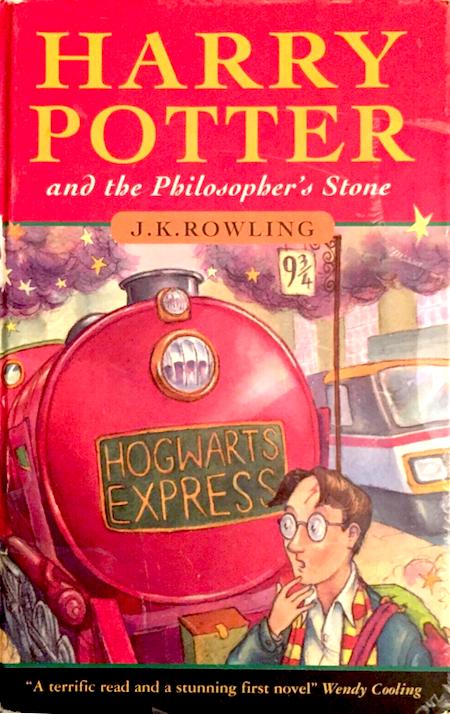 J.K. Rowling's Harry Potter fantasy adventure Harry Potter and the Philosopher's Stone (US title, 1998: Harry Potter and the Sorcerer's Stone.
If asked to recommend a great novel about an adolescent wizard-in-training, I'd suggest the works of Susan Cooper, Ursula K. Le Guin, Diane Duane, and Monica Furlong, not to mention the fantasy novels of E. Nesbit, P.L. Travers, T.H. White, Edward Eager, C.S. Lewis, and Diana Wynne Jones. I don't find Rowling's writing as compelling as these earlier authors'… but that said, the first installment in her wildly popular series is enjoyable. On his 11th birthday Harry Potter, an orphan mistreated by his Spiker- and Sponge-like aunt and uncle, receives a letter of acceptance into Hogwarts School of Witchcraft and Wizardry. (His parents, he learns, were killed by a magus so evil and powerful that — even though he is supposedly gone — most wizards and witches fear to speak his name aloud.) Hogwarts is an old-fashioned English boarding school, whose houses — Gryffindor, Slytherin, Hufflepuff and Ravenclaw — compete throughout the year for glory. Harry is befriended by the hapless Ronald Weasley and the brilliant but aggravating Hermione Granger; and he makes an enemy of the snobbish Draco Malfoy. Harry takes classes from colorful instructors, including the sardonic Snape, who seems to hate the new boy at first sight; he joins the Quidditch team; and he is mentored by Dumbledore, the headmaster, and the half-giant Hagrid. But there's a dark mystery afoot: What is huge three-headed dog guarding in the forbidden corridor? And are rumors about the return of the dark magus true?
Fun facts: Rowling's first novel remained at the top of the New York Times list of best-selling fiction — for children and adults, combined — for much of 1999 and 2000. It was followed by six much-anticipated sequels. The Warner Brothers series of movie adaptations — starring Daniel Radcliffe, Rupert Grint, and Emma Watson — is the third-highest grossing series ever, after Star Wars and the Marvel movies.
***
JOSH GLENN'S *BEST ADVENTURES* LISTS: BEST 250 ADVENTURES OF THE 20TH CENTURY | 100 BEST OUGHTS ADVENTURES | 100 BEST RADIUM AGE (PROTO-)SCI-FI ADVENTURES | 100 BEST TEENS ADVENTURES | 100 BEST TWENTIES ADVENTURES | 100 BEST THIRTIES ADVENTURES | 75 BEST GOLDEN AGE SCI-FI ADVENTURES | 100 BEST FORTIES ADVENTURES | 100 BEST FIFTIES ADVENTURES | 100 BEST SIXTIES ADVENTURES | 75 BEST NEW WAVE SCI FI ADVENTURES | 100 BEST SEVENTIES ADVENTURES | 100 BEST EIGHTIES ADVENTURES | 75 BEST DIAMOND AGE SCI-FI ADVENTURES | 100 BEST NINETIES ADVENTURES | 75 BEST HADRON AGE SCI-FI ADVENTURES | NOTES ON 21st-CENTURY ADVENTURES.