Best 1997 Adventures (3)
By: Joshua Glenn
September 22, 2020
One in a series of 10 posts identifying Josh Glenn's favorite 1997 adventure novels.
*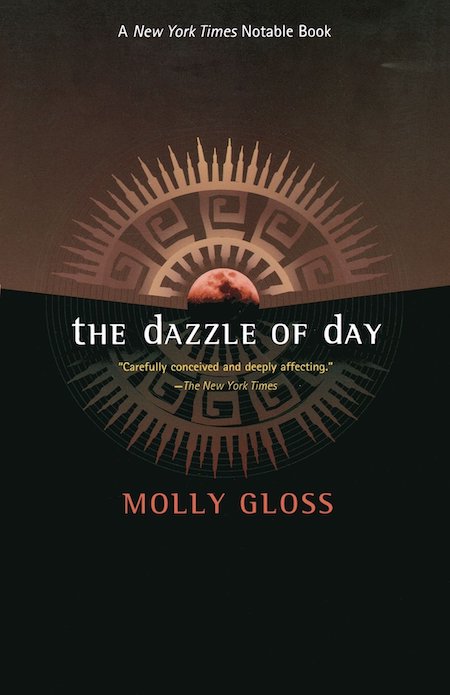 Molly Gloss's sci-fi adventure The Dazzle of the Day.
A slow-moving generation-ship adventure, about an international community of Quakers — Costa Rican, Japanese, and Scandinavian — which abandons the dying Earth and heads towards two possible planets. The story is bracketed by the reminiscences of two older women, the first of whom recalls how the Quakers came to ihabit the ship (only an intentional community can make it work), the second of whom looks back on the initial period of colonizing the group's new home. In between, we read about the struggles of the voyagers to keep their ship's machinery and agriculture going, their initial exploration of a not-very-hospitable planet, and their anxieties about whether or not they should actually leave the ship once they arrive. After all, several generations have lived and died within the ship's embrace; they're terrified by the prospect of phenomena like weather, wild animals, and a horizon. It's a Le Guin-like yarn — concerned with thoughtful discussion, the warp and weft of human relations, and the mindful tending of one's natural environment rather than with explosions, battles, bug-eyed monsters, or high-tech gadgets. It gave me hope for humankind's future.
Fun facts: The title comes from one of Walt Whitman's poems in Leaves of Grass, a Quaker-ish quatrain about how it is silence that perfects the symphony. "This miraculous fusion of meticulous 'hard' science fiction with unsparing realism and keen psychology," writes Le Guin in her blurb for the book, "created a vast, bleak, beautiful vision of the human figure — a triumph of the imagination."
***
JOSH GLENN'S *BEST ADVENTURES* LISTS: BEST 250 ADVENTURES OF THE 20TH CENTURY | 100 BEST OUGHTS ADVENTURES | 100 BEST RADIUM AGE (PROTO-)SCI-FI ADVENTURES | 100 BEST TEENS ADVENTURES | 100 BEST TWENTIES ADVENTURES | 100 BEST THIRTIES ADVENTURES | 75 BEST GOLDEN AGE SCI-FI ADVENTURES | 100 BEST FORTIES ADVENTURES | 100 BEST FIFTIES ADVENTURES | 100 BEST SIXTIES ADVENTURES | 75 BEST NEW WAVE SCI FI ADVENTURES | 100 BEST SEVENTIES ADVENTURES | 100 BEST EIGHTIES ADVENTURES | 75 BEST DIAMOND AGE SCI-FI ADVENTURES | 100 BEST NINETIES ADVENTURES | 75 BEST HADRON AGE SCI-FI ADVENTURES | NOTES ON 21st-CENTURY ADVENTURES.