Best 1997 Adventures (1)
By: Joshua Glenn
September 18, 2020
One in a series of 10 posts identifying Josh Glenn's favorite 1997 adventure novels.
*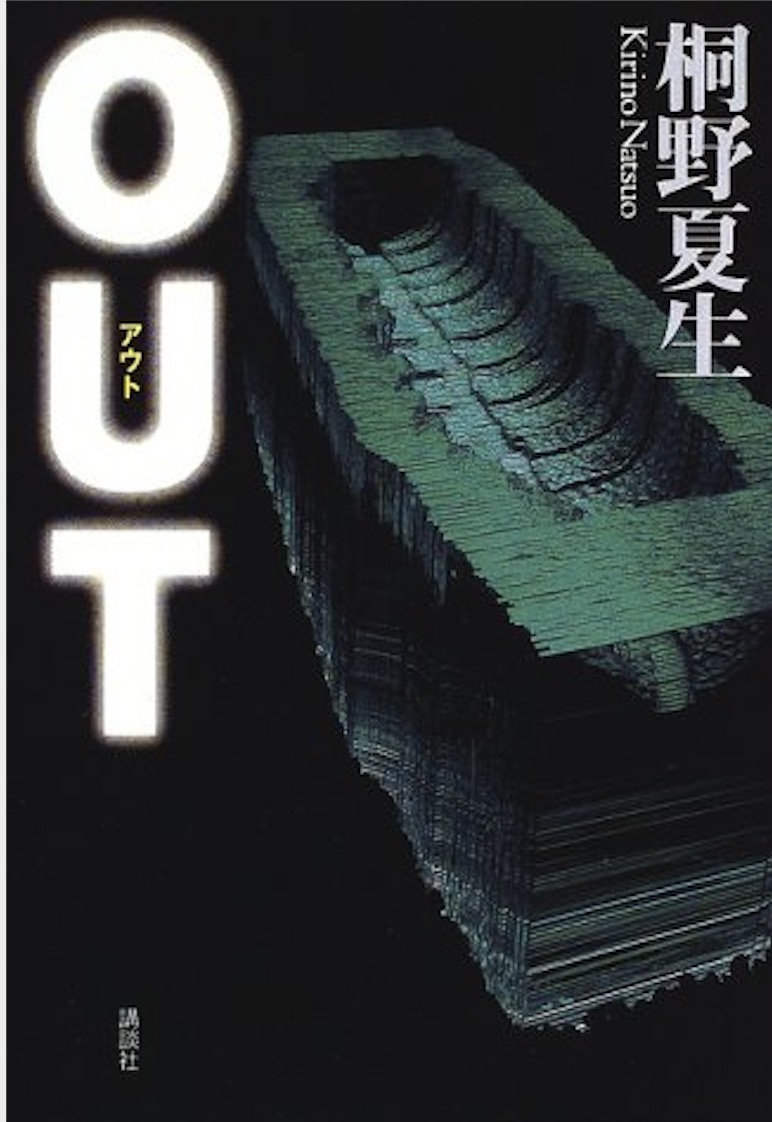 Natsuo Kirino's crime adventure アウト (1997; published in English, as Out, in 2004.).
When Kenji, a suburban office worker, falls in love with a nightclub hostess and squanders his family's savings on her, his abused and fed-up wife Yayoi strangles him. Seeking to cover up the murder, Yayoi reaches out to Masako, a fellow worker on the night shift at a Tokyo bento-box factory; Masako recruits their shift leader, Yoshie, an older woman who agrees to help out for a price. When the unreliable Kuniko, another night-shift worker, deals herself into the scheme, Masako's careful plan begins to fall apart. The women aren't friends, exactly, but what they have in common are unloving husbands, difficult children, and unsatisfying lives and careers in a male-dominated society. Although the amateur criminals dismember and dispose of Kenji's corpse, police detectives begin to sniff around; so do yakuza. Soon, the four women are drawn into Tokyo's underworld… and they turn on one another, too. Masako, the best-educated and shrewdest of the group, emerges as a heroine determined to leverage any opportunity to escape her dead-end life. Writing for HILOBROW, Gordon Dahlquist described Out as a "taut and unforgiving thriller that unfolds as darkly as anything from Jim Thompson, if Jim Thompson was a cold-eyed feminist."
Fun facts: Winner of the Mystery Writers of Japan Award for Best Novel. A 2002 Japanese film adaptation, directed by Hirayama Hideyuki, was a flop. However, Nakata Hideo (Ring, Ring 2) is reportedly developing an American adaptation.
***
JOSH GLENN'S *BEST ADVENTURES* LISTS: BEST 250 ADVENTURES OF THE 20TH CENTURY | 100 BEST OUGHTS ADVENTURES | 100 BEST RADIUM AGE (PROTO-)SCI-FI ADVENTURES | 100 BEST TEENS ADVENTURES | 100 BEST TWENTIES ADVENTURES | 100 BEST THIRTIES ADVENTURES | 75 BEST GOLDEN AGE SCI-FI ADVENTURES | 100 BEST FORTIES ADVENTURES | 100 BEST FIFTIES ADVENTURES | 100 BEST SIXTIES ADVENTURES | 75 BEST NEW WAVE SCI FI ADVENTURES | 100 BEST SEVENTIES ADVENTURES | 100 BEST EIGHTIES ADVENTURES | 75 BEST DIAMOND AGE SCI-FI ADVENTURES | 100 BEST NINETIES ADVENTURES (in progress) | 1994 | 1995 | 1996 | 1997 | 1998 | 1999 | 2000 | 2001 | 2002 | 2003 | NOTES ON 21st-CENTURY ADVENTURES.