Best 1996 Adventures (8)
By: Joshua Glenn
September 9, 2020
One in a series of 10 posts identifying Josh Glenn's favorite 1996 adventure novels.
*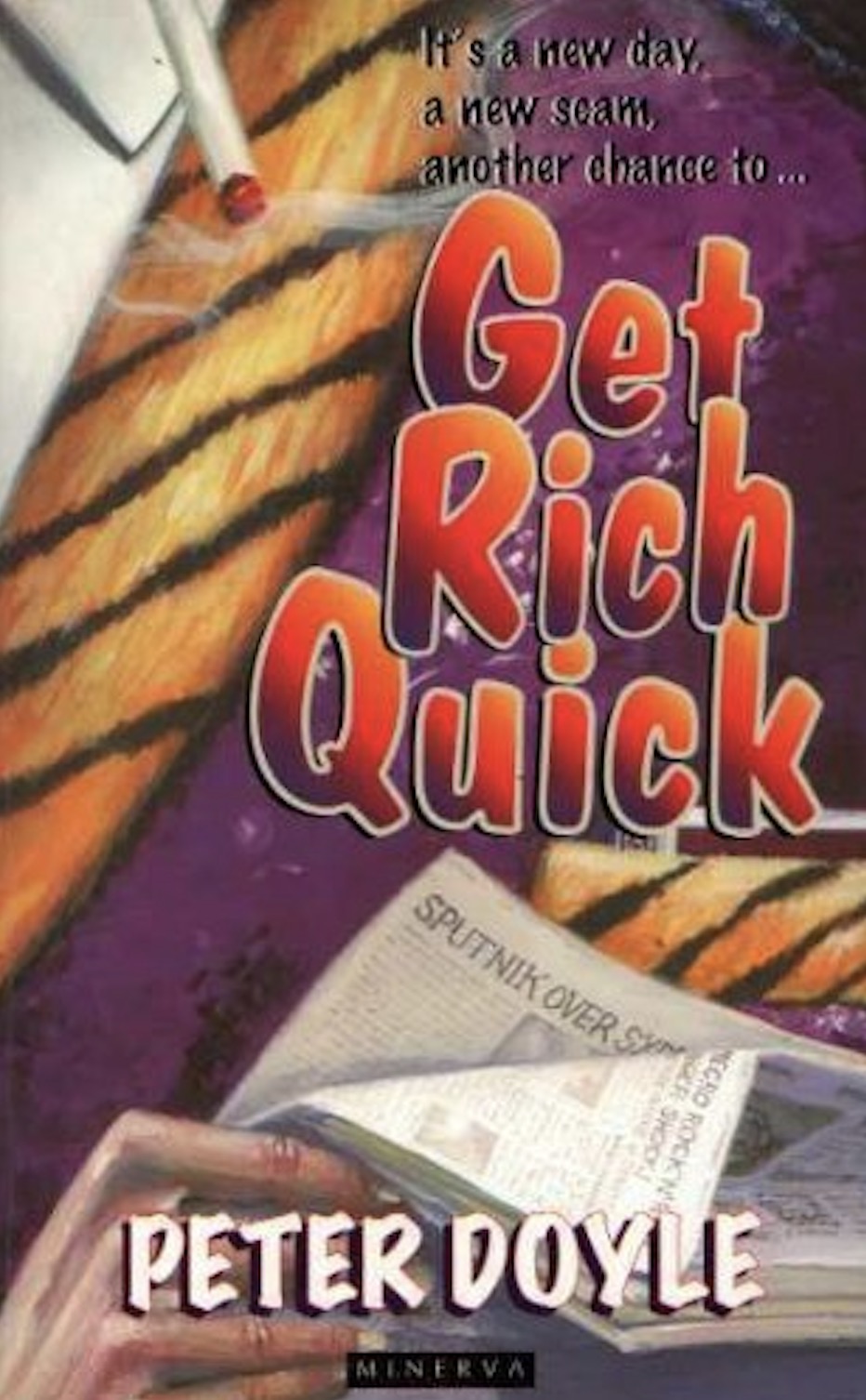 Peter Doyle's Billy Glasheen crime adventure Get Rich Quick.
A highly entertaining caper novel set in Australia's rock'n'roll underworld of 1957. Billy Glasheen, a small-time hustler and sometime musician, is the mastermind of elaborate capers… which somehow always fall afoul of Sydney's bent cops, organized criminals, and scheming politicians. Little Richard, Gene Vincent, and Eddie Cochran are touring the country, promoted by Lee Gordon — the real-life entrepreneur whose tours had a major impact on the Australian music scene at the time. Glasheen wangles himself a job working as Gordon's chauffeur, gofer, and provider of illicit substances; Australian rock'n'roller Johnny O'Keefe also plays a role. But when Billy is framed for murder, he takes it on the lam. In order to prove his innocence, he'll have to find the real killer. The period Aussie slang — bodgies, widgies, etc. — is a treat. Doyle would go on to write two sequels, Amaze Your Friends (1998) and The Big Whatever (2015), and a prequel, The Devil's Jump (2001), which collectively form an epic, neo-noir tale of Australian crime, political scandals, and musical subcultures.
Fun facts: Winner of Australia's prestigious Ned Kelly Award for Best First Crime Novel. Doyle, a HILOBROW friend, is perhaps best known as a musical and true-crime historian. His books City of Shadows: Sydney Police Photographs, 1912-1948 (2005), Echo and Reverb (2005), and Crooks Like Us (2009) are extraordinary.
***
JOSH GLENN'S *BEST ADVENTURES* LISTS: BEST 250 ADVENTURES OF THE 20TH CENTURY | 100 BEST OUGHTS ADVENTURES | 100 BEST RADIUM AGE (PROTO-)SCI-FI ADVENTURES | 100 BEST TEENS ADVENTURES | 100 BEST TWENTIES ADVENTURES | 100 BEST THIRTIES ADVENTURES | 75 BEST GOLDEN AGE SCI-FI ADVENTURES | 100 BEST FORTIES ADVENTURES | 100 BEST FIFTIES ADVENTURES | 100 BEST SIXTIES ADVENTURES | 75 BEST NEW WAVE SCI FI ADVENTURES | 100 BEST SEVENTIES ADVENTURES | 100 BEST EIGHTIES ADVENTURES | 75 BEST DIAMOND AGE SCI-FI ADVENTURES | 100 BEST NINETIES ADVENTURES | NOTES ON 21st-CENTURY ADVENTURES.