Best 1996 Adventures (5)
By: Joshua Glenn
September 6, 2020
One in a series of 10 posts identifying Josh Glenn's favorite 1996 adventure novels.
*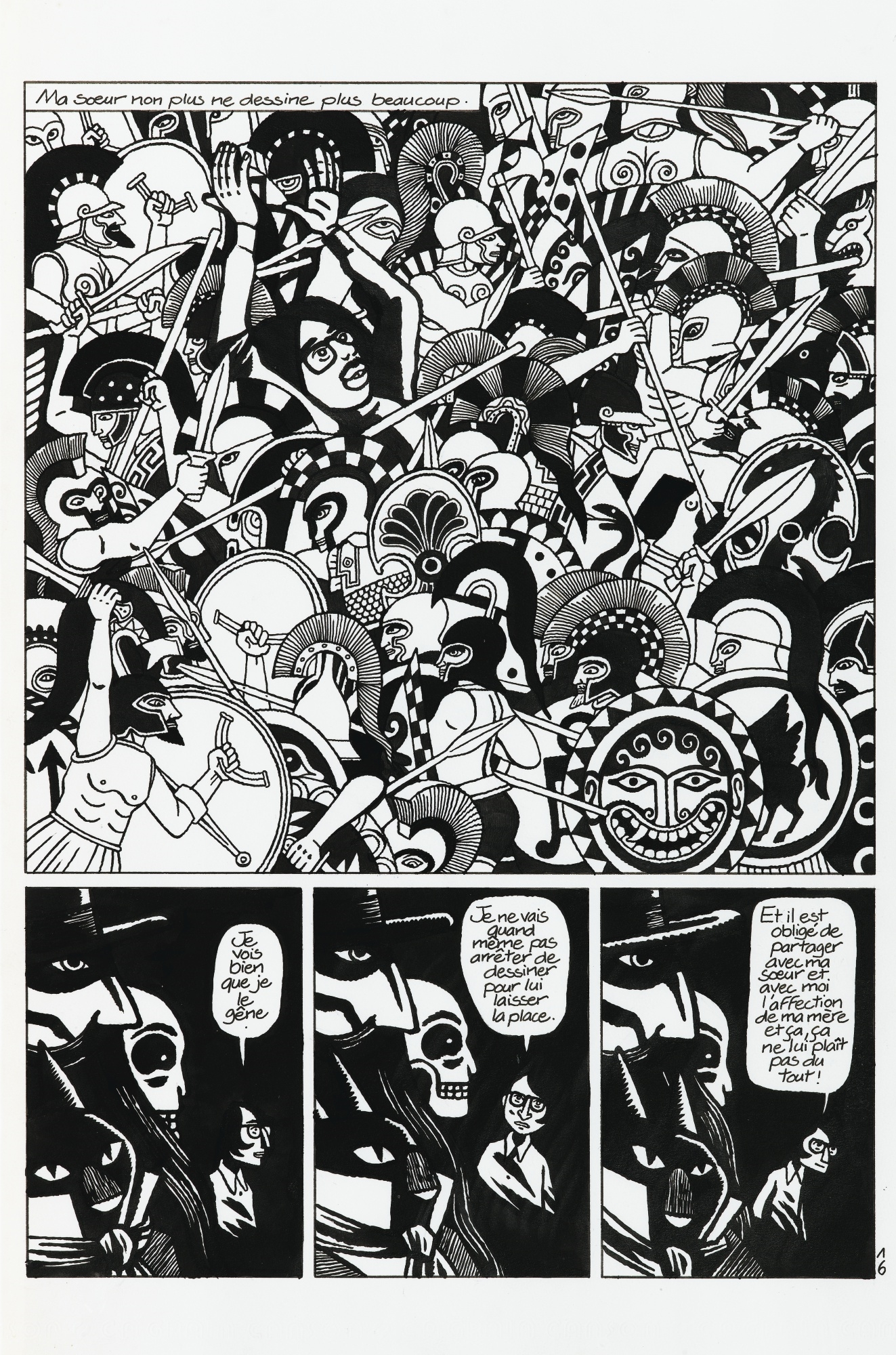 David B.'s graphic novel L'Ascension du haut mal (in English: Epileptic, serialized 1996–2003).
An autobiographical account of the influence that his brother Jean-Christophe's epileptic seizures had on the author's developing imagination. Dragged from guru to guru by his parents, who during the 1960s–1970s explored psychology, macrobiotic communes, acupuncture, magnetism, and more in an effort to cure Jean-Christophe's malady, Pierre-François (who'd change his name to David) escapes into violent, redemptive fantasies involving epic battles between samurai, knights, and demons. David B.'s black-and-white artwork is epic in scope, like psychedelic Greek urn paintings; the autobiography isn't an adventure, but Pierre-François's dream life certainly is. War, conspiracies, the irruption of fantasy into reality, golems, monsters… it's an extraordinary achievement. There's a little bit of everything, here — family history, the French Resistance, Algeria, May'68. We empathize with the author, even if we can't wholly sympathize with him; he portrays himself as a self-centered, even cruel sibling. Readers seeking an uplifting account of life with an epileptic family member will be disappointed, perhaps even horrified. It's not uplifting, though it is mesmerizing. David B.'s perspective is that of a recording angel: horrified, sardonic, forgiving.
Fun facts: Haut mal is an archaic term for epilepsy meaning "great illness," or literally, "high evil." Serialzed in six bande dessinée albums between 1996 and 2003, then compiled in 2005 into one 360-page graphic novel. David B., who was instrumental in encouraging Marjane Satrapi to create Persepolis, won the 2005 Ignatz Award for Outstanding Artist for his work on the series.
***
JOSH GLENN'S *BEST ADVENTURES* LISTS: BEST 250 ADVENTURES OF THE 20TH CENTURY | 100 BEST OUGHTS ADVENTURES | 100 BEST RADIUM AGE (PROTO-)SCI-FI ADVENTURES | 100 BEST TEENS ADVENTURES | 100 BEST TWENTIES ADVENTURES | 100 BEST THIRTIES ADVENTURES | 75 BEST GOLDEN AGE SCI-FI ADVENTURES | 100 BEST FORTIES ADVENTURES | 100 BEST FIFTIES ADVENTURES | 100 BEST SIXTIES ADVENTURES | 75 BEST NEW WAVE SCI FI ADVENTURES | 100 BEST SEVENTIES ADVENTURES | 100 BEST EIGHTIES ADVENTURES | 75 BEST DIAMOND AGE SCI-FI ADVENTURES | 100 BEST NINETIES ADVENTURES (in progress) | 1994 | 1995 | 1996 | 1997 | 1998 | 1999 | 2000 | 2001 | 2002 | 2003 | NOTES ON 21st-CENTURY ADVENTURES.