Best 1996 Adventures (4)
By: Joshua Glenn
September 5, 2020
One in a series of 10 posts identifying Josh Glenn's favorite 1996 adventure novels.
*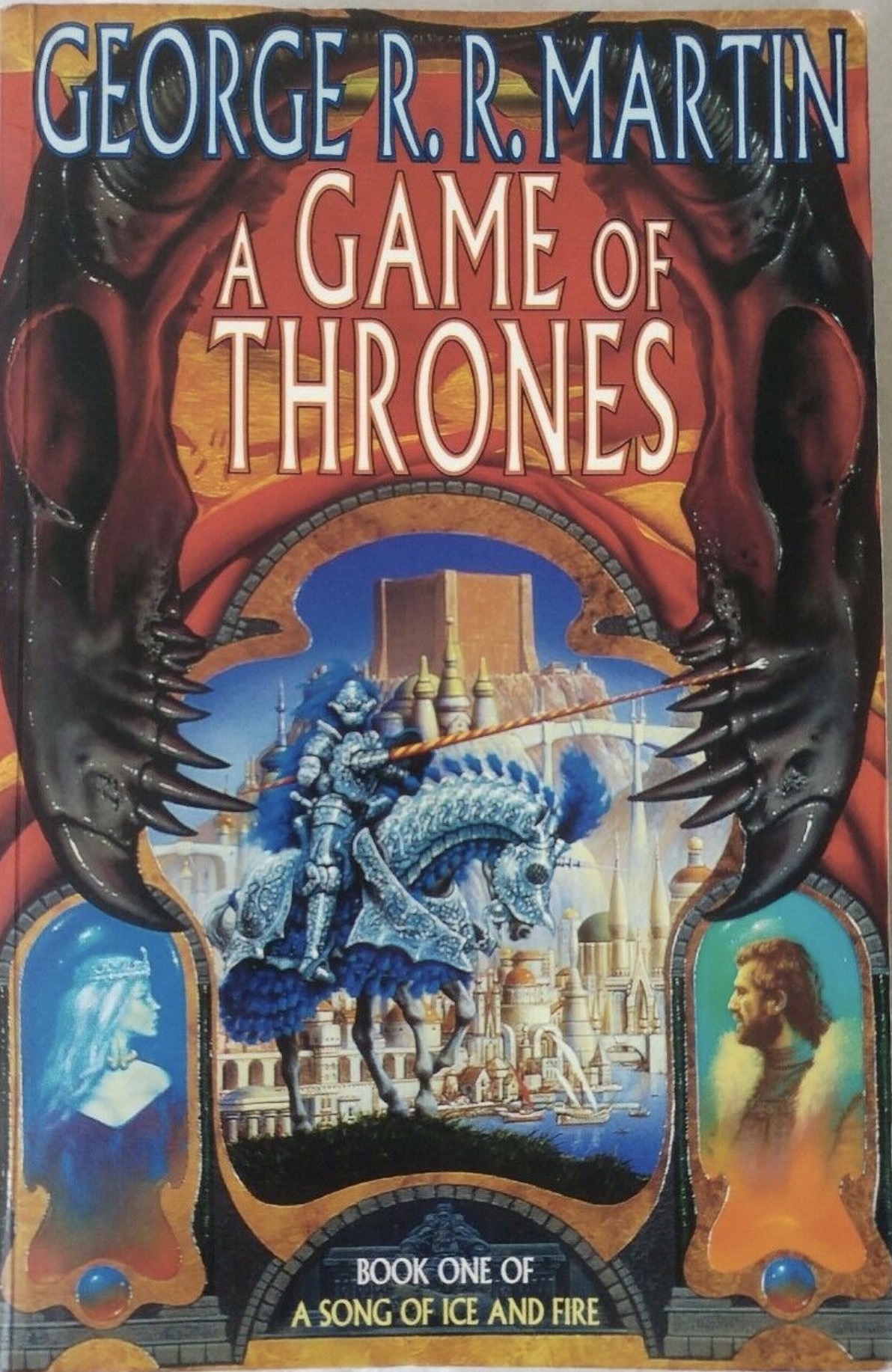 George R.R. Martin's A Song of Ice and Fire fantasy adventure A Game of Thrones.
In the first installment of Martin's epic fantasy series (1996–ongoing), we are introduced to a War of the Roses-esque dynastic struggle among the great Houses of Westeros, the central characters being the usurper Robert Baratheon, his childhood friend Ned Stark, Robert's scheming wife, Cersei Lannister, and Cersei's cunning, witty, self-indulgent brother Tyrion; Ned's wife and children are also viewpoint characters. Ned's illegitimate son, Jon Snow, meanwhile, joins the Night's Watch — an order of warriors who guard the far northern borders, not only from the wildlings who live beyond The Wall, but from a fabled and hostile inhuman race, the Others. As if this weren't already complex enough, a third plot-line concerns Daenerys, heiress to the Targaryen throne which King Robert had seized. In this first book, there are assassinations, executions, and political machinations aplenty in Westeros; mysterious doings north of the Wall which suggest that "winter is coming"; and poor Daenerys is married off (by her ruthless brother) to Khal Drogo, warlord of the nomadic Dothraki, in exchange for the use of Drogo's army to reclaim the throne of Westeros. Oh, and dragons — long thought to be mythical or extinct — make a comeback.
Fun facts: Blood of the Dragon, comprising the Daenerys chapters from A Game of Thrones, won a Hugo for Best Novella. The violent, raunchy 2011–2019 HBO adaptation of the series, starring Sean Bean as Ned Stark, Lena Headey as Cersei Lannister, Emilia Clarke as Daenerys Targaryen, Jason Momoa as Khal Drogo, and Peter Dinklage as Tyrion Lannister, did not disappoint fans… except for its ending.
***
JOSH GLENN'S *BEST ADVENTURES* LISTS: BEST 250 ADVENTURES OF THE 20TH CENTURY | 100 BEST OUGHTS ADVENTURES | 100 BEST RADIUM AGE (PROTO-)SCI-FI ADVENTURES | 100 BEST TEENS ADVENTURES | 100 BEST TWENTIES ADVENTURES | 100 BEST THIRTIES ADVENTURES | 75 BEST GOLDEN AGE SCI-FI ADVENTURES | 100 BEST FORTIES ADVENTURES | 100 BEST FIFTIES ADVENTURES | 100 BEST SIXTIES ADVENTURES | 75 BEST NEW WAVE SCI FI ADVENTURES | 100 BEST SEVENTIES ADVENTURES | 100 BEST EIGHTIES ADVENTURES | 75 BEST DIAMOND AGE SCI-FI ADVENTURES | 100 BEST NINETIES ADVENTURES (in progress) | 1994 | 1995 | 1996 | 1997 | 1998 | 1999 | 2000 | 2001 | 2002 | 2003 | NOTES ON 21st-CENTURY ADVENTURES.