Best 1995 Adventures (8)
By: Joshua Glenn
August 29, 2020
One in a series of 10 posts identifying Josh Glenn's favorite 1995 adventure novels.
*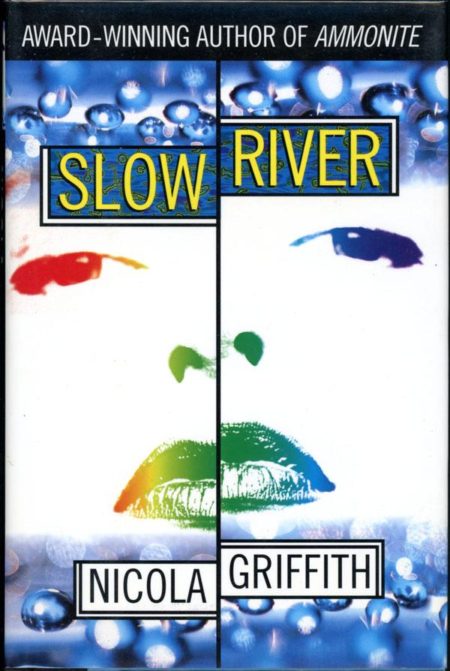 Nicola Griffith's Slow River (1995).
When we first meet Lore, the protagonist and sometime narrator of Slow River, she's naked, injured, dumped to die by a kidnapper — whose true motivation we'll only learn at the end. She's taken in by Spanner, a charismatic female hacker and con artist; the two become lovers and co-conspirators, though eventually Spanner turns out to be not only untrustworthy but manipulative and amoral. Through flashbacks, we learn that Lore is the youngest child of the wealthy and powerful van Oest family — whose engineered bacteria provide clean drinking water in an age where untreated water is no longer potable. (We also learn that there's a twisted secret at the heart of Lore's family, one she only slowly figures out.) There are a few sci-fi gadgets — everyone has a personal ID chip inserted into their hand; everyone accesses the Internet via a "tablet" — but the technology of greatest import here is biotech, specifically related to drinking water. Like Maureen F. McHugh's China Mountain Zhang, this story is a day in the life — many days in the life — of a talented but lowly worker, in a future industry. Although there are a few tense action scenes, it's primarily a Robinsonade: We're watching a smart, talented person solve problems. It's also about overcoming privilege, and recovering from trauama. For some readers, this is boring stuff — "almost like a manual on water purification at times," "her super power is being prodigiously good at sewage treatment management" — but I remained riveted.
Fun facts: Winner of the Nebula Award for Best Novel, as well as the Lambda Literary Award — which is awarded annually to books which explore LGBT themes. Griffith also won a Lambda for her first novel, Ammonite (1993); since Slow River, four more of her books have also won a Lambda Award.
***
JOSH GLENN'S *BEST ADVENTURES* LISTS: BEST 250 ADVENTURES OF THE 20TH CENTURY | 100 BEST OUGHTS ADVENTURES | 100 BEST RADIUM AGE (PROTO-)SCI-FI ADVENTURES | 100 BEST TEENS ADVENTURES | 100 BEST TWENTIES ADVENTURES | 100 BEST THIRTIES ADVENTURES | 75 BEST GOLDEN AGE SCI-FI ADVENTURES | 100 BEST FORTIES ADVENTURES | 100 BEST FIFTIES ADVENTURES | 100 BEST SIXTIES ADVENTURES | 75 BEST NEW WAVE SCI FI ADVENTURES | 100 BEST SEVENTIES ADVENTURES | 100 BEST EIGHTIES ADVENTURES | 75 BEST DIAMOND AGE SCI-FI ADVENTURES | 100 BEST NINETIES ADVENTURES | 75 BEST HADRON AGE SCI-FI ADVENTURES | NOTES ON 21st-CENTURY ADVENTURES.