Best 1995 Adventures (4)
By: Joshua Glenn
August 22, 2020
One in a series of 10 posts identifying Josh Glenn's favorite 1995 adventure novels.
*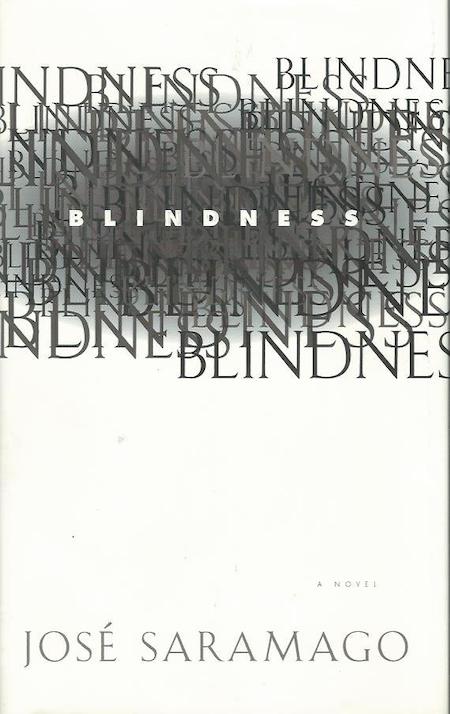 José Saramago's sardonic Robinsonade Ensaio sobre a cegueira (published in English as: Blindness).
In this powerfully written anti-Cozy Catastrophe, when an unnamed city is plagued with an epidemic of "white blindness," the afflicted are confined within an abandoned mental hospital to prevent them infecting others. One woman, known as "the doctor's wife," is spared from the blindness; we follow her efforts to protect her husband and their makeshift family — a boy with no mother, a girl with dark glasses, a dog — from the ruthless (though blind) mob which quickly assumes control over the hospital's inmates. In doing so, our protagonist mustn't let anyone realize that she can see. When the hospital's micro-society — perhaps a Jack London-like metaphor for society's underclass — erupts, and destroys the institution, its freed inmates discover that the outside world is devastated. The doctor's wife and her group must now fend for themselves like castaways; their eyes are opened, if you will, to the perversities and injustice of life in a merciless capitalist social order. The book's harrowing moral, if there is one, comes from our tough, compassionate, almost saintly heroine: "I don't think we did go blind, I think we are blind, Blind but seeing, Blind people who can see, but do not see."
Fun facts: When Saramago was awarded the 1998 Nobel Prize for Literature, Blindness was one of his works praised by the committee. A 2004 sequel, which I haven't read, is titled Ensaio sobre a lucidez. A 2007 adaptation by director Fernando Meirelles, starring Julianne Moore and Mark Ruffalo, isn't great — but it has its moments.
***
JOSH GLENN'S *BEST ADVENTURES* LISTS: BEST 250 ADVENTURES OF THE 20TH CENTURY | 100 BEST OUGHTS ADVENTURES | 100 BEST RADIUM AGE (PROTO-)SCI-FI ADVENTURES | 100 BEST TEENS ADVENTURES | 100 BEST TWENTIES ADVENTURES | 100 BEST THIRTIES ADVENTURES | 75 BEST GOLDEN AGE SCI-FI ADVENTURES | 100 BEST FORTIES ADVENTURES | 100 BEST FIFTIES ADVENTURES | 100 BEST SIXTIES ADVENTURES | 75 BEST NEW WAVE SCI FI ADVENTURES | 100 BEST SEVENTIES ADVENTURES | 100 BEST EIGHTIES ADVENTURES | 75 BEST DIAMOND AGE SCI-FI ADVENTURES | 100 BEST NINETIES ADVENTURES | 75 BEST HADRON AGE SCI-FI ADVENTURES | NOTES ON 21st-CENTURY ADVENTURES.