Best 1994 Adventures (10)
By: Joshua Glenn
July 29, 2020
One in a series of 10 posts identifying Josh Glenn's favorite 1994 adventure novels.
*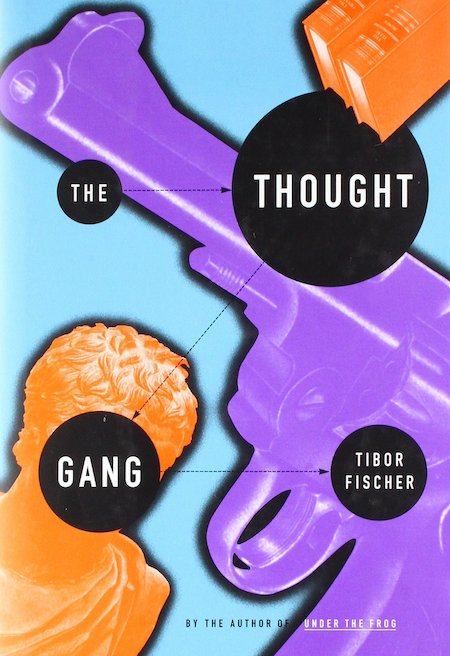 Tibor Fischer's crime adventure The Thought Gang.
Eddie Coffin, an unemployed, alcoholic, sybaritic Cambridge philosophy professor, flees scandal in Britain for France; there, he meets Hubert, a one-armed (and one-legged) robber who's recently been release from prison. Applying the metaphysical and existential insights of the great philosophers to the problems of bank robbery, the hapless duo embarks on a shambolic, mostly successful crime spree across the country. Eddie, one may be intrigued to hear, handles the robberies, while Hubert does the philosophizing. Fischer is not only a very funny writer, but a very erudite one; you'll actually learn quite a bit about philosophy from this yarn… and you'll marvel at his verbal pyrotechnics, not least his drive to incorporate words beginning with "z" into the narrative. (This is a plot device, not just a gimmick.) It's all a bit too much, perhaps — but Fischer's second novel is an utterly unique, highly entertaining story to which I've returned several times since it was published. Forget Steve Coogan and Rob Brydon's sorta-funny foodie tours of the Continent; why hasn't The Thought Gang been adapted as a TV series?
Fun facts: Reviewers at the time tended to suggest that Fischer had lost control of his themes, while at the same time praising The Thought Gang in the highest possible terms — suggesting it was one of the funniest, most imaginative novels of the era. It deserves to be rediscovered by today's readers.
***
JOSH GLENN'S *BEST ADVENTURES* LISTS: BEST 250 ADVENTURES OF THE 20TH CENTURY | 100 BEST OUGHTS ADVENTURES | 100 BEST RADIUM AGE (PROTO-)SCI-FI ADVENTURES | 100 BEST TEENS ADVENTURES | 100 BEST TWENTIES ADVENTURES | 100 BEST THIRTIES ADVENTURES | 75 BEST GOLDEN AGE SCI-FI ADVENTURES | 100 BEST FORTIES ADVENTURES | 100 BEST FIFTIES ADVENTURES | 100 BEST SIXTIES ADVENTURES | 75 BEST NEW WAVE SCI FI ADVENTURES | 100 BEST SEVENTIES ADVENTURES | 100 BEST EIGHTIES ADVENTURES | 75 BEST DIAMOND AGE SCI-FI ADVENTURES | 100 BEST NINETIES ADVENTURES (in progress) | 1994 | 1995 | 1996 | 1997 | 1998 | 1999 | 2000 | 2001 | 2002 | 2003 | NOTES ON 21st-CENTURY ADVENTURES.