Best 1994 Adventures (9)
By: Joshua Glenn
July 28, 2020
One in a series of 10 posts identifying Josh Glenn's favorite 1994 adventure novels.
*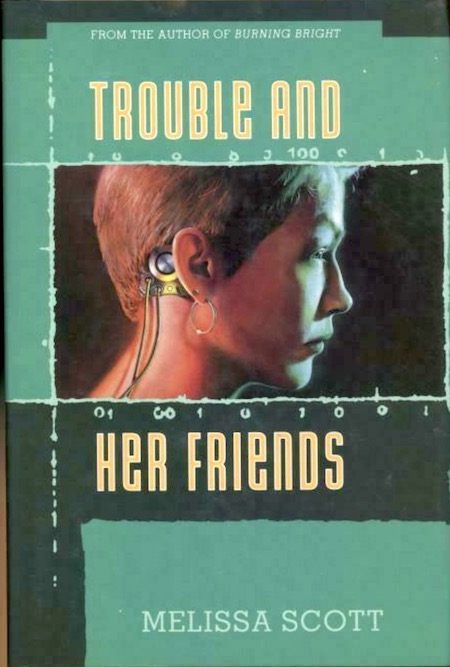 Melissa Scott's cyberpunk sci-fi adventure Trouble and Her Friends.
At some point during the early 21st century, computer hacking — "cracking" — becomes as vigorously policed as burglary or bank robbery. So India Carless (a.k.a. Trouble), who's one of the best crackers in the business, takes it on the lam. She leaves her partner, Cerise (a.k.a. Alice-B-Good), and their close-knit queer cracker group, for a legitimate career. (There's a closing-of-the-frontier western vibe to this story.) Three years later, however, a cracker using her online identity, even her style of hacking, appears on the scene; pursued by her own employer, Trouble goes in search of answers. The interface that Scott describes — crackers use "dollie ports" and "brain worms" in order to feel physical sensations while navigating virtual reality — is intriguing; and I like how the narrative — as usual in cyberpunk — toggles between reality and VR. In what was an unusual move, at the time, Scott makes most of her characters queer women; they aren't merely objects of desire for a male protagonist. On the other hand, Trouble and her friends — we learn from flashbacks — are the targets of proto-Gamergate sexism and misogyny. Despite her vanishing act, will Trouble's community rally to help her out?
Fun facts: Winner of the 1995 Lambda Literary Award for Gay & Lesbian Science Fiction and Fantasy. Scott would win this award again in 1996, for Shadow Man.
***
JOSH GLENN'S *BEST ADVENTURES* LISTS: BEST 250 ADVENTURES OF THE 20TH CENTURY | 100 BEST OUGHTS ADVENTURES | 100 BEST RADIUM AGE (PROTO-)SCI-FI ADVENTURES | 100 BEST TEENS ADVENTURES | 100 BEST TWENTIES ADVENTURES | 100 BEST THIRTIES ADVENTURES | 75 BEST GOLDEN AGE SCI-FI ADVENTURES | 100 BEST FORTIES ADVENTURES | 100 BEST FIFTIES ADVENTURES | 100 BEST SIXTIES ADVENTURES | 75 BEST NEW WAVE SCI FI ADVENTURES | 100 BEST SEVENTIES ADVENTURES | 100 BEST EIGHTIES ADVENTURES | 75 BEST DIAMOND AGE SCI-FI ADVENTURES | 100 BEST NINETIES ADVENTURES (in progress) | 1994 | 1995 | 1996 | 1997 | 1998 | 1999 | 2000 | 2001 | 2002 | 2003 | NOTES ON 21st-CENTURY ADVENTURES.