Best 1994 Adventures (8)
By: Joshua Glenn
July 27, 2020
One in a series of 10 posts identifying Josh Glenn's favorite 1994 adventure novels.
*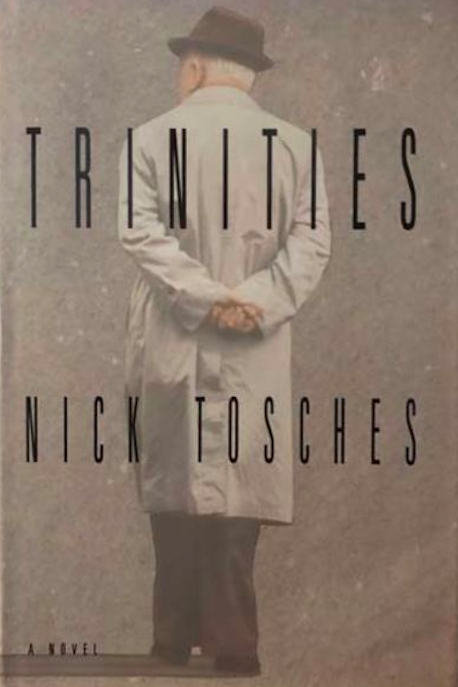 Nick Tosches's crime adventure Trinities.
Before Tony Soprano, there was Johnny DiPietro — a Brooklyn-based Mafia hit man struggling with relationship problems, family loyalty, rival mafiosi out to betray or kill him, and morality. Through DiPietro's eyes, we watch his uncle Joe — a grump, retired Mob boss who regrets having allowed the Chinese Triads to take over the heroin trade — cannily and ruthlessly get the gang back together. Joe's Chinese counterpart, the aging Chinatown junkie and gang boss Chen Fang, is the second POV in Tosches' unholy trinity; the third is that of D.E.A. agent Bob Marshall. We're also introduced to several well-realized minor characters… most of whom die violently once war between the Mafia and the Chinese Triad gangs breaks out. Meanwhile, Johnny and his Uncle Joe are butting heads with the new Mafia leadership: young men with MBAs and an aversion to violence. Tosches is a fine story teller, one who takes the time to get into granular detail about everything from the most effective method of assassinating someone (and getting away with it) to cooking squid, laundering money, and using brand-name chemical products to cook up commercial quantities of China White.
Fun facts: Tosches, who died in 2019, is best known as the tremendously talented author of such biographies as Hellfire: The Jerry Lee Lewis Story (1982), Dino: Living High in the Dirty Business of Dreams (1992), and a journalist who covered music, the opium trade, and organized crime.
***
JOSH GLENN'S *BEST ADVENTURES* LISTS: BEST 250 ADVENTURES OF THE 20TH CENTURY | 100 BEST OUGHTS ADVENTURES | 100 BEST RADIUM AGE (PROTO-)SCI-FI ADVENTURES | 100 BEST TEENS ADVENTURES | 100 BEST TWENTIES ADVENTURES | 100 BEST THIRTIES ADVENTURES | 75 BEST GOLDEN AGE SCI-FI ADVENTURES | 100 BEST FORTIES ADVENTURES | 100 BEST FIFTIES ADVENTURES | 100 BEST SIXTIES ADVENTURES | 75 BEST NEW WAVE SCI FI ADVENTURES | 100 BEST SEVENTIES ADVENTURES | 100 BEST EIGHTIES ADVENTURES | 75 BEST DIAMOND AGE SCI-FI ADVENTURES | 100 BEST NINETIES ADVENTURES (in progress) | 1994 | 1995 | 1996 | 1997 | 1998 | 1999 | 2000 | 2001 | 2002 | 2003 | NOTES ON 21st-CENTURY ADVENTURES.