Best 1994 Adventures (5)
By: Joshua Glenn
July 24, 2020
One in a series of 10 posts identifying Josh Glenn's favorite 1994 adventure novels.
*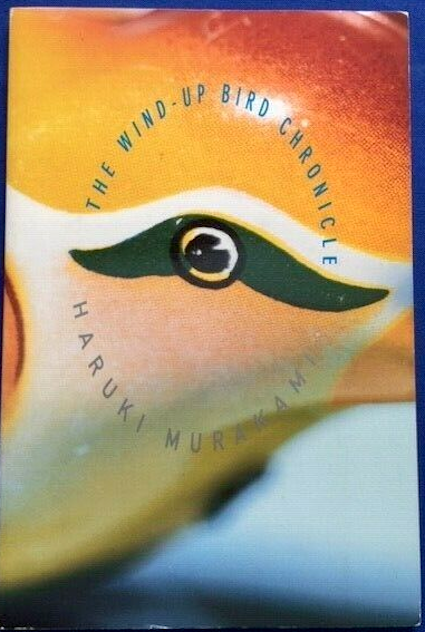 Haruki Marukami's apophenic adventure The Wind-Up Bird Chronicle (1994–1995; in English, 1997).
Toru Okada, a Bartleby-like slacker who lives in a Japanese suburb, has recently quit his tedious job and abandoned his dream of earning a law degree. His wife, Kumiko, is more ambitious and driven… but she has secret depths. Her brother, Noboru, a mediagenic academic who becomes a politician — and who is obsessed with Kumiko — is our shape-shifting antagonist. When Kumiko disappears, Toru embarks on a trippy, internal and external quest of discovery and self-discovery. If the way I've described this masterpiece of magical realism makes it sound like the Scott Pilgrim graphic novels, yes, it is sort of like that… except that it's not about hipsters in the Toronto rock scene, and it's not silly or shallow. I'd also compare The Wind-Up Bird Chronicle to Joyce's Ulysses — the long digressions, the deep insights into the author's national culture, and particularly the brilliant moments when a teenage girl's POV takes over the story. Why did Kumiko leave? Did she ever love Toru? Who keeps calling Toru with mysterious leads and clues that make him more, rather than less confused? There are many interesting (mostly female) characters; a gripping war story related by an old soldier about his experiences in Mongolia during the Sino-Japanese War; and a bird whose mechanical-sounding cry punctuates the drama like a Greek chorus.
Fun facts: Murakami, the most widely-read Japanese novelist of his generation, rejects the idea that he's influenced by Kafka: "Kafka's fictional world is already so complete that trying to follow in his steps is not just pointless, but quite risky, too," he's said. "What I see myself doing, rather, is writing novels where, in my own way, I dismantle the fictional world of Kafka that itself dismantled the existing novelistic system."
***
JOSH GLENN'S *BEST ADVENTURES* LISTS: BEST 250 ADVENTURES OF THE 20TH CENTURY | 100 BEST OUGHTS ADVENTURES | 100 BEST RADIUM AGE (PROTO-)SCI-FI ADVENTURES | 100 BEST TEENS ADVENTURES | 100 BEST TWENTIES ADVENTURES | 100 BEST THIRTIES ADVENTURES | 75 BEST GOLDEN AGE SCI-FI ADVENTURES | 100 BEST FORTIES ADVENTURES | 100 BEST FIFTIES ADVENTURES | 100 BEST SIXTIES ADVENTURES | 75 BEST NEW WAVE SCI FI ADVENTURES | 100 BEST SEVENTIES ADVENTURES | 100 BEST EIGHTIES ADVENTURES | 75 BEST DIAMOND AGE SCI-FI ADVENTURES | 100 BEST NINETIES ADVENTURES | NOTES ON 21st-CENTURY ADVENTURES.