Best 1994 Adventures (3)
By: Joshua Glenn
July 22, 2020
One in a series of 10 posts identifying Josh Glenn's favorite 1994 adventure novels.
*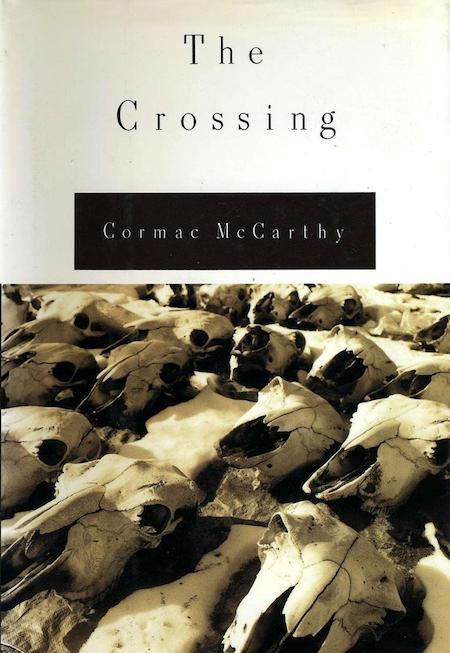 Cormac McCarthy's Border Trilogy western adventure The Crossing.
In the years just before and during WWII, teenage Billy Parham ventures across the New Mexico border into Mexico on three adventures — much like Walter Scott's characters, impatient with over-civilized England, headed into the Scottish highlands. The first section, which has frequently been compared with Faulkner's "The Bear" (and Melville's Moby-Dick) finds Billy communing with a wolf he's trapped… and returning it to Mexico rather than killing it. When the wolf is taken from him and sold to a circus, where it's going to be killed in a bloody spectacle, Billy makes one last — sacrificial — effort to protect its dignity. Returning home, Billy discovers that tragedy has befallen his family; springing his younger brother, Boyd, from a foster home, the two head back to Mexico to recapture their family's horses. They rescue a Mexican girl with whom Boyd falls in love; they also end up in a bloody confrontation with a ranch chief who is unwilling to let them take their horses back. It's a saga-like story, with no happy ending or uplifting moral; like Mark Renton in Irvine Welsh's (also saga-like) Trainspotting, Billy learns only that most people live blunted, unfulfilling lives. The language and vocabulary, as always with McCarthy, is extraordinary.
Fun facts: Billy's story, as well as that of John Grady Cole, from All the Pretty Horses, continues in the final volume of the trilogy, Cities of the Plain (1998).
***
JOSH GLENN'S *BEST ADVENTURES* LISTS: BEST 250 ADVENTURES OF THE 20TH CENTURY | 100 BEST OUGHTS ADVENTURES | 100 BEST RADIUM AGE (PROTO-)SCI-FI ADVENTURES | 100 BEST TEENS ADVENTURES | 100 BEST TWENTIES ADVENTURES | 100 BEST THIRTIES ADVENTURES | 75 BEST GOLDEN AGE SCI-FI ADVENTURES | 100 BEST FORTIES ADVENTURES | 100 BEST FIFTIES ADVENTURES | 100 BEST SIXTIES ADVENTURES | 75 BEST NEW WAVE SCI FI ADVENTURES | 100 BEST SEVENTIES ADVENTURES | 100 BEST EIGHTIES ADVENTURES | 75 BEST DIAMOND AGE SCI-FI ADVENTURES | 100 BEST NINETIES ADVENTURES | NOTES ON 21st-CENTURY ADVENTURES.