Best 1908 Adventures (8)
By: Joshua Glenn
February 10, 2018
One in a series of 10 posts identifying Josh Glenn's favorite 1908 adventure novels. Happy 110th anniversary!
*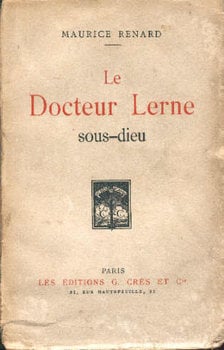 Maurice Renard's Radium Age sci-fi adventure Docteur Lerne, sous-dieu (Doctor Lerne, Undergod).
Returning to the castle where he grew up, after many years away, Nicolas Vermont is surprised to discover that his uncle Frédéric, a retired surgeon, is changed and hostile. Frédéric is engaged in mysterious scientific research, and forbids Nicolas access to his laboratory greenhouses; he also insists that Nicolas not court his protégée, Emma. Nicolas defies both injunctions. When Frédéric realizes that Nicolas has discovered the nature of his research — uncanny plant/animal hybrids! — he temporarily exchanges Nicolas's brain with that of a bull. (Renard plays with mythology, in this story: the lab is a labyrinth; Nicolas's bull-brained body is a Minotaur.) Frédéric then develops a means of projecting his own consciousness into a machine — Nicolas's high-tech automobile. A Symbolist-esque homage to H.G. Wells's The Island of Doctor Moreau.
Fun fact: This was Renard's first novel. The poet Apollinaire was a fan: "A little marvel of fantasy: charming, cultivated, and effortlessly learned."
***
Let me know if I've missed any 1908 adventures that you particularly admire.