Best 1908 Adventures (6)
By: Joshua Glenn
February 8, 2018
One in a series of 10 posts identifying Josh Glenn's favorite 1908 adventure novels. Happy 110th anniversary!
*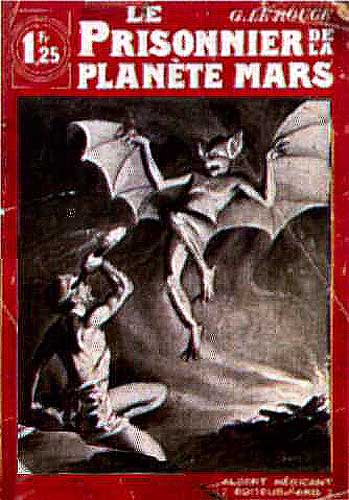 Gustave Le Rouge's Radium Age sci-fi adventure Le Prisonnier de la Planète Mars.
Amateur astronomer Robert Darvel arranges to have himself transported to Mars in a capsule propelled (how else?) by a psychic energy produced by thousands of Indian yogis gathered together as one cosmic soul. Among other observations he makes about Mars's flora (carnivorous grass) and fauna (giant crabs, jelly-like octopi with pseudo-human faces), Darvel discovers that the planet is inhabited by dull-witted humanoids who are herded and harvested by three species of vampire creatures. The vampires are controlled by squid-like, invisible beings haunting an abandoned city. Even worse, a Great Brain, which inhabits a crystal mountain surrounded by magnetic storms, is controlling the squid-vampire creatures! Mars, it seems, is like an evil version of Oz; L. Frank Baum's books began appearing in 1900. Darvel finally returns back to Earth, with some of the invisible vampires in tow… thus setting up this book's 1909 sequel, La Guerre des Vampires.
Fun fact: "The best novel of one of the most important SF writers in France at the dawn of the twentieth century," according to Arthur Evans, author of Jules Verne Rediscovered and managing editor of Science Fiction Studies. Reissued by Bison Frontiers of Imagination.
***
Let me know if I've missed any 1908 adventures that you particularly admire.