Best 1968 Adventures (9)
By: Joshua Glenn
December 28, 2017
One in a series of 10 posts identifying Josh Glenn's favorite 1968 adventure novels. Happy 50th anniversary!
*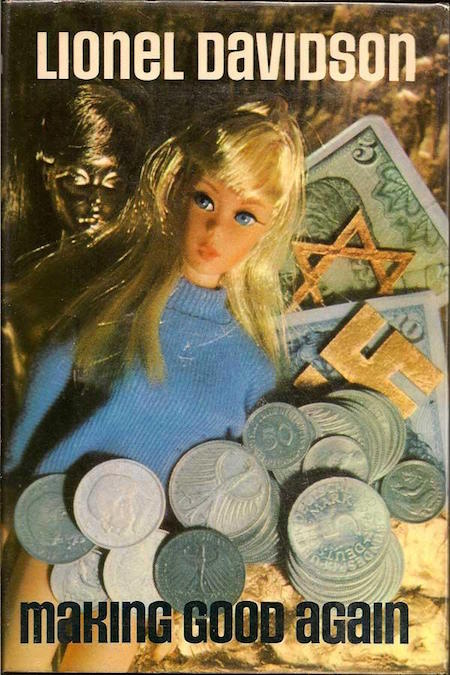 Lionel Davidson's political thriller Making Good Again.
James Raison, a British lawyer representing the daughter of Bamberger, a long-missing German-Jewish banker, arrives in West Germany to settle a reparations case with the government — which was a controversial topic at the time. (The book's title is a literal translation of the German term for the restitution payments made to Holocaust survivors.) There are two other lawyers on the case: Heintz Haffner, a German who claims he avoided joining the Nazi party; and Grunwald, a rabbi and lawyer from Israel who has a lien on some of Bamberger's money for a refugee organization. Bamberger's money was deposited in a Swiss bank in 1947 — what happened to it, and to Bamberger? Wearing disguises and traveling through the Bavarian forest, Raison and his unlikely comrades confront echoes of Nazism and ponder questions about German guilt. All of which sounds deadly serious — but it's also thrilling, and funny.
Fun facts: Davidson, a British-born Jewish writer who served in the Royal Navy during the Second World War and eventually moved to Israel, won the Crime Writers' Association Gold Dagger Award three times.
***
Let me know if I've missed any 1968 adventures that you particularly admire.