Best 1968 Adventures (5)
By: Joshua Glenn
December 23, 2017
One in a series of 10 posts identifying Josh Glenn's favorite 1968 adventure novels. Happy 50th anniversary!
*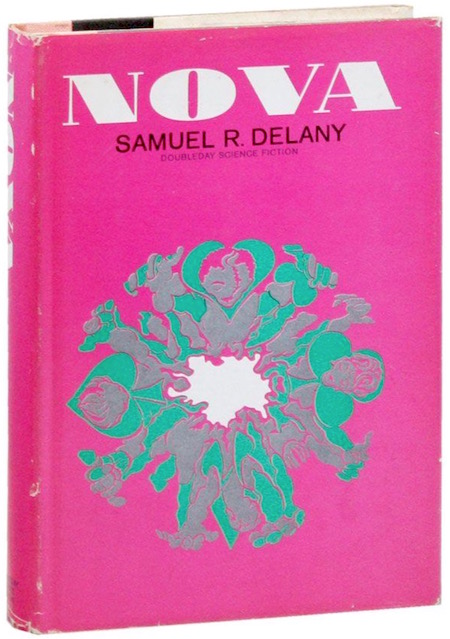 Samuel R. Delany's New Wave sci-fi adventure Nova.
In the year 3172, interstellar human society is divided into three constellations — each of which was originally colonized by different Earth socio-economic classes. Draco, which includes Earth and other wealthy planets, is an aristocratic constellation ruled by the (caucasian) Red family, whose Red-Shift Limited is the sole manufacturer of faster-than-light drives; the Pleiades Federation, a middle-class constellation, is the home of operations for the rival (mixed-race) Von Rays. The Outer Colonies, settled by working-class Earthlings, are the source of the important energy source illyrion, a superheavy element essential to starship travel and terraforming planets. Our protagonist is Lorq Von Ray, a playboy who — years earlier — was attacked and scarred by Prince Red. Now a nihilistic, revenge-obsessed adventurer, Lorq puts together an Argonauts-inflected squad of hippie-ish misfits — the Mouse, Lynceos, Idas, Tyÿ, Sebastian, Katin — and takes them on a demented voyage to the heart of an imploding star… in order to capture an enormous amount of illyrion, and in so doing destroy Draco's control of the Outer Colonies. Though the plot is only intermittently thrilling (in a space-opera way), the language is gorgeous, the meta-textual references (to Moby Dick, Arthurian mythos, and more) are pretty fun, and there's a whole Tarot-really-works conceit that's almost persuasive. If Delany weren't an experimentalist, this could have been a Dune; I'm glad it isn't.
Fun facts: There's a cyberpunk tech aspect to the book that I can't get into, here; William Gibson's Neuromancer alludes to Nova. After this book, Delany didn't publish again until Dhalgren appeared in 1975.
***
Let me know if I've missed any 1968 adventures that you particularly admire.