Best 1968 Adventures (2)
By: Joshua Glenn
December 20, 2017
One in a series of 10 posts identifying Josh Glenn's favorite 1968 adventure novels. Happy 50th anniversary!
*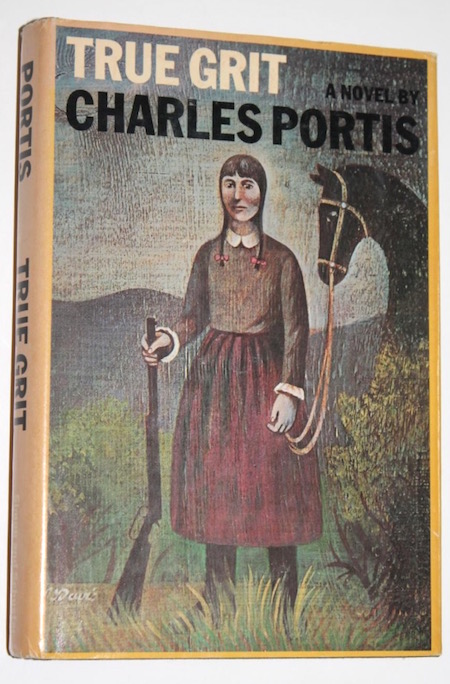 Charles Portis's western adventure True Grit.
Mattie Ross, a narrator whose lack of humor makes the absurdities of her story's larger-than-life characters all the more delicious, recounts her efforts — many years earlier, in 1873, at age 14 — to revenge herself upon her father's killer, who has fled from western-central Arkansas into Indian Territory (now Oklahoma). In Fort Smith, Mattie hires an aging, hard-drinking, one-eyed marshal, Reuben J. "Rooster" Cogburn; and insists on accompanying him. Her odyssey has been compared to Huck Finn's, thanks to the gorgeous regionalisms and figures of speech it captures. Rooster and Mattie are joined by LaBoeuf, a self-satisfied Texas Ranger also seeking the killer — at which point the novel veers into crackerjack territory, as the old-timer demonstrates that "true grit" more than makes up for relatively clumsy, brutal craft. The action is bloody and exciting, but Mattie's voice — intelligent, dry, cantankerous — is the real attraction here. Is this a revisionist western? I don't think so. Instead, Portis (who didn't consider this his best book) is demonstrating how western adventures should have been written in the first place.
Fun facts: John Wayne would win a Best Actor Oscar for his portrayal of Rooster Cogburn in the 1969 movie adaptation; the 2010 Coen Brothers adaptation is excellent.
***
Let me know if I've missed any 1968 adventures that you particularly admire.