Best 1968 Adventures (1)
By: Joshua Glenn
December 19, 2017
One in a series of 10 posts identifying Josh Glenn's favorite 1968 adventure novels. Happy 50th anniversary!
*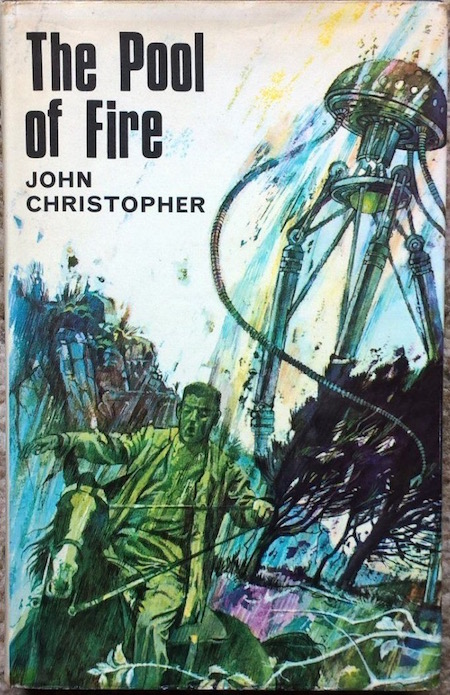 John Christopher's YA science fiction adventure The Pool of Fire.
In the thrilling conclusion to Christopher's Tripods trilogy, young Will helps organize resistance against the alien invaders who've subjugated the human race… and then the uprising begins. Will, the series' flawed protagonist, has spent months inside one of the Tripods' domed cities (as detailed in the previous book, The City of Gold and Lead); now, he and Fritz travel across Europe and the Middle East setting up anti-Tripod terrorist cells. Once the Resistance discovers that alcohol has a strongly soporific effect on the aliens, they plan a simultaneous commando raid against all of the Tripod cities on Earth. The Panama city holds out… so Will, Fritz, and Henry lead an attack launched from hot air balloons. One of the friends sacrifices himself to destroy the final redoubt. Now that their common enemy has been vanquished, will humankind remain united — or will they revert to national rivalry and war?
Fun facts: The Tripods trilogy was serialized in comic strip form in the Boy Scouts' magazine Boys' Life, from 1981–1986. John Christopher (real name: Sam Youd) is also the author of the terrific Sword of the Spirits trilogy (1970–1972).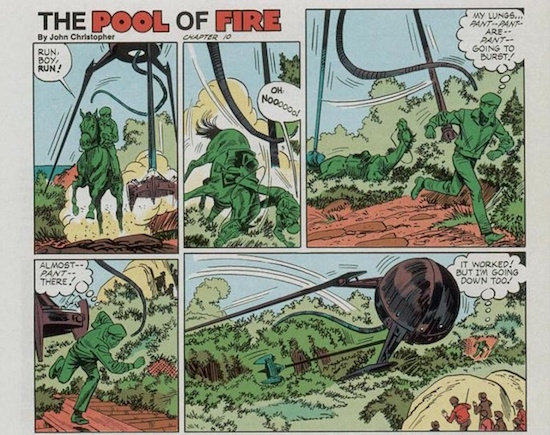 ***
Let me know if I've missed any 1968 adventures that you particularly admire.