Best 1982 Adventures (9)
By: Joshua Glenn
December 13, 2017
One in a series of 10 posts identifying Josh Glenn's favorite 1982 adventure novels. Happy 35th anniversary!
*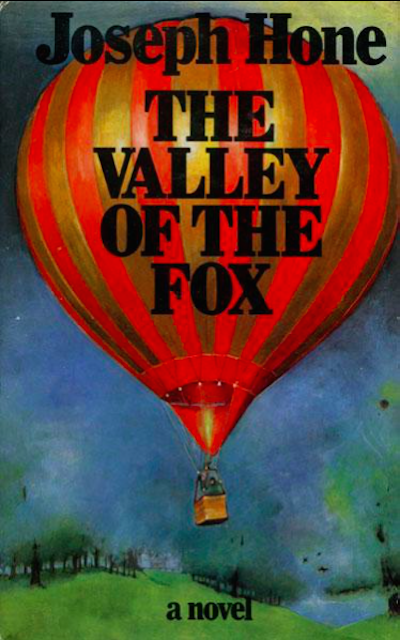 Joseph Hone's Peter Marlow adventure The Valley of the Fox.
A Household-esque hunted-man thriller in which ex-British Intelligence agent Peter Marlow must go to ground in the north Cotswolds. His new wife, Clare, who was formerly married to a famous paleontologist, has just been murdered — by British Intelligence? — and Marlow is the chief suspect. He hides out in a forest at the edge of an all-but-deserted country manor owned by an American tycoon… where he encounters Alice, the tycoon's wife, who's looking for an adventure. Alice helps Marlow spring Clare's teenage daughter, who may or may not be autistic, from a hospital — and they nurse her back to health. Which is when an African hit-man shows up. It seems that Clare's late husband may have inadvertantly set this plot in motion… but how? It's up to Marlow to investigate, and try to set things right before anyone else is killed. PS: If there's a hot-air balloon on the cover of this novel, it's there for a perfectly good reason.
Fun fact: This is the fourth Peter Marlow adventure, following: The Private Sector (1971), The Sixth Directorate (1975), and The Flowers of the Forest (1980; also published as The Oxford Gambit).
***
Let me know if I've missed any 1982 adventures that you particularly admire.